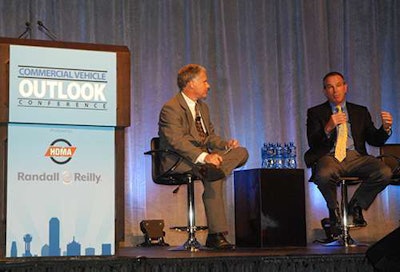 The booms in fracking operations and other energy sources hold great opportunities for the transportation industry, said Robert Bryce, energy expert and author, who keynoted the Commercial Vehicle Outlook Conference in Dallas.
"The shale revolution has been incredibly positive for the United States," said Bryce. "Low-cost natural gas is attracting industry to the country," adding that natural gas prices in Europe and Japan would be three to five times more expensive than it is domestically.
Bryce also said the shale boom could add more than a million jobs to the U.S. manufacturing industry and help manufacturers cut their energy costs by $11 billion per year. The manufacturing resurgence is synergistic with trucking since it will increase freight demand.
As a motor fuel, Bryce says natural gas is gaining market share. "It's not going to grow just in compressed natural gas and liquefied natural gas, but in dimethyl ether," he said. "Volvo has begun testing a DME-fueled engine that they will soon deploy."
Beyond advantages of cleaner air and lower cost compared to diesel, natural gas vehicles globally are having a bigger impact on oil demand than biofuels and electric vehicles combined, according to an estimate by the International Energy Agency.
"In China, the ramp up for natural gas as a transportation fuel is happening four times as fast as we see here in the United States," said Bryce. "The Iranians have the biggest natural gas fleet in the world at 2.8 million motor vehicles.
"What would it mean for gas demand if we magically converted every vehicle in the United States to natural gas? It would double natural gas consumption, from 70 billion cubic feet per day to about 140 billion cubic feet."
Bryce said that by 2020, the number of natural gas-powered heavy duty trucks could reach 170,000 trucks, compared to 20,000 units today, and that all natural gas vehicles (factoring in light-duty and passenger cars) in the United States could reach 800,000 by 2020.
On the subject of global climate change, Bryce said that while China's record on global climate change remains abysmal, huge increases for energy demand and carbon dioxide output from emerging countries like Thailand, Indonesia and Vietnam show that nothing is really being done in the fight for global climate change.
"Carbon emission units and cap and trade has been a dramatic failure, so great that utilities in Europe are buying carbon credits and burning coal because it is cheaper to do that than anything else," said Bryce. He also said for emerging countries to put a tax on their carbon output equates to "economical suicide, and they just won't do that."