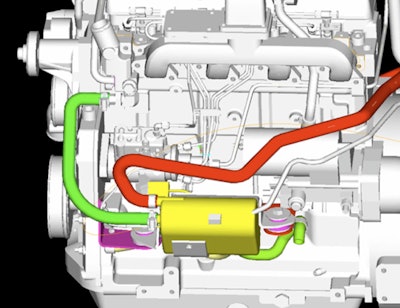 Eberspacher
The following was published in CCJ's Equipment Maintenance Toolkit, 8th edition, sponsored by Valvoline Heavy Duty. CCJ's Equipment Maintenance Toolkit is a complementary industry resource, courtesy of our partnership with Valvoline Heavy Duty. You can download the entire Toolkit here.
Maintaining diesel particulate filters can be a tough and costly battle. It's even tougher when you don't know exactly how much money you're spending to keep DPFs up and running.
That's what coolant heater manufacturing company Webasto discovered following a poll they conducted on DPF maintenance.
"It was obvious to us after seeing the responses to the poll that although every operator knew what a DPF was, very few of them had any idea of what it was costing them to maintain that DPF a year," said Duane Bratvold, western regional business development manager for Webasto Thermo & Comfort North America.
[Related: DPF maintenance starts with the engine oil]
Webasto is one of a handful of manufacturers that produce diesel-fueled coolant heaters which pre-heat the engine by warming coolant and then circulating it throughout the block to bring it up to roughly 150 degrees before cranking the engine. Pre-heating lowers DPF maintenance, drops emissions, reduces engine wear by heating up engine oil prior to starting and improves fuel economy by eliminating cold-start idling. Eberspacher and Victor Industries are two other companies that market coolant heaters which are gaining popularity as fleets seek to increase efficiency and improve emissions.
"While our air heaters have been popular for some time on all OEM platforms on the truck side, we do see sales on the Hydronic Coolant side increasing, especially in the RV, truck and off-highway segments," said John Dennehy, vice-president of marketing and communications at Eberspacher.
Webasto has also seen an uptick in diesel coolant heater sales.
"I would say over the last year, the use of coolant heaters has increased exponentially based on maintenance benefits as people experienced additional idle time which also translates to the DPF loading faster than maybe it should," said Don Kanneth, Webasto's director of aftermarket sales for heavy-duty trucks.
"By pre-heating the engine we're able to reduce a lot of soot and smoke on start-up which is helping the DPFs to live a longer life or go longer without a regeneration cycle," Kanneth continued.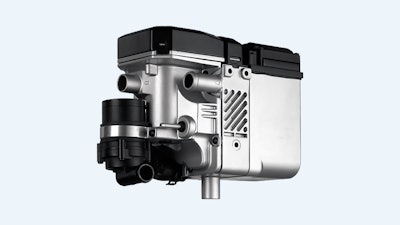 Though electric, plug-in coolant heaters are available, Webasto, Eberspacher and Victor all agree that diesel coolant heaters are a better option when it comes to pre-heating an engine prior to cranking it up.
A 5kW diesel coolant heater is 233% more powerful than a 110-volt, 1.5kW plug-in electric heater.
"Electric coolant heaters are relatively inconvenient to use and require trucks to be used where there is a power source," said Eric Zhang, CEO and chief technology officer at Victor Industries.
"The diesel coolant heater can use fuel from the truck tank. In addition, the power of the diesel heater reaches 5kW, which can heat the cooling system of the truck while heating the engine," Zhang continued. "At night in places where the temperature is not too low, the heated cooling system can provide heat to the truck cab."
Light bulb moment for tackling DPF failures
Bratvold, an industry veteran and former mechanic, can quickly recall the DPF challenges fleets were up against when a federal mandate rolled out 14 years ago requiring their use.
No doubt, DPFs were lowering emissions but they were also causing increased downtime with premature failures.
"Everybody in the world knows that a cold diesel engine smokes," Bratvold said. "Nobody thought what that was going to do to the DPF. In some cases as engines age, the opacity coming out of that engine and going into a cold DPF is almost off the scale. Early on in DPF applications we saw that these DPFs were failing at an alarming rate."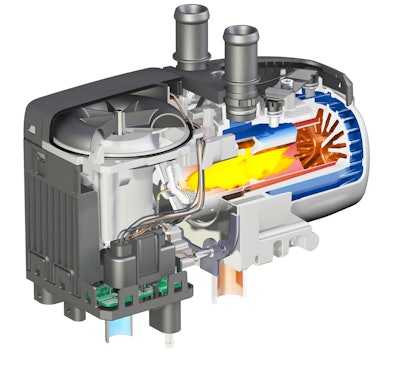 A fleet in Texas was up against its share of engine failures not long after the federal regulation requiring DPFs rolled out in 2007. Bratvold said the problem was so bad that some trucks had to have their DPFs cleaned on a daily basis.
"When we finally started doing opacity tests, to see how much soot was coming out of the exhaust pipe when they were cold, it ranged anywhere from 40% to 80%," he said. "When you have that much cold soot going into a cold DPF, the DPF gets overloaded before it gets a chance to warm up and become active."
After equipping the trucks with Webasto diesel coolant heaters, the soot-clogging DPF problems associated with cold-starts subsided.
"We put fuel-operated heaters on and we pre-heated them for 45 minutes before they left," Bratvold said. "And they went out, came back, no issues. We watched this for a week play out. And then all of us kind of just sat around, 'How stupid can we be that we did not pick this up earlier?'"
Lab tests showed that by warming and circulating the coolant throughout the engine prior to start-up "you can drop that cold, wet, dense soot by 66% on average."
Benefits can add up
As Bratvold and others spread the word about coolant heaters tackling DPF failures, other fleets got on board and not only appreciated the heaters' win over emissions but also their ability to cut fuel consumption and lessen engine wear by heating up engine oil and improving its viscosity prior to cranking the engine.
"Being a mechanic, anytime you're starting the engine in a cold environment with warm oil, there's a maintenance benefit," Bratvold said. "The wear and tear on the engine drops considerably. This has been Webasto's message for years. And those that have bought onto it and religiously do this have noticed a big cost savings."
Dennehy agreed.
"Cold starts put unnecessary wear and tear on all components," he said. "With that being said, we also feel that on a warm start emissions will be less. If the vehicle was running at idle to bring the engine up to temperature we can say for sure by using the fuel operated heater you will see emission reductions and fuel savings.
"That's because you can eliminate the engine running needlessly and replace that with the heater, which is capable of bringing the engine up to operating temperature within a half-hour, depending on ambient conditions," Dennehy continued.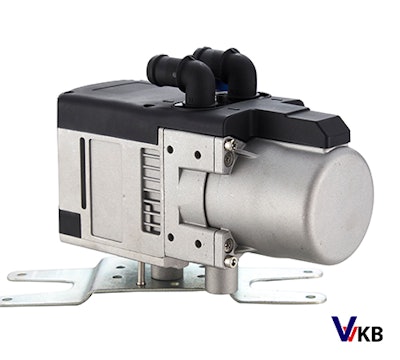 In addition to lowering DPF maintenance costs, money saved from nixing the old habit of idling engines can add up fast.
"We offer excellent data specs that can get down to the liter and gallon but in general people will see 10 hours of run time one gallon of diesel fuel with our 5-kilowatt coolant heater," Kanneth said. "So efficiency is excellent. From our partners in the marketplace we see 8/10ths of a gallon to one gallon consumed during idling of an engine. And that's a pretty well-known fact out in the industry."
A diesel coolant heater will pay for itself in roughly five to six months, Bratvold said, and will keep paying dividends so long as the unit is properly maintained. Maintenance includes an annual fuel filter swap and running the system at least once a month for 20 minutes. The more often the heater is used, the better.
"There's a lot of success stories," Bratvold said. "The biggest issue though is companies will spend the money to put these heaters on and then forget to use them and it only works if you pre-heat every day and I'm saying whether it's 40 below zero or 70 degrees ambient.
"If they can start that diesel engine and the diesel engine is warmed up, ready to go when they hit the key, the drop in emissions helps offset the other controls on the truck that are trying to control these emissions," Bratvold continued. "When you put the two together, we see companies that can go a year longer before they have any maintenance on a DPF. It's kind of fun to watch."