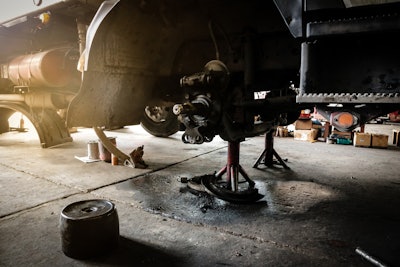 The following was published in CCJ's Air Brake Book, 11th edition, sponsored by Silverback HD. CCJ's Air Brake Book is a complementary industry resource, courtesy of our partnership with Silverback HD, the Technology and Maintenance Council and Commercial Vehicle Safety Alliance. You can download the entire Air Brake Book here.
They're called automatic slack adjusters for a reason, and the manufacturers that make them want to keep it that way.
Yet despite years of warnings, automatic slack adjusters (ASA) continue to be manually adjusted by technicians who may not know any better, or who may be eager to get a truck out of the shop and back out on the road.
Whatever the reason, it's a risky gamble that can result in costly out-of-service violations. During last year's Commercial Vehicle Safety Alliance's (CVSA) International Roadcheck, brake issues led to 3,992 OOS violations in the U.S. the most by far of any category. Brake problems in the U.S. accounted for 24% of OOS violations during the September 2022 Roadcheck. Tires came in a distant second with 18.5% of total OOS violations.
[Related: Get prepared for 2023 Roadcheck]
With brake problems continuing to dominate OOS violations, experts advise following OEM guidelines on best practices for preventative maintenance which includes putting a halt to manually adjusting automatic slack adjusters. It can not only hinder performance, but also shorten component life.
"If a fleet is manually adjusting a slack adjuster regularly it can harm the longevity of the unit," warned Chris Christiansen, warranty/technical services coordinator, Accuride Corporation.
"The reasons behind adjusting an ASA outside of a brake reline should be investigated such as alignments, bushing wear, wheel conditions, etc.," Christiansen said.
Any drum or disc brakes that require manual adjustment at a time other than installation are not functioning properly and need to be serviced by a trained mechanic, noted Silverback HD Vice President of Operations Keith Roth. "Regular inspection to ensure that brakes are staying adjusted without human intervention is essential to any fleet maintenance PM," he added.
Manually adjusting an automatic slack adjuster can not only lead to more brake problems down the road, it can also lead to accidents.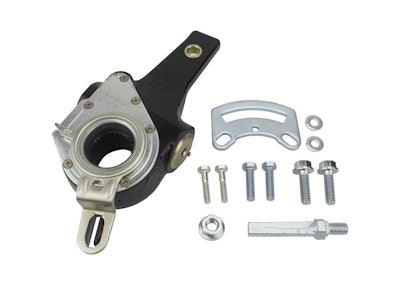 Following their mandated use on tractor-trailers in 1994 and trailers in 1995, the NTSB issued a scathing report in early 2006 condemning the practice of regularly adjusting ASAs. NTSB ruled an ASA adjustment had led to a runaway truck accident in Pennsylvania in 2003 that claimed the life of the driver and an 11-year-old child riding in a car that the dump truck had struck during its descent on a steep downgrade.
That report, in part, reads: "The drivers and mechanics who manually adjusted the automatic slack adjusters on the trucks involved in the Glen Rock and El Cerrito accidents did not look for underlying problems with the adjusters or related foundation brake components; consequently, they misdiagnosed the brake problems, probably because they were not properly educated on the function and care of automatic slack adjusters and how they relate to foundation brake systems."
[Related: Fleets and CVSA provide maintenance tips]
The NTSB went on to write that "warnings in existing materials available to owners, drivers, mechanics and inspectors of air-braked vehicles equipped with automatic slack adjusters have not been successful in communicating the inherent dangers of manually adjusting automatic slack adjusters to correct out-of-adjustment brakes."
That ruling eventually led to a mandate that led to a change to service literature on the topic of ASA adjustment.
"Automatic slack adjusters are just that – automatic," Roth said. "Having a functional slack adjuster that automatically adjusts free play clearance is not just about compliance, but rather it's about having a loaded vehicle stop safely."
Kraus noted ASAs should not be manually adjusted to correct excess brake stroke, as doing so is a dangerous practice when a brake is only out of adjustment or over stroke limitations," he said. "Excess stroke is an indication of component malfunction that manual adjustment cannot fix. Manual adjustment or de-adjustment shortens ASA life, except Meritor Stroke Sensing ASA due to its unique pull pawl design. A manual adjustment gives drivers false sense that everything is working correctly."
That sense false sense that everything is working correctly, Roth said, "is playing a dangerous game with safety."
Road and traffic conditions can easily cause excessive brake stroke in a short period of time depending upon travel circumstances, Roth added. "A brake that has excessive stroke can reduce a vehicle's stopping power to half or less of designed efficiency, causing extreme danger," he said.
Keith McComsey, Bendix Commercial Vehicle Systems director of marketing and customer solutions, said if a technician feels the need to adjust an automatic slack adjuster, it is because there is some other issue within the drum brake system that should be investigated.
"Automatic slack adjusters should not be manually adjusted in an effort to correct excessive pushrod stroke," he adds, "because this condition indicates that a problem exists with the automatic adjuster, with the installation of the adjuster, or with related foundation brake components, which manual adjustment will not fix."
There may be times, however, when manual adjustment is required — like during ASA installation and when brake repairs and overhauls, such as relines, are performed.
"Haldex does not recommend or approve manual adjusting of the automatic brake adjuster except for emergency purposes when the wheel-end brakes cannot be released by air pressure, and when routine brake/wheel-end maintenance is performed like a brake reline," said Randy Petresh, vice president of technical services, Haldex Brake Products. "In addition, manual adjustment will mislead diagnosis of wheel-end brake issues during troubleshooting investigations."
When manual adjustments are necessary, "never use an air impact wrench to adjust an automatic slack adjuster as this can damage the internal mechanism/adjuster," McComsey said. "Use of wrenches and sockets or ratchets is recommended."
Lubrication and greasing
Lubrication is a key maintenance component, and McComsey noted there are two reasons to grease a slack adjustor.
"First, it protects the adjuster's internal gear sets, clutches, and other components from premature wear," he said. "Second, the action of forcing new lubricant into the ASA purges the old grease, along with any contaminants or water that have found their way in. Both support vehicle safety by maintaining the correct brake stroke and providing optimal stopping performance."
Cleaning the purge slot on the boot, and adding grease until the old grease is fully purged and you see new grease exiting the purge hole, McComsey said "is a requirement," but referred to "manufacturer's recommendations for lubrication of the adjuster, noting the suggested mileage, frequency and lubricant grade."
Roth added camshaft and bushings should also be greased.
A grade 2 lubricant endorsed by the National Lubricating Grease Institute is recommended for preventive maintenance inspections on Bendix ASAs approximately every three months or 30,000 miles.
Tom Gauerke, national fleet account manager for Chevron Lubricants, noted that it's important to use a non-Moly grease on slack adjustors as the Moly can cause stickiness within the moving parts and the brakes to malfunction.
Techs should be careful not to over-grease, which Patrick Kealy, ZF North America OEM trailer business leader, CVCS division, warns can compromise seals and allow contaminants to enter ASAs and increase wear.
"Any time you've got a vehicle in the shop, it's also worth greasing the S-cam brake tubes and automatic slack adjusters," said Mark Holley, Bendix director of marketing and customer solutions – Wheel-End. "This quick process helps prevent rust and corrosion and helps keep the slack functioning properly."
Keeping brakes in check
During CVSA's three-day International Roadcheck last year, 26.5% of all vehicle out of service orders were the result of brake system violations. Brake adjustment (12.4%), was No. 4.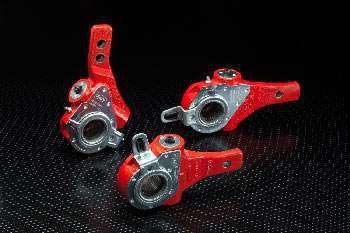 "The most common failure of an automatic slack adjuster is when a mechanic or a driver continues to adjust them," said Kealy. "They are automatic and therefore typically only need to be adjusted when they are installed for the first time or every time a brake job is performed."
However, ASAs may be targeted for OOS violations when other brake hardware is actually at fault.
"ASAs often get blamed during CVSA inspections for OOS conditions, but many times the other foundation components are worn down causing overstroke conditions." Jon Erickson, ASA product engineer, Gunite
"ASAs often get blamed during CVSA inspections for OOS conditions, but many times the other foundation components are worn down causing overstroke conditions," said Jon Erickson, ASA product engineer, Gunite. "Changing the ASA in this instance may allow the system to reset enough to be compliant. Replacing an ASA due to an OOS may get your vehicle back on the road but the other foundation components should be studied at the earliest possible convenience to verify the braking system is in acceptable condition."
ASAs have been in the market long before they were first mandated in 1994. For instance, Haldex rolled out its first U.S. version in 1980.
"The basic design has been very stable ever since that time except for continuous improvement initiated minor changes in material and processing like seal improvement," Petresh said. "The only significant change occurred about 10 years ago with the design, development and production of a new model, the self-setting automatic brake adjuster."
Like many other components that hit the market, ASAs were designed to improve safety and lower maintenance requirements for fleets.
"A truck owner had to make daily inspections or adjustments to the brakes before the automatic slack adjuster was implemented on trucks," said Eric Iott, product specialist, Meritor. "The inspection expense was large and the potential for error in the adjustment was much greater with manual adjustment slacks."
Regular maintenance and accurate troubleshooting remains key to a long, safe service-life devoid of OOS infractions.
Troubleshooting ASAs starts with a stroke test per "the CVSA to verify your brakes are out of adjustment," Kealy said. "After confirming other components in the foundation brake are working correctly (such as brake shoes, drums, S-Cam, S-Cam bushing, etc.), look at the ASA.
"Back off the brakes to check operation of the ASA," he adds. "Place a wrench on the adjustment screw and apply the service brakes. You should see the wrench rotate in a clockwise motion which indicates the ASA is taking up the clearance between the drum and shoe. Greasing the S-Cam spline and clevis pin should also be included as part of this maintenance and will help with ASA removal the next time."
Any time the clearance is excessive, or potentially too tight, is an indication the brake requires maintenance.
"One type of maintenance that is often overlooked by fleet maintenance programs is camshaft to bushing free play," Roth said. "Worn cam bushings with excessive wear and play often result in out of adjustment brakes. In addition, excessive cam bushing wear can often cause the lower brake shoe to drag on the drum, causing excessive wear, extreme wheel end heat and longer stopping distances. Often the ABA can be misdiagnosed as the problem when, in fact, the automatic adjuster may be fine. The camshaft and bushings requiring replacement can be the culprit."
And technicians should always follow manufacturer service requirements and instructions. If the ASA is diagnosed as faulty, replace it with a new one.
"It is not recommended to 'fix' an automatic slack adjuster," McComsey said. "If it is not adjusting properly, or has other damage to it, it should be replaced."