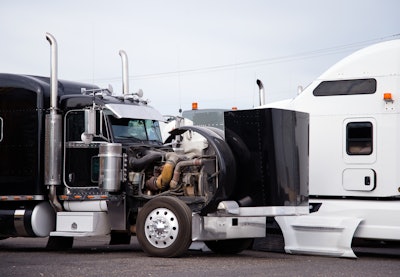 There is that old adage, "If you want to improve something, you first have to measure it."
With that in mind, if you want to control your maintenance costs, you need to begin by developing a plan to accurately track them as well as warranty programs and parts pricing. The best way to do this is via a maintenance database, but it can be done manually.
Fleets need to track three kinds of maintenance costs. 1) Preventive maintenance which is based off of predetermined intervals 2) Predictive maintenance which is condition-based repairs — using oil sampling to determine proper oil drain intervals and 3) Unscheduled maintenance or running repairs which are the repairs that are required between scheduled preventive maintenance services.
Monitor the unscheduled versus scheduled repair ratios to measure the effectiveness of your preventive maintenance program. Many shops will find themselves at a 50/50 ratio. A good target, however, is 70/30 scheduled versus unscheduled maintenance. It is important to note that predictive maintenance costs are often half that of an unscheduled service event and preventive maintenance can result in a 30% savings over corrective events.
You also need to focus on the quality of the repairs. If your PM process outlines 250 items that need to be checked, how are you measuring the quality of that PM? Are you randomly picking a group of trucks and doing a post-PM quality inspection?
If you are outsourcing your maintenance, you still need to track your costs. Consider creating service-level agreements with your outside service providers that outline your expectations. One segment of the service level agreement should include a negotiated labor rate, and if the vendor has multiple locations, that labor rate should be applied across the entire network. The agreement should also include different labor rates based upon the type of work being performed and the asset being serviced. For example, your trailer rate should be lower than your tractor PM rate, which in turn should be lower than your diagnostic labor rate.
You will also want to set up a repair approval process that sets a dollar threshold for repairs that can be completed without additional approval. For repairs that exceed that pre-approved level, insist on estimates. It is always better to negotiate price before the work is done rather than after. But remember in cases where repair authorization is needed, it is incumbent upon you to make sure those approvals happen in a timely manner or you risk slowing down the repair process.
Other items to include are your specific parts. Do you want the service shop to use OEM parts or substitute with lower cost aftermarket products? There is no right or wrong answer here. Base your decision on what makes the most sense given your application and the duty cycle of your vehicles.
Look at your warranty reimbursement. Have you tailored your warranty purchase to the needs of your specific operation? You are leaving money on the table if you are not setting up your vehicles with their respective warranty components. Once you have the components set up in your tracking system, you can have repairs flagged and you can follow up to ensure your warranty claims are filed.
If you incorporate these steps into your operation you will have a better understanding of your maintenance and repair costs and knowing what you are spending money on will allow you to have better control over your maintenance and repair expenses.
As Vice President of Maintenance at Transervice Logistics Inc., Matt Copot is responsible for overseeing the company's warranty, purchasing, quality assurance, fleet systems and training programs. Copot began his career in the transportation industry in 1996.