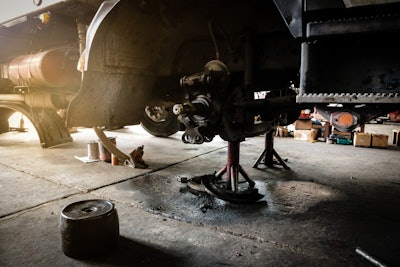 Supply chain and building material constraints have hampered new truck builds for much of the year, but a similar effect is also being felt by fleets who simply want to service the trucks they already have.
Volatility in steel and rubber prices has impacted the availability of tires and forged parts like blocks and housings, and lead times for parts that used to be a few days can drag on for weeks.
"Every day we realize something else is hard or impossible to get," said Brent Edmonson, an Ontario, Canada-based truck technician with L.F. Mattice Farms & Trucking. "Bulk 10w30 [engine oil] isn't currently available in our area, and barrels or pails are about a month wait."
Edmonson noted he had to wait a week for 18-inch brake chambers, and several weeks for stainless flange covers for taillights.
"NOx sensors and DPF/exhaust gaskets/clamps are unattainable," he said. "Dealers called the fleet shop I'm at begging to buy ours back in the spring. Filters have especially been hard to come by."
Edmonson suspects parts sourcing in Canada has been at least marginally more difficult than it has in the States, especially for carriers who have the ability (and forethought) to place orders in advance.
"We've been buying parts from American Peterbilt dealers over the phone when the local dealers say they're not available," he said. "We then have our own trucks bring the parts back home in the sleeper."
During the first quarter last year, Southeastern Freight Lines (CCJ Top 250, No. 31) Director of Maintenance Lee Long said the Lexington, S.C.-based carrier evaluated its usage of key parts and ordered its most common used hard parts, like water pumps, engine sensors and turbos.
"That proved successful as we were able to maintain our fleet through the supply chain disruptions due to COVID," he said. "As the market constricts further, we have still been able to source parts but some with extended lead times."
Some parts, Long said, continue to prove scarce at times, but SEFL's corporate parts manager "has a knack to find those parts that are not available. Through the good and bad times our key relationships have allowed us to weather these opportunities," he added. "Being proactive at this time is the best method to insure shortages are held at bay.
Similarly, the parts department at Little Rock, Arkansas-based Maverick Transportation (No. 79) has been able to source providers and find parts without what Director of Maintenance Brent Hilton called "long delays," however, he added, "it is getting tougher and tougher each day. We are having daily issues finding parts – anything from brake parts to sensors."
Tight parts supplies have been caused by a combination of things; not only raw material limitations, but also a self-inflicted surge in demand due a perceived shortage (or potential shortage) that Darry Stuart, CEO and President of DWS Fleet Management Services, said has prompted manufacturers to raise prices.
Stuart noted some fleets have been placed on allocation for some essentials, like lubricants, and added a lack of labor is likely contributing to the availability of some hard parts as some OEMs don't have enough employees to manufacture them to meet demand, even if they have the steel and other raw materials.
"Sensors are difficult (to find), EGR coolers are difficult, DEF heads are difficult, NOx sensors – awful," Stuart said, noting some OEM parts houses have been capped at how much they can order of a given part at a time, and adding that OEM retailers often lack the resourcefulness and connections to find needed components. In some cases Stuart said OEM parts are more scarce "because the aftermarket parts guys are more creative," he said, noting the drawback to using an aftermarket part is that they often aren't covered under warranty, so finding them can be a double-edge sword.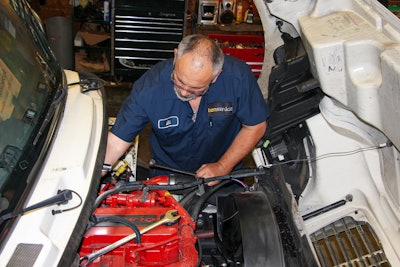 Shortage hits service providers as well
Third-party service providers face the same shortages as fleet shops, but size and scale of the operation can mitigate the effects.
"Generally, we have seen some supply shortages with certain parts, oil and tires," said Tina Arundel, director of communication for TravelCenters of America, adding the company has been able to leverage relationships with its suppliers nationwide, allowing it to "predict where geographically there may be possible supply issues and proactively work to ensure stock supply at our sites is minimally impacted."
Claude Ricciardi, purchasing director for Transervice (No. 220), a provider of customized fleet maintenance and transportation solutions, said he's found some dealers, while they may have a hard-to-find part in stock, are not willing to sell it over the counter.
"They are keeping them for their own customers. I have had that situation happen a couple of times where their system showed a quantity available, but when I called the dealer he said, 'I have one, but it is already spoken for,'" he said. "I am seeing that developing within the dealer network."
Marc Scibilia, director of safety and maintenance for Taylor, Michigan-based private carrier Adica Trucking Company and Fleet Services, said his parts team has been searching countrywide to find parts, adding "we try to explain to our customers when there is a delay in getting parts and for the most part they are understanding. We have found that some of the hardest parts to source are the emission parts, EGR coolers, sensors and so on," he said. "There may be a three to five day lead time depending on where they are coming from. We are also seeing issues with shipping. The vendor may have a part but the shipping is very slow."
Ricciardi said his company is experiencing parts shortages with most components that incorporate some sort of an electronic or chip, but is also seeing a shortage with some harder components. "Right now, we are seeing a shortage of water pumps with the Detroit engines," he said. "They are just not available anywhere. It is probably due to the shortages of raw material and of labor."
Stuart said he's advised his clients to source parts from all over the U.S., even it means having them shipped coast-to-coast. That's a strategy Ricciardi said he's deployed as well.
"I am looking anywhere across the country. The initial step obviously is our facing dealers but when they don't have the part it is my job is to do research and try to find it somewhere. I do not limit myself to any geographical areas. I go anywhere there is a dealer whether it be Freightliner or International or Paccar or whatever," he said. "I make phone calls and log on to websites to see if they are showing the part. And in many cases I will even look at used components. LKQ usually has a pretty good cross section of used truck parts. However, the last time I was looking for this water pump I called LKQ and the guy says to me, 'You are about the 200th person who called me looking for the water pump.'"
Without necessary repair parts, Ricciardi said the company has had to put in a number of "truck down" labels at the dealer, calling for the part to be shipped whenever it becomes available. But, he said, it creates a problem because that translates into some extensive downtime. "If the truck is down and it needs a water pump, you can't run it, so it just sits there," he said. "For example, this water pump I am talking about is not scheduled to become available until August. Now you are looking at equipment being down for over a month. It is a very serious problem that I think is going to continue to haunt us for a while."
Ricciardi said his company hasn't changed its inventory levels, preferring to keeping an eye on the situation, "and if we do start to see signs of shortages in our normal wear and tear components," he said, "then of course we will increase our inventories accordingly to compensate. The last thing we want is to have a truck down because we can't get brake shoes. It keeps me very busy trying to find all these parts that are not available."
Joe Puff, vice president of truck technology and maintenance, NationaLease, said the lease and service provider has also experienced some parts shortages and delays in various categories, however, the large majority of parts are available, adding, "just certain parts are affected."
"I'm hearing the reasons for delays vary from raw materials to labor shortages, to production problems, to extremely high demand — kind of a perfect storm," he said. "Some parts delays can be quite long, which is just not tolerable. Imagine a parts delay for a $300 part and the downtime cost is around $9,000."
Unprecedented shortages require non-traditional solutions, Puff said, such as temporarily using aftermarket sources, remanufactured parts, utilizing machine shops and metallurgists to make temporary repairs, and where warranted the use of salvage yards until new parts can be procured.
"We can't have trucks sitting for extended periods and waiting for parts," he said. "At NationaLease we are leveraging our supplier relationships and examining all options to procure and repair parts as necessary."