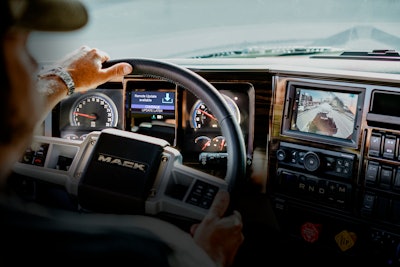 Mack Trucks and Volvo Trucks North America (VTNA) on Tuesday at the Technology & Maintenance Council Annual Meeting and Expo in Orlando announced the expansion of of their remote diagnostics bundle by adding three new updateable modules to the service.
Remote programming services currently allows for software updates on the engine (EMS), aftertreatment system (ACM), and transmission (TECU) modules. Three new over-the-air update modules will be available for download on trucks delivered later this year: Instrument Cluster (IC) – Controls the dashboard lights, dials, and screens; Vehicle ECU (VECU) – Controls a wider variety of functions from the adaptive cruise control and overall engine management system to the tire pressure monitor and parking brake; and Body Builder Module (BBM) – Controls the functionality for specialty vehicle modifications for applications such as refuse trucks and transport refrigeration units (TRUs).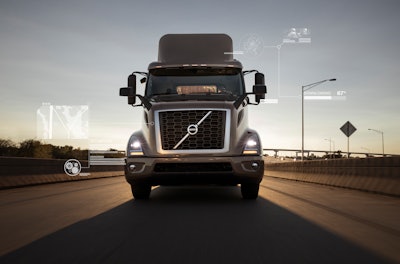 Mack began offering driver-activated OTA updates at the end of 2020, and more than 57,000 trucks are enrolled to date. First launched in 2018, Volvo's Remote Programming has performed more than 40,000 software updates on these modules, and over 8,400 remote parameter updates.
Both platforms enable drivers to download and install over-the-air software in minutes from anywhere cell signal is available.
While Mack and Volvo's expanded remote update capabilities keep fleets out of the dealership, the sibling truck makers also on Tuesday announced programs designed to maximize the support fleets get from dealers when they do have to roll in.
Volvo's Connected Vehicle Analytics (CVA)
Volvo's Connected Vehicle Analytics (CVA) tool collects real-world data — including current truck configurations, daily routes, average speed and fuel efficiency — and enables dealers to recommend configurations for a new truck, based on its specific operation.
Volvo said the CVA tool includes a robust dashboard where dealers can monitor how fleet customers are operating trucks and where there are opportunities to optimize efficiency and productivity with enhanced specs.
Using Volvo Trucks' CVA tool, dealers can gain quantitative insights into how a customer's fleet is operating and what updates and changes can be made in the specifications when spec'ing new trucks to improve operations and total cost of ownership. Data is provided on a wide range of information that can affect the fuel efficiency and productivity of a vehicle, including specific route details (latitude and longitude for some stops and average speed); vehicle attributes (truck model, axle configuration, etc.); and fuel efficiency.
Dealers can also access an anonymous pool of vehicles to benchmark how a given customer's fleet is performing compared to other similarly spec'd vehicles.
New Volvo, Mack service contracts
Both truck makers will slowly roll out contract service plans. The plans spent roughly a year being piloted and refined in a soft launch.
Under the Volvo Blue service contract, Mike Furst, director of contract services and leasing technology solutions, all work is performed by Volvo certified technicians using genuine or authorized Volvo parts. Certified technicians have access to specialized equipment, diagnostic tools and the database systems required to service and maintain highly sophisticated vehicles and on-board software now standard on all Volvo Trucks vehicles. The service contract also includes real time monitoring and managing all software and recall updates.
Through planned, preventative and thorough maintenance, including a 74-point inspection plan, dealers help fleets minimize the risk of coming to an unexpected standstill. The Volvo Blue service contract leverages real-time over-the-air truck data to tailor the service plan based on the actual usage and application of an operator's individual truck. All maintenance is undertaken when it best suits the customer and follows a predetermined schedule to minimize disruptions to operations, reduce time spent at a dealership and provide customers with more predictable maintenance costs.
Included in the Volvo Blue service contract, customers have access to the over-the-air Remote Diagnostics and Remote Programming suite throughout the duration of the contract. These services proactively identify anticipated breakdowns and send the vehicle's diagnostic data automatically to the dealership or repair center before the truck arrives for its scheduled preferred service time. Through Remote Programming customers also have access to the full suite of remote parameter and remote software update services, elevating fleet uptime and efficiency.
With the Volvo Blue service contract, fixed service fees can be spread evenly throughout the chosen contract period duration of 12 to 60 months. Customers may elect to be billed via bank draft (ACH), to their preferred account, or bundle with their loan or lease from Volvo Financial Services. There are more than 400 certified Volvo Trucks dealerships and thousands of service locations across North America that are prepared to assist their local customers with the full-service coverage of the contract.
Mack's Premium Service Contracts offer dedicated maintenance management with a single point of contact at local dealers to manage the scheduling of maintenance; upfront parts and labor costs offering cost consistency; adaptive maintenance optimized based on each customer's unique operations allowing for improved vehicle health; and consistent repair and maintenance through Mack Certified Uptime Dealers.
"Premium Service Contracts help to ensure that maintenance is completed on-time and optimized for the customer's operation, software is up to date, open campaigns are completed on-time, and uptime is maximized," said Patrick Brown, Mack Trucks services and solutions strategy manager.
Eligible vehicles for the Premium Service Contract are those that are powered by Mack engines with fewer than 150,000 miles. Preventative maintenance, adaptive maintenance and fleet management by the dealer are included. The Mack Premium Service Contract is available for normal-duty applications in 100,000-mile increments, while Mack heavy-duty Premium Service Contracts are available in 50,000-mile increments.