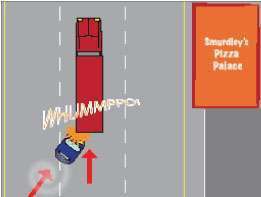 John Doe was driving his straight truck eastbound on a sunny stretch of three-lane one-way Cola Pop Parkway near Soda Springs, Idaho. It was noon and Doe was munching on a family-size bag of Hunky Dory's – an Irish snack Doe picked up off a post-St. Patty's Day clearance rack at the Min-E-Mart.
Rolling along in the center lane, Doe noticed that the left lane was polluted by a haze of blue smoke. Doe wondered aloud, "Is there a tire fire ahead?"
Nope. The smoke was billowing from the rusty tailpipe of Cletus Clearwater's slow-moving 1946 Ford Super Deluxe – a two-tone sorta-blue/kind of rusty vehicle celebrating 202,763.4 miles of faithful service with an unquenchable thirst for SAE 10W-30. Doe rolled up his window in self-defense and remained in the center lane, preparing to pass Clearwater's cloud.
Clearwater spied a sign that announced that Malley O'Malley's Irish Pub was two blocks ahead on the right. Temporarily demented by an all-consuming craving for a plate of O'Malley's Boiled Bacon and Cabbage, Clearwater zoomed into the center lane without using his turn signal and, right in front of Smurdley's Pizza Palace... WHUMMPPO!
The center lane was occupied by Doe's truck, which incurred some minor damage to its left rear wheel well. Clearwater's iron and steel antique escaped unscathed.
Was this accident preventable?
Doe's safety director cited him for a preventable accident, claiming Doe should have been on high alert given that Clearwater's vehicle was practically on fire. Doe contested the preventable accident ruling and asked the National Safety Council's Accident Review Committee to render a final decision. NSC quickly ruled in Doe's favor, noting that he could not have anticipated Clearwater's wild lane-changeover and some bad luck of the Irish.