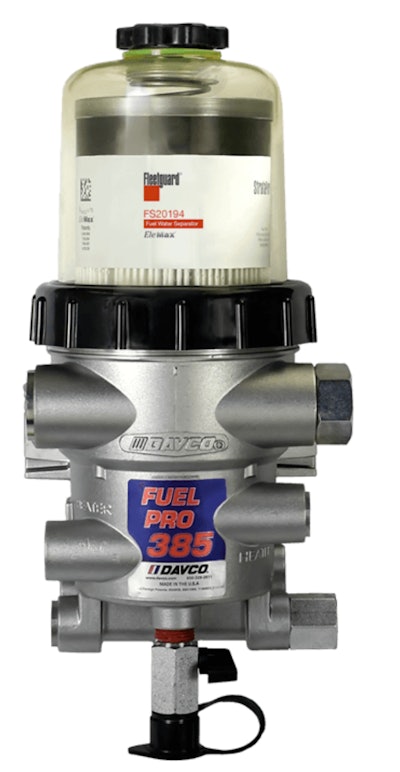 DAVCO, Sunday at the Technology and Maintenance Council's 2022 Annual Meeting & Transportation Technology Exhibition in Orlando, unveiled the Fuel Pro 385/387/388 models – its latest all-in-one fuel filter, water separator and fuel preheaters.
Designed to fit Western Star, Volvo, Navistar and Mack Class 8 trucks, with the newest versions of the Fuel Pro joining the Fuel Pro 485/486/487 models, DAVCO three-layer filtration/ water separation technology is now available to work with heavy-duty diesel engines in the majority of Class 8 vehicles in North America.
DAVCO also introduced a multipurpose shop floor tool, the Shop Pro FXP 95. The new model has been redesigned to be 44 pounds lighter and 15% smaller than the previous version, improving customer ease-of-use without reducing performance.
Shop Pro FXP 95 uses three-layer filtration to strip water from outside the media with two inside stripping operations, including a coalescent layer and a hydrophobic layer. This ensures no water will pass the filter, particularly for ultra-low sulfur and biodiesel fuels, which have become difficult to separate.