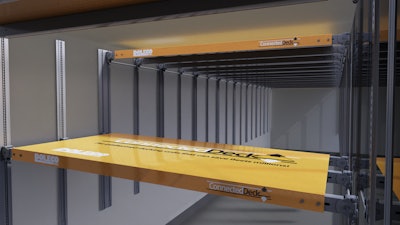 At the TMC Annual Meeting and Expo in Orlando Sunday, Doleco unveiled its new ConnectedDeck System, which merges two or three adjustable, self-leveling decking beams with a formed composite panel to create an integrated cargo platform that is easily adjustable, stores at ceiling height and never has to be disassembled and reassembled.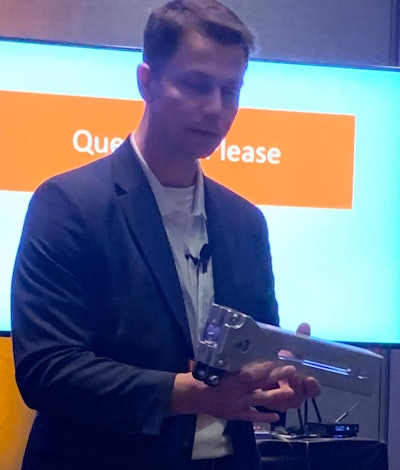 The ConnectedDeck System is based on the design of Doleco's Level Deck Self-Leveling Decking Beam and LayerLok XP Track. Fitted with its ultralightweight, composite decking platform, the ConnectedDeck design enables workers to easily deploy and adjust an entirely decked, ready-to-load, two- or three-beamed cargo platform in seconds.
Locked at ceiling height when not in use, the whole unitized platform can be released with a common dock hook or fifth-wheel pin puller. No system-specific tool is needed, eliminating the problem of missing or misplaced beam release tools. After one side of the ConnectedDeck is unlocked (with a single pull), the entire spring-assisted, self-leveling platform is freed and can easily be manipulated by hand, moved to its desired height and locked into position: cutting a nearly 5 minute process down to 13 seconds.
Ralph Abato, president and managing director of Doleco USA, said, conservatively, a fleet with 1,000 trailers could save $15.8 million per year (and 504,583 hours of labor) by simply converting to Doleco's ConnectedDeck System.
The entire unit requires less than 10 pounds of force to pull down and can lift itself, unassisted, back to its ceiling storage position. Unlike other captive decking systems, Abato said its beams won't inadvertently fall. The entire 4'x8' platform weighs 21 pounds, saving hundreds of pounds over competing materials.
Steve Downing, product manager of Deck Systems for Doleco USA, said track and beam damage also factored into Doleco's captive decking system analysis. The system's Level Deck beams and robust foot assemblies can withstand up to the most severe forklift strikes, and Downing said its locking mechanism is designed to prevent upward adjustments by forklifts. The system's LayerLok XP track can be traditionally installed with rivets or with an adhesive.
Other captive decking systems rely on rivets to secure the vertical tracks to trailer walls and Abato said the regular up-and-down movement of beams, the mechanical action of trailers in motion, and even minor encounters with a forklift, causes rivet holes to deform, tracks to misalign and often to detach from trailer walls, causing beams to chafe or jam.
Doleco's LayerLok XP can be installed with structural-grade adhesives. Used widely in trailer body construction, among other heavy-duty industries, and for track applications in Europe for more than 15 years, these advanced adhesives provide Doleco's tracks with three times the strength of riveted tracks, without penetrating and compromising trailer walls, Abato said.