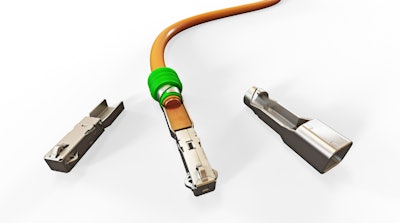 Eaton's eMobility business is now offering specialized high-power lock box (HPLB) power connectors for use in current and future electrified and internal combustion vehicle solutions. The HPLB connectors were designed and developed by Royal Power Solutions, a manufacturer of high-precision electrical connectivity components that Eaton acquired in 2022.
HPLB connectors provide protection against the elements and corrosion. Traditionally, eyelet terminals within vehicle electrical components are not sealed, potentially exposing them to road spray and salt, which accelerates terminal galvanic corrosion. Corrosion can mitigate the power flow, leading to system failure. The fully sealed connectors are also resistant to vibration.
"Eaton recommends use of sealed connection systems to meet reliability and durability requirements," said Chris Mancuso, Eaton Power Connections general manager. "Additionally, we've designed our HPLB terminal system for high-current and high-temperature applications, up to 500 amps and 125 degrees Celsius, respectively."
Eaton's HPLB terminal system forms a connection in a unique way that provides improved contact force throughout the component's service life, the company said. Unlike traditional box and blade terminals, the connectors use Power Connections' Connector Positive locks, which utilize an "inside-out" contact system with internal spring pressure and multiple contact points. The unique configuration provides a stronger connection than that of conventional box-and-blade connectors where the female terminal spring squeezes the male blade, which loosen when exposed to heat and vibration, resulting in a loss of power flow continuity and the possibility of corrosion.
"Power connectors, while a small component, are a critical design element to meet product performance and durability requirements," Mancuso said. "Commercial fleet operators not only expect but require that all vehicle systems have a service life of at least 10 years."
The unique connection also reduces heat radiating from the connection points by an average of six degrees Fahrenheit per contact. Many modern vehicles have up to 120 such contact points, so leveraging HPLB connectors leads to dramatic temperature mitigation and improved vehicle performance.
Additionally, the HPLB sits flush, unlike traditional connector terminals, reducing space requirements within the vehicle.
"Our HPLB terminal connectors not only lower temperature, but provide extra current carrying capacity," Mancuso said. "So, they are half the size and carry twice the current, and in some applications up to three times the current."