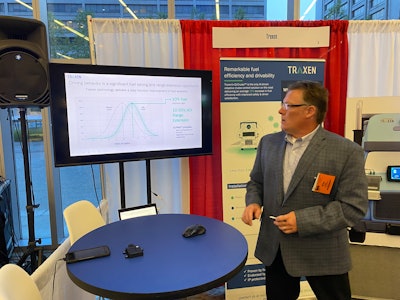 Traxen introduced the next generation in smart cruise control, iQ Cruise, Monday during a press conference at ATA's Technology & Maintenance Council (TMC) Fall Meeting in Cleveland.
Designed to sit atop and existing adaptive cruise control systems, iQ Cruise is a smart AI-driven cruise control product that can offer carriers up to 10 percent fuel savings in a year of highway driving and a ROI of less than 12 months.
CEO Ali Maleki says iQ Cruise works by leveraging short-range cameras, medium-range roadway information and long-range highway active and historical data to evaluate and set optimum cruise speeds for heavy trucks in any highway situation. Maleki says that reliance on national highway traffic patterns and data science is what elevates the product above conventional adaptive cruise and enables such substantial fuel savings — up to $5,000 per truck per year in some highway-heavy routes and applications.
Available now for retrofit in 2.5 hours, Vice President of Business Development Michael Hauer adds Traxen's iQ Cruise is designed to fit between advanced driver assistance systems (ADAS) becoming commonplace in new trucks and full Level 5 autonomy shown by self-driving companies like Waymo.
And unlike many self-driving startups underway in California, Traxen was able to bring its product to market quickly, effectively and safely by leveraging talent recruited from the industries it serves. Maleki says Traxen's IQ Cruise was developed "white paper to product" in 18 months, nearly three times faster than a similar product would be created in Silicon Valley. And its been validated too. Maleki and Hauer reference multiple completed and ongoing fleet tests that continue to show the 10 percent fuel economy gains are possible in certain applications.
To use, Hauer says drivers simply press a button to engage the system once entering a highway. And customizable features like driver scorecards and performance tracking can enable drivers to measure performance against each other to see whom nets the most savings while on the road.