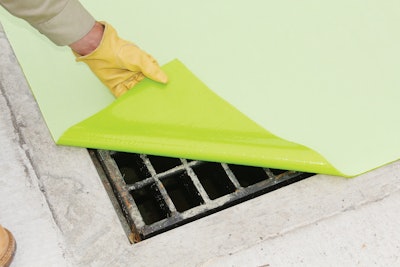 New Pig's Rapid Response Drainblocker Drain Cover is designed to provide emergency spill response protection in spill-prone areas near drains. Packaged in a high-visibility storage tube to help workers find it and respond to a spill quickly, the cover has a super-sealing urethane bottom layer that helps create a tighter seal for both floor and storm drains during spill emergencies, indoors or outdoors.
The cover, offered in four sizes for square or round drains from 9 to 36 inches, also has a UV-resistant polypropylene top layer that resists stretching or tearing when picked up. The cover is suited for fixed facilities, fleets, hazmat and other response teams to comply with U.S. Environmental Protection Agency spill preparation and cleanup regulations.
For more information, go to www.newpig.com.