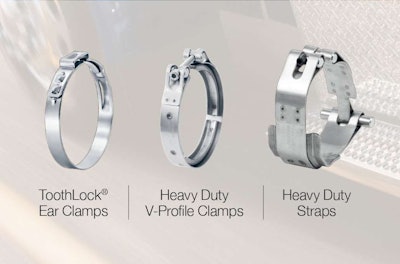 Oetiker's heavy-duty clamping and connection components are suited for powertrain, drivetrain and tank fastening applications:
• Heavy-Duty V-Profile Clamps are engineered to provide increased sealing capability and to suit a specific profile geometry for optimum axial load distribution.
• Heavy-Duty Fuel Tank Straps are engineered with materials, coatings and liners chosen to meet strict technical and assembly requirements and to offer flexibility, durability and consistent mechanical performance.
• Diesel Exhaust Fluid Tank/Air Straps are designed to meet mechanical and finish requirements on aftertreatment systems and to be compatible with polymeric or metallic materials.
• Coolant Hose Connections are designed to be application-specific for added sealing integrity and assembly efficiency, with robust leak-free connections for a high radial load and uniform compression.
Oetiker, www.oetiker.com