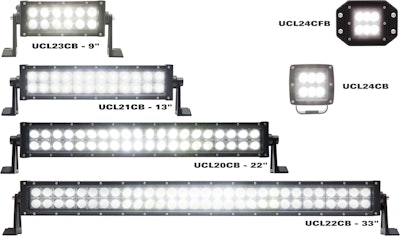 Optronics' expanded lineup of LED Light Bars now includes two 3-inch cubes, a 9-inch bar, a 30-inch bar with supplemental turn functions and a 52-inch bar with a 20,000-lumen beam. With the exception of the 30-inch multifunction lamp, all the other light bars in the family feature a combination spot/flood beam pattern, and all five can be used for scene lighting and an array of auxiliary lighting applications for robust service duty in a variety of harsh environments.
Each lamp carries an IP65 rating for dust and water resistance and is designed with tough impact-resistant polycarbonate lenses that help reduce dust adhesion; they also employ a solid-state surface-mount design that helps protect their electronics against moisture, shock and vibration. Four of the lamps feature die-cast aluminum housing and mounting brackets and come with stainless-steel hardware, while the 30-inch lamp, with its auxiliary turn function, includes an adjustable stainless-steel sliding bracket.
Three of the lamps are designed for both 12- and 24-volt electrical systems, while the two 3-inch cubes work exclusively with 12-volt systems. Four lamps are hardwired with 16-inch leads, and the 30-inch lamp comes with 24-inch leads.