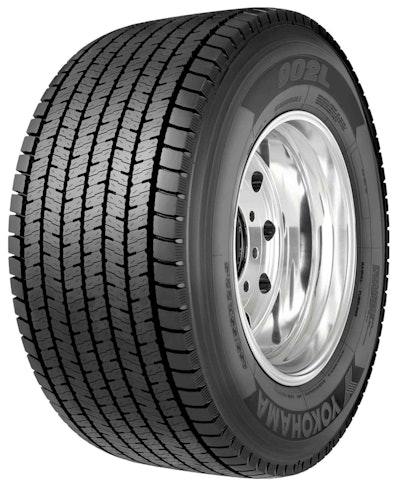 Yokohama Tire announced that its maximum-mileage 902L ultra-wide-base long-haul/regional drive tire is now available in a new size: 455/55R22.5.
"The SmartWay-verified 902L UWB delivers superior traction, as well as high-mileage," said Tom Clauer, Yokohama Tire's manager of commercial and OTR product planning. "Its unique tread design makes a real difference in extreme driving conditions."
The 902L also comes in size 445/50R22.5. Benefits, according to the company, include:
— Long even wear facilitated by a deep 27/32 tread depth built to create higher traction while providing extra-long tread life. An eight-rib block and sipe tread design contribute to enhanced lateral stability;
— Enhanced fuel efficiency and traction due to a rubber compound engineered to lower rolling resistance and reduce heat build-up. with a small block and sipe combination designed to reduce heel-toe wear to increase fuel economy and provide increased snow traction; and
— Increased retreadability facilitated by an advanced casing design created to help reduce strain and prevent casing growth.
Yokohama Tire, www.yokohamatruck.com