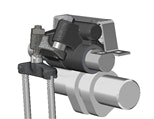 Jacobs Vehicle Systems, a manufacturer of heavy-duty diesel engine retarding systems and valve actuation mechanisms, launched its 2-Step Variable Valve Actuation system designed to enhance performance and efficiency across an engine's operating range. The company said the technology will help engine manufacturers further improve fuel consumption and reduce tailpipe emissions, as well as deliver a range of other benefits.
Jacobs said the introduction of 2-Step VVA is a progression from its fully-flexible VVA intake and exhaust system. According to the company, the new system's relative simplicity reflects years of research and development on flexible VVA to yield an optimized two-position system that provides a large portion of the benefits in a more cost-efficient way.
According to Jacobs, 2-Step VVA provides the combustion engineer with the ability to optimize valve timing at two operating points instead of the traditional single-timing option when they are driven from a fixed cam.
"By simplifying our variable valve technology, we have made a commercially desirable trade-off, only slightly reducing some of the performance benefits of fully-flexible VVA but greatly reducing calibration complexity and cost," said Steve Ernest, Jacobs' vice president of engineering and business development. "We're giving engine designers the ability to add some VVA flexibility without having to make significant base-engine changes."
Jacobs said it has many years of experience of opening and closing valves to enable engine braking, and as market demand grew for increased fuel economy and exhaust gas aftertreatment control, it made sense to leverage its engineering expertise and commercial positioning to also offer customers similar valvetrain flexibility during positive power.
Jacobs Vehicle Systems, www.jakebrake.com