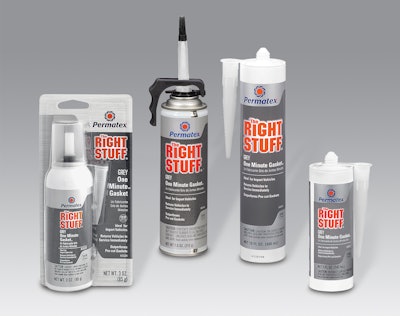 Permatex, a provider of chemical technology for automotive maintenance and repair, offers a form-in-place gasket maker designed to create a quick, reliable seal without the need for curing time. Permatex The Right Stuff 1 Minute Grey Gasket Maker is designed to allow technicians and do-it-yourselfers to make leak-proof gaskets in one minute and put the parts back right back in service.
The Right Stuff Grey's formulation features an elastomeric rubber gasket technology designed to perform under the higher torque loads associated with import vehicle engines that have closely spaced bolt patterns. It is specified by major import OEMs and is formulated to be resistant to powertrain fluids such as oil, coolant and ATF.
Permatex The Right Stuff 1 Minute Grey is engineered to seal instantly, resist blowouts and withstand temperatures ranging from -75 to 450 degrees Fahrenheit continuous and 500 degrees Fahrenheit intermittent. Suggested applications include automotive gaskets, valve covers, oil pans, transmission pans, thermostat housings and water pumps.
In addition to The Right Stuff 1 Minute Grey Gasket Maker, Permatex also offers The Right Stuff 1 Minute Black Gasket Maker, which it says is fleet-tested to be leak-free in more than 5 million miles of heavy commercial use.