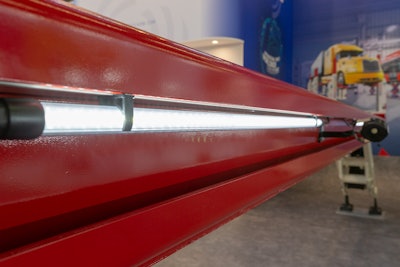 Stertil-Koni, a provider of heavy-duty vehicle lifts, introduced an enhanced high-performance LED lighting system for both its Skylift platform and four-post systems. The goal is to increase area-specific under-vehicle lighting for greater shop safety and efficiency. The lighting systems have:
• Preassembled 40-inch light tubes with transformer and mounting brackets;
• A modular "plug and play" design to facilitate easier installation and expandability;
• A slim-line design;
• A safe low voltage (24 volts);
• A water-resistant design suitable for Skylift wash bay applications; and
• Eco-friendly energy-efficient bulbs.