Trucking news and briefs for Monday, March 8, 2021:
Speed limiters debate renewed after ATA letter to DOT
A March 3 letter from the American Trucking Associations and Road Safe America to Transportation Secretary Pete Buttigieg calls for the implementation of speed-limiting technology on heavy-duty trucks. Speed limiters have been on the back-burner since 2017 when the Trump administration decided not to pursue a mandate. In 2016, the Federal Motor Carrier Safety Administration and National Highway Traffic Safety Administration issued a joint notice of proposed rulemaking that would have mandated speed control devices on trucks.
In their letter this week, the organizations said they support the December 2019-proposed Cullum Owings Large Truck Safe Operating Speed Act, which called for all new commercial trucks to be equipped with speed limiters and to require existing speed-limiting technology already installed on trucks manufactured after 1992 to be used while in operation. The bill called for maximum speeds to be set at 65 mph, or 70 mph if certain safety technologies, such as an adaptive cruise control system and an automatic emergency braking system, were also in use. The bill also called for DOT to review every five years the safety technology available for trucks and recommend any improvements to speed-governing regulations.
ATA said the bill "promotes incentives to drive adoption and use of newer technologies and provides a mechanism for DOT to continually review and update technology requirements to guard against obsolescence."
The Owner-Operator Independent Drivers Association on March 4 responded to ATA's letter with one of their own to Buttigieg opposing a mandate of speed limiters. "We are adamantly opposed to any proposals that would create a separate nationwide speed limit for CMVs," the group said in the letter.
OOIDA said the two technologies that would be required for a 70 mph limit under the previously proposed bill "come at a significant cost, and it will be mostly large carriers that can afford to use them." The group notes not only the installation cost, but also the cost of maintenance when the systems fail.
"Under this legislation, owner-operators and small motor carriers, who oftentimes don't use these technologies but have decades of experience and millions of miles of accident-free driving, would be limited to a lower speed than a brand new 21-year-old driver who has these technologies, but no experience behind the wheel," OOIDA added. "In no way can this be said to improve safety. Instead, it will hinder small businesses' productivity and profitability."
Michigan expands spring weight restrictions
The Michigan Department of Transportation Thursday, March 4, announced it and local agencies are enacting additional annual spring weight restrictions. MDOT first announced restrictions for much of the southern part of the state earlier this month.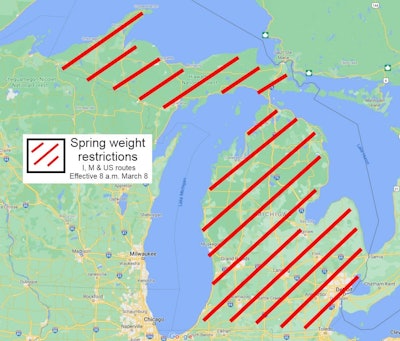 Effective at 8 a.m. Monday, March 8, weight restrictions will be imposed and enforced on all state trunkline highways for the entire state of Michigan. State routes typically carry M, I, or U.S. designations.
In the restricted areas, the following will apply:
On routes designated as "all-season" (designated in green and gold on the MDOT Truck Operators Map), there will be no reduction in legal axle weights
On routes designated as "seasonal" (designated in solid or dashed red on the MDOT Truck Operators Map), there will be a posted weight reduction of 25 percent for rigid (concrete) pavements and 35 percent for flexible (asphalt) pavements
All extended permits will be valid for oversize loads in the weight-restricted area on the restricted routes. Single-trip permits will not be issued for any overweight loads or loads exceeding 14 feet in width, 11 axles and 150 feet in overall length on the restricted routes.
County road commissions and city public works departments put in place their own seasonal weight restrictions, which usually, but not always, coincide with state highway weight restrictions. Signs are generally posted to indicate which routes have weight restrictions in effect.