Trucking news and briefs for Tuesday, March 2, 2021:
Annual TCA convention rescheduled for September
The Truckload Carriers Association annual convention has been delayed again due to limitations on large gatherings in Las Vegas.
Truckload 2021: Las Vegas will now be held Sept. 25-28, moving from April 17-20. The venue will remain at the Wynn Las Vegas Resort. The convention was originally scheduled for January before it was moved to April.
"Due to the current limitations placed on large gatherings by the state of Nevada, and out of abundance of concern for the well-being of our attendees, we have made the decision to push the dates of truckload's premier event to the fall," TCA said. "Rescheduling this event allows us to provide the high-quality meeting experience that attendees have come to expect from TCA's annual convention."
TCA will provide a supplementary virtual offering for the April meeting dates – TCA's Spring Business Meetings – set for April 19-20.
Michigan enacts spring weight restrictions
The Michigan Department of Transportation and local agencies have enacted spring weight restrictions, an annual move the department said is needed to protect roads.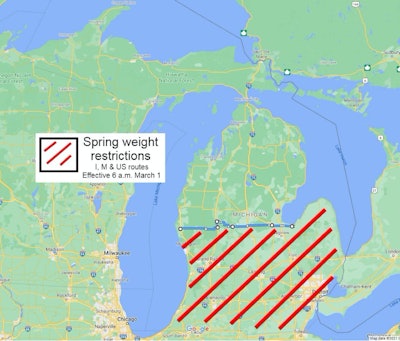 Effective 6 a.m. Monday, March 1, weight restrictions will be imposed and enforced on all state trunkline highways from the Michigan border north to and including M-20 from the interchange with U.S. Highway 31 in Oceana County, then east on M-20 to U.S. 131, then north on U.S. 131 to M-20 in Mecosta County, then east on M-20 to U.S. 10 in Midland County, then east on U.S.10 to M-25 in Bay City, including the entire Thumb region.
All state trunklines in this area will have weight restrictions imposed and enforced. State routes typically carry M, I, or US designations.
In the restricted areas, the following will apply:
On routes designated as "all-season" (designated in green and gold on the MDOT Truck Operators Map), there will be no reduction in legal axle weights
On routes designated as "seasonal" (designated in solid or dashed red on the MDOT Truck Operators Map), there will be a posted weight reduction of 25 percent for rigid (concrete) pavements and 35 percent for flexible (asphalt) pavements
All extended permits will be valid for oversize loads in the weight-restricted area on the restricted routes. Single-trip permits will not be issued for any overweight loads or loads exceeding 14 feet in width, 11 axles and 150 feet in overall length on the restricted routes.
For weight restriction information and updates, call 800-787-8960, or you can access this information on MDOT's website, under "Restrictions." All-season routes are designated in green and gold on the MDOT Truck Operators Map, which is available online. Trucking companies located in New Jersey and Canada can obtain information by calling 517-373-6256.
Locus, Lytx partner on analytics and routing software
Automation software provider Locus and video telematics provider Lytx have partnered on a new product offering meant to help fleets optimize fuel economy, better monitor driver behaviors, aid in compliance management and provide predictive maintenance alerts.
Locus' machine-learning software will use GPS data provided by Lytx to perform route optimization, enable driver communication and allow interaction with shippers and receivers.
Dana acquires vehicle software firm
Dana Incorporated has acquired software and electronic control unit firm Pi Innovo to support the light, commercial and off-highway vehicle markets. Dana previously held a non-controlling interest in the company. The terms of the deal were not disclosed.
Headquartered near Detroit, the acquisition of Pi Innovo enables Dana to increase its in-house electrodynamics capabilities and electrification product portfolio by adding a strong library of turn-key electric vehicle application software, vehicle level controllers and auxiliary controllers.
"The extremely talented and experienced Pi Innovo team have provided exceptional modular software and controls solutions for original equipment manufacturers for more than 25 years," said James Kamsickas, Dana chairman and CEO. "Integrating Pi Innovo with Dana's leading e-Propulsion software capabilities will further enhance our ability to provide value for our customers as they continue to accelerate their electric vehicle portfolio development."
The software and controls expertise of PI Innovo builds on Dana's capabilities in designing, engineering and delivering complete vehicle integration for e-Propulsion systems.
Hydrogen fuel cell supplier plans to build fuel cell production line
Hyzon Motors, a supplier of zero-emission hydrogen fuel cell powered heavy vehicles, announced plans to build the largest fuel cell membrane electrode assembly (MEA) line for commercial vehicles in the U.S. at its new Hyzon Innovation Center located in Bolingbrook, Illinois, just outside of Chicago.
The company says the MEA is the critical component of a fuel cell and accounts for about 70% of the cost of a fuel cell stack. MEAs are currently produced in Canada, Europe, Japan, Korea and China at commercial scale. Smaller scale MEA production in the United States has so far been a supply and cost bottleneck for U.S. fuel cell vehicle production, Hyzon notes.
At full capacity, the Hyzon Innovation Center is expected to produce enough MEAs to cover the production needs for up to 12,000 hydrogen fuel cell powered trucks every year. The facility is expected to commence production of MEAs in the fourth quarter of 2021, and is planned to open with 28,000 square feet of manufacturing space, before expanding in a second phase to 80,000 square feet.
Epes Transport names new president
Epes Transport, a business unit of Penske Logistics, announced that Phil Peck has been promoted to president from his current role as chief operating officer.
Peck assumes the role following the recent retirement of Richard Kuehn, who helped lead the Epes organization for 23 years. Kuehn will stay on with Epes as an advisor for a period of time to help with the leadership transition.
He began his career at Epes as a driver manager in 1995, following 10 years in the moving and storage business as both a driver and operations manager. Over the last 25 years, he has served in multiple capacities at Epes including dispatch, planning and customer service.
Peck helped the company grow its business from just 250 trucks to now over 1,550 units and played a key role when Penske Logistics acquired Epes in 2018. In 2019, Peck was promoted to chief operating officer with responsibilities including all driver- and customer-facing activities.
PS Logistics acquires 40-truck flatbed fleet
PS Logistics has purchased all substantial transportation assets of Jason Jones Trucking, a privately-held flatbed fleet based in Shoals, Indiana.
JJT maintains a fleet of 38 tractors, 89 trailers and 41 drivers primarily hauling general freight, including drywall gypsum, lumber and brick – types of freight which PS Logistics also specializes in.
"JJT brings great freight synergies to both our companies as well as our customers," said Scott Smith, CEO of PS Logistics. "It also further establishes our base in the upper Midwest and adds a new terminal to our growing national network."
JJT operates as a family-run business with a loyal driver base and strong customer relationships. The acquisition will provide JJT and its customers with additional capacity, new service offerings, and increased economies of scale.