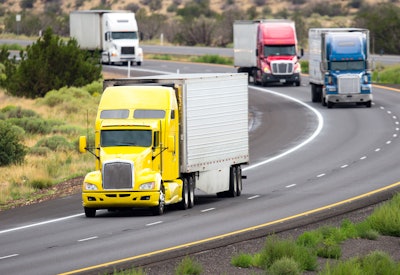 Five highway-based initiatives made the National Transportation Safety Board's (NTSB) Most Wanted List Wednesday, a compilation highlighting transportation safety improvements needed to prevent accidents, reduce injuries and save lives. The agency will use the list to focus its advocacy efforts through 2022.
Among the agency's 10 initiatives – the others covering air, rail and marine transportation – was the implementation of a comprehensive strategy to eliminate speeding-related crashes; protect vulnerable road users (pedestrians, bicyclists, and motorcyclists) through a Safe System approach; preventing alcohol- and other drug-impaired driving; require collision-avoidance and connected-vehicle technologies on all vehicles; and the elimination of distracted driving.
Between 2009 and 2018, speeding-related crashes resulted in nearly 100,000 fatalities-that's close to one-third of all traffic fatalities in the U.S., according to NTSB. The Commercial Vehicle Safety Alliance's Operation Safe Driver Week, set for July 11-17 this year, will have an emphasis on speeding. CVSA selected speeding as its focus this year because, despite a drop in roadway travel last year due to the pandemic, nationally, traffic fatalities increased. According to the National Safety Council's (NSC) preliminary estimates, the estimated rate of death on roads last year increased 24% over the previous 12-month period, despite miles driven dropping 13%.
"Speed-limiters on large trucks, automated enforcement, expert speed analysis tools, and education campaigns are underused in our communities," NTSB wrote as planned tactics to curb speeding. "These critical tools and strategies must be implemented to address this safety problem."
[Related: July's Operation Safe Driver Week looking for speeders]
A Safe System approach to protecting vulnerable road users (VRUs) would address all aspects of traffic safety including road users, vehicles, speeds, roads and post-crash care. "We must make better safety investments, from road treatments, vehicle design, and collision-avoidance systems to strong traffic safety laws and robust education efforts to mitigate injury risks for all road users," NTSB wrote.
One in four traffic fatalities in 2019 resulted from crashes involving alcohol-impaired drivers. To combat the trend, NTSB said states should consider lowering the per se blood alcohol content (BAC) allowance from the current .08% level and "[all] states need to implement laws requiring all drivers convicted of alcohol-impaired driving to use an interlock device, preventing future impaired driving."
Catching drug users can be more tricky as there are neither standardized drug-testing protocols nor established limits or thresholds to determine drug impairment. "Bottom line," the agency wrote, "we need to develop better drug-testing procedures and tests."
[Related: Six years of inaction on hair testing is six years too many]
That a large percentage of highway crashes are caused by inattentive drivers, distracted driving solutions got two of the five spots on NTSB's list.
Collision-avoidance and connected-vehicle technologies – like forward-collision warning and automatic emergency braking, which can warn the driver of an upcoming hazard and act if the driver doesn't respond – can address human errors that lead to crashes, the group said. However, National Highway Traffic Safety Administration has not developed comprehensive performance standards for these technologies, nor does it evaluate them and include this information in its vehicle safety ratings.
Collision mitigation platforms, to one degree or another, have been offered as standard on heavy trucks for several model years, with other features – like lane keeping or centering – often available as options.
"Additionally, we were alarmed by the recent regulatory decision by the Federal Communications Commission to substantially shrink the communication spectrum dedicated to connected-vehicle technology," NTSB wrote. "If this decision is not reversed, safety progress could be hindered."
To combat distracted driving at its source, NTSB previously recommended a ban on the use of all personal electronic devices while driving, but no state has taken such action to-date. Forty-eight states plus Washington D.C. have an all-driver text messaging restriction and nearly half the country has some form of hands-free device law, but NTSB says that isn't enough.
"Hands-free is not risk free. Using a device hands-free does not reduce driver distraction," NTSB wrote. "In fact, drivers are still distracted by the conversation – this is called 'cognitive distraction.' Many drivers believe they can multitask and still operate a vehicle safely. But multitasking is a myth. Humans can only focus cognitive attention on one task at a time. That's why the driving task should be a driver's sole focus."
Late last month, the American Trucking Associations (ATA) threw its support behind the Safe to Drive Act, legislation introduced in February that is aimed at helping states curb distracted driving. The bipartisan bill – which was also introduced in April 2019 in a previous session of Congress but did not receive a vote – would provide grants to states that pass laws banning mobile device use that can be used to enforce distracted driving laws as well as educate motorists about the risks of distracted driving.