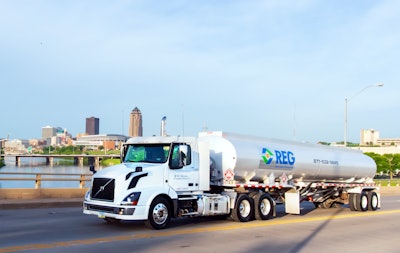 Renewable Energy Group
When it comes to reducing the size of a fleet's carbon footprint, electric trucks can have a tough time competing with trucks running on 100% biodiesel.
According to the U.S. Energy Information Administration, roughly 60% of the power generated in the U.S. last year was derived from fossil fuel sources like coal, petroleum, natural gas and other gasses. Twenty percent was sourced from nuclear and the remaining 20% from renewable sources.
Electric trucks and vans plugging into fossil-fuel power sources will have a sizable carbon footprint that Optimus Technologies CEO Colin Huwyler said could be avoided if fleets turn to B100, a carbon-neutral fuel when sourced entirely from plants.
[Related: Biodiesel helps win freight bids as emissions regs tighten]
"People tend to have a harder time grasping that a 100% biodiesel truck could offer lower carbon than a 100% electric vehicle," Huwyler said. "But when you take a step back and you look at where the carbon comes from, you're still using a fossil fuel-based product to power the vehicle. It's just powering it in a slightly different manner. And so with biodiesel, it's basically a solar truck. It's just a different form of solar energy."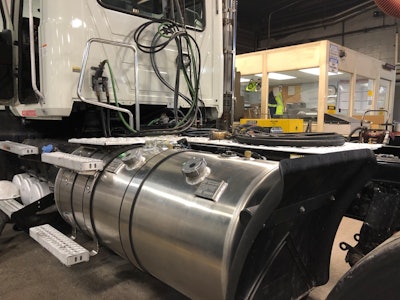 Huwyler uses the term solar for biodiesel produced from plants. Optimus, based in Pittsburgh, Penn., has been working alongside alternative fuel supplier Renewable Energy Group in Ames, Iowa which produces B100 from soybean plants. Biodiesel can also be produced from animal fats.
Greater concentrations of biodiesel result in lower emissions but higher biodiesel levels can lead to gelling and fuel system clogging, particularly in colder climates. Optimus has overcome that problem with its Vector System, a bolt-on solution for medium- and heavy-duty diesel trucks that uses engine waste heat to keep biodiesel flowing even at 100% concentration.
REG has been using the Vector System to run B100 in its Volvo semis to deliver fuel and Freightliner bobtail trucks in Iowa year round, even in below freezing temperatures.
REG Director of Energy Marketing Adam Sander said that in addition to lowering emissions and their carbon footprint, using B100 has reduced diesel particulate filter maintenance since the fuel burns cleaner than conventional diesel.
Huwyler explained that DPF regens not only drop in frequency with B100 but are actually better than conventional diesel since B100 is a more oxygenated fuel.
"You've got less soot on the filter, but the soot that is there regenerates better," he said.
Compared to conventional diesel, biodiesel cuts particulate matter by roughly 50%, total hydrocarbons by nearly 70% and carbon monoxide by nearly 50% according to REG.
Unlike electric, Sander pointed out that using B100 with the Vector System can quickly drop emissions without sinking a carrier's budget.
"The technology is available now, and there's very little capital expenditure required to use it," Sander said. "The fuel's available now, and other than that, there's very little CapEx and very little infrastructure change-out needed."
Bolt-on solution at a 'reasonable cost'
In January 2020 the City of Ames, Iowa, had five of its International dump trucks equipped with the Vector System so that they could run the trucks on B100 which is produced locally by REG.
Over a year later, fleet manager Rich Iverson said the pilot went so well that the city decided to adopt the Vector System fleet-wide.
"The bottom line is we're achieving a huge reduction in our carbon intensity by about 80% over what we were doing," Iverson said. "We've already converted almost all of our entire trucks. So that's a huge difference for us."
The City of Ames has adopted various alt fuel technologies, including electric, but B100 allows the city to keep using a larger class diesel truck to tackle tough jobs without having to take on costly changes in infrastructure and fleet technician training associated with other alternative fuels.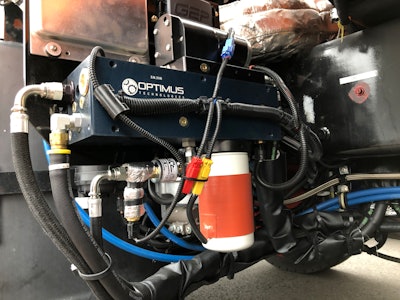 "This is really cost-effective to achieve what we want which is to provide our citizens with the same quality of services that we've always provided them with and then to reduce our carbon footprint at a reasonable cost," Iverson said. "The cost is really, really low compared to going to a hybrid or an all-electric type of alternate fuel."
Running the trucks in sub-freezing conditions has not been an issue. Because of its two-tank design, the Vector System initially runs the trucks on conventional diesel until the biodiesel is heated. Warm coolant coming off the engine is circulated through lines immersed in the B100 tank.
"It's a 70-gallon tank, 42 gallons of biodiesel and the rest is regular," Iverson said.
Drivers are not required to switch fuels. They simply drive the truck like they normally would. The system automatically switches over to B100 once the fuel is sufficiently heated. Fuel system purging is also automated. Once the driver stops the engine, the truck switches back to conventional fuel and keeps running until the system is purged of biodiesel which prevents clogging.
Plenty of data is collected on the truck including information related to regen cycles.
"They collect everything," Iverson said. "And they share that with us. I have a dashboard I can go into any truck and look at when it started using bio, how long it ran on bio, how much was used, what temperatures it was, the ambient temperature outside. I can look at the location of the truck. They track tons and tons of data."
Maintenance on the Vector System, Iverson said, requires swapping out a fuel filter on a roughly annual basis.
Diesel prices and sustainability goals will attract more fleets
According to the U.S. Energy Information Administration, the average price per gallon of diesel has steadily increased from $2.39 in October to $3.15 in March, a 32% increase. So, with a rise in petroleum-based diesel, does REG believe that could drive more fleets to biodiesel?
"We do," said Jon Scharingson, REG's executive director of sales and marketing. "Although, it's about a lot more than fuel prices. Fleets are increasingly being required to meet sustainability targets, either from governments or their customers. Biodiesel is an easy-to-adopt low-carbon fuel that can help them meet clean air regulations easily and immediately, win bids with sustainability requirements and improve their brand perception as a sustainability provider."
Other factors that can impact ROI on the Vector System include a fleet's location. Incentives and tax benefits may be more beneficial in some areas over others.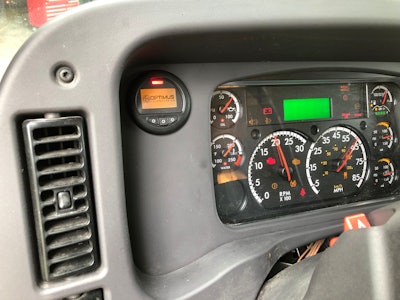 "Texas exempts biodiesel from its state on-road fuel tax," Huwyler said. "There's about a 20 cent cost savings for B100 in the state of Texas, just on a tax basis."
But as Scharingson pointed out, most fleets are attracted to the quick, drop-in advantages that B100 brings when it comes to lowering emissions.
That's the case for Washington, D.C. where the Department of Public Works recently announced plans to adopt the Vector System throughout its refuse and recycling fleet following a successful pilot with six trucks. By the end of the year, DPW plans on having over 100 of its trucks upfitted to run on B100.
"The increasing use of B100 in the DPW fleet is in part to help us reach our goal of 50% greenhouse gas emission reductions by 2032," said DPW Fleet Associate Administrator, Ryan Frasier. "Moving forward, our intention is to only purchase heavy-duty trucks that operate on B100 technology."
Broco Oil, a residential, commercial and emergency fueling provider in the Boston, Massachusetts area, will begin piloting B100 later this year. A current customer of REG, Broco Oil has traditionally purchased biodiesel from REG to sell as blended Bioheat fuel to their customers. They intend to begin by piloting 10 of their trucks on B100 technology, with hopes to grow B100 use in the future.
"We pride ourselves on the service and difference that we provide to our customers, day in and day out," said Bobby Brown, Owner of Broco Oil. "By beginning to operate our vehicles on B100, we are making a lasting difference in the air quality for the communities we serve."