The Environmental Protection Agency (EPA) has conducted and concluded significantly fewer enforcement cases of environmentally regulated entities since 2007, according to the results of an audit from the EPA Office of Inspector General (OIG).
EPA OIG reports that the agency conducted 58% fewer enforcement actions with injunctive relief, 53% fewer enforcement actions with penalties, and 48% fewer enforcement actions with Supplemental Environmental Projects (SEPs) in fiscal year 2018 than in fiscal year 2007. OIG adds that limited analyses of fiscal years 2019 and 2020 enforcement results showed continued decline.
EPA OIG says that while enforcement results by specific statute generally followed the declining national trends for compliance monitoring activities, the Clean Water Act and the Clean Air Act, which includes certain trucking emissions standards, accounted for the largest portion of enforcement actions concluded over time and together accounted for almost all penalty dollars and total pounds of pollutant reduction commitments.
Several trucking-related entities – including Caterpillar, Cummins, Daimler and Navistar, among others – have had enforcement actions against them during the timeframe of OIG's audit.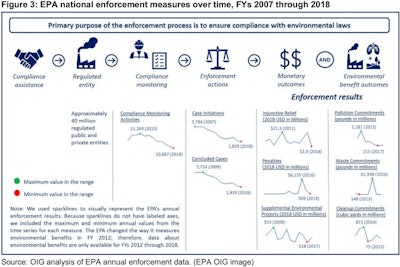 Chair of the House Committee on Transportation and Infrastructure Peter DeFazio (D-Oregon) and Chair of the Subcommittee on Water Resources and Environment Grace F. Napolitano (D-California) called the OIG report "troubling."
"This new report from the EPA OIG is extremely troubling and demands a course correction in short order to ensure the EPA's mission – to protect public health and the environment – doesn't see further degradation," DeFazio said.
Both DeFazio and Napolitano were hopeful the Biden Administration and EPA Administrator Michael Regan would get the agency "back on track," DeFazio said.
"Too many communities in our country are repeated victims of polluters who flaunt our nation's environmental laws due to a lack of enforcement," Napolitano said. "This report is timely, as the new administration seeks to deliver environmental justice for regions plagued by contamination, hold polluters accountable, and prevent future bad actors."
The reasons for the declines in enforcement, OIG found, included a decline in funding for EPA's enforcement program, as Congress appropriated 18% less funding for EPA enforcement in FY 2018 than in FY 2006.
"The resulting decline in the number of EPA enforcement personnel led to fewer compliance monitoring activities and concluded enforcement actions," OIG says. "In addition, leadership decisions affected the EPA's annual enforcement results through strategy, policy and workforce culture changes."
Due to these limited resources and fewer personnel after FY 2011, OIG found that EPA "refocused its enforcement resources on bigger cases against the most serious violators that significantly impacted human health and the environment." Another strategic shift in 2017 emphasized returning violators to compliance rather than bringing enforcement actions that resulted in monetary penalties.
OIG says that while these strategies resulted in higher median enforcement outcomes, facility operators under EPA's jurisdiction were more likely to risk noncompliance "under the assumption that they are unlikely to become subject to EPA enforcement actions."
OIG's report concludes that, over time, EPA and the public "had less knowledge about compliance by regulated entities and whether facilities emitted pollutants that could be harmful to people."
"The associated decline in enforcement actions that include penalties or injunctive relief could mean that the EPA is not adequately addressing violators, who thereby gain an advantage over other regulated entities that comply with environmental regulations."
OIG adds that, given its limited resources, EPA needs to better assess its resources to determine how it can detect harmful noncompliance and develop enforcement cases that deter future wrongdoing.