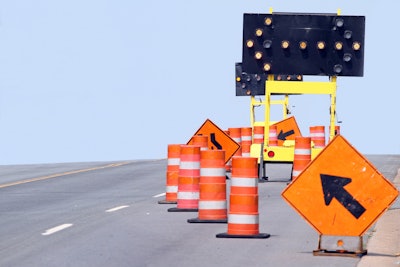 A bipartisan bill unanimously cleared the Senate Environment and Public Works Committee Wednesday, allocating $304 billion for road, bridge and highway programs over the next five years – a 34% increase from the current highway bill.
The progress of the Surface Transportation Reauthorization Act of 2021 – which Sen. Mitch McConnell (R-Kentucky) called the "first major action on surface transportation since the FAST Act six years ago" that would "raise baseline funding for roads and bridges to an all-time high" – stands in stark contrast to President Joe Biden's multi-trillion dollar infrastructure package, which has been met with partisan resistance and a Republican counter-proposal that strips three-quarters of its funding. 
Committee Ranking Member Shelley Moore Capito (R-West Virginia) noted the bill is flexible to states' unique needs "and responsive to the urgent need for investment," while taking "meaningful steps to repair our country's crumbling roads and bridges, creates jobs, simplifies the permitting process, and expands the climate title."
The proposal includes $2.5 billion to create alternative fuel corridors along the National Highway System and build out electric vehicle charging infrastructure in communities across the country and calls for $18 billion in climate programs, including $6.4 billion for reducing greenhouse gas emissions and $8.7 billion to increase resilience to climate change and extreme weather. 
"The passage of the roads bill provides renewed optimism for a timely, bipartisan surface transportation reauthorization," said National Association of Counties (NACo) Executive Director Matthew Chase. 
Counties own 44% of the nation's road miles and nearly 40% of all bridges, including 62% of those considered "off-system."
"Consistent federal investment through a new, long-term surface transportation reauthorization, developed in consultation with federal, state and local partners, would allow counties to undertake much-needed infrastructure improvement and development projects," Chase said. 
National Association of Truck Stops and Travel Plazas (NATSO) President and CEO Lisa Mullings called the bill "a critical step in ensuring that we adequately fund surface transportation and address the nation's infrastructure needs." 
The Senate bill does not include any initiatives that would expand tolling or scale back the prohibition on commercial activities at Interstate rest areas.
The House will consider its own highway reauthorization bill next month.