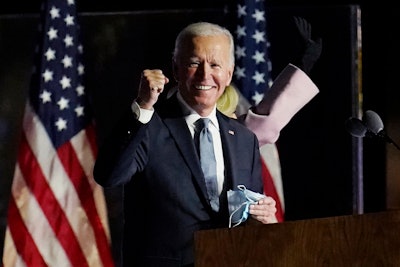 President Joe Biden on Wednesday unveiled his nearly $2.3 trillion infrastructure plan, dubbed the American Jobs Plan.
While Biden's plan – one he called "a once in a generation investment in America" – boasts a hefty price tag for American taxpayers, less than 10% of the proposed funding would be allocated to improve the nation's highways and bridges.
The U.S. infrastructure recently earned a score of "C-" from the American Society of Civil Engineers, and the nation's infrastructure quality has dropped from fifth to thirteenth in the world over the last 15 years.
According to a fact sheet released by the White House Wednesday morning, the American Jobs Plan would invest $621 billion in transportation infrastructure. However, only $135 billion of that would directly go toward repairing roads and bridges and improving highway safety.
[Related: Vehicle miles traveled tax not as clear-cut as it might seem]
The plan proposes to use $115 billion to modernize 20,000 miles of highway, roads and main streets, repair the 10,000 worst small bridges and "fix the ten most economically significant bridges in the country in need of reconstruction." An additional $20 billion is set aside "to improve road safety for all users, including increases to existing safety programs and a new Safe Streets for All program to fund state and local 'vision zero' plans and other improvements to reduce crashes and fatalities, especially for cyclists and pedestrians."
"The trucking industry is committed to being a constructive partner throughout the legislative process and will continue to work with lawmakers on both sides of the aisle on a funding mechanism that is equitable, sustainable, user-based and can provide the foundation our economy needs over the long-term." American Trucking Associations President and CEO Chris Spear
American Trucking Associations President and CEO Chris Spear commended President Biden and his "vision to modernize and revitalize our nation's aging transportation networks," but noted "[we] do not believe the Administration's funding proposal is politically tenable nor a reliable long-term solution to the shortfall facing the Highway Trust Fund."
"We also disagree with certain provisions – especially those related to labor – that are counterproductive to economic growth and will only serve as political poison pills," Spear added. "However, the President's broader plan is an important marker as Congress begins work on a surface transportation reauthorization bill. ATA recognizes this is the beginning of the legislative process, not the end."
Truckload Carriers Association President John Lyboldt agreed, saying his group was "vitally concerned that the proposed plan does not address creating a fully sustainable funding mechanism to keep the Highway Trust Fund solvent and other components which are sure to be challenged by Congress."
Additionally, Lyboldt said the inclusion of any language that jeopardizes the independent contractor business model, "which has proven itself in our industry as a pathway to the American dream," he said, "is unnecessary in a plan that should be devoted to the development of a world-class network of interstates dedicated to serving the American public."
Even though electric vehicles currently represent only 1% of the entire U.S. fleet, Biden's plan earmarks more money for electrification than repairing roads and bridges. Biden's plan puts forward $174 billion to encourage and support the purchase and use of electric vehicles, including incentives and tax breaks for individuals that buy American-made electric vehicles. Also baked into the plan is money to support the construction of 500,000 electric charging stations around the country and replace diesel-powered transit and school buses with ones powered by electricity.
Lisa Mullings, President and CEO of NATSO – the trade association representing the nation's truck stops and travel plazas – said her organization and its member locations "are eager to work with the Administration to advance its infrastructure objectives, including building a reliable and safe nationwide network of electric vehicle charging stations," adding her group was also pleased that Biden's plan did not incorporate tolling existing interstates and commercializing rest areas as funding sources.
The White House plans to fund the American Jobs Plan with Biden's Made in America Tax Plan, which would increase the corporate tax rate from 21% to 28%, discourage offshoring by multinational corporations, eliminate tax preferences for fossil fuels and more.
Other transportation infrastructure funding under Biden's proposal would go toward improving public transit; improving passenger and freight rail service; expanding the manufacturing of and infrastructure for electric vehicles; improving ports, waterways and airports; and more.
Transportation Infrastructure/Congestion/Funding has been a perennial Top 10 issue in the American Transportation Research Institute's (ATRI) annual Critical Issues In The Trucking Industry Survey.
More than one-third of respondents (34.1%) to ATRI's 2020 survey believe that a federal infrastructure bill provides the best opportunity for truck parking capacity investments. While there are currently federal formula funds eligible for truck parking projects, ATRI noted they compete with road construction activities.
[Related: Truck parking push renewed in D.C.]
Biden's plan will still need to move through Congress, where it likely will face intense opposition from Republicans.
"Our nation could use a serious, targeted infrastructure plan. There would be bipartisan support for a smart proposal," said Senate Republican Leader Mitch McConnell (R-KY), calling the proposal "a liberal wish-list."
"This plan is not about rebuilding America's backbone," McConnell added. "Less than 6% of this massive proposal goes to roads and bridges. It would spend more money just on electric cars than on America's roads, bridges, ports, airports, and waterways combined."
Speaker Nancy Pelosi (D-CA) called the American Jobs Plan "a visionary, once-in-a-century investment in the American people and in America's future," noting the package "is about jobs, jobs, jobs: creating millions of good-paying union jobs, investing in American workers and turbocharging America's global competitiveness – all while reimagining and revitalizing our infrastructure in a transformative, resilient way."