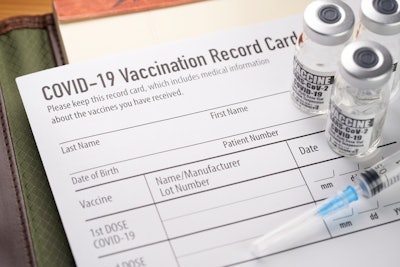 Occupational Safety and Health Administration (OSHA) Tuesday evening sent its vaccine mandate recommendation to the White House for review.
The rule will take effect once the Office of Management and Budget (OMB) completes its review and it's published in the Federal Register.
President Joe Biden almost 5 weeks ago charged OSHA with developing and implementing a rule that would have employers with 100 or more workers to require COVID vaccines or regular testing. The move is expected to impact more than 80 million unvaccinated workers in private sector businesses with 100 employees or more.
American Trucking Associations (ATA) CEO Chris Spear in an email to members Tuesday night said his group "is working to ensure the ultimate rule, if and when it issues, takes into account the vital work that ATA members do every day in delivering life-saving COVID vaccines, medical supplies and the necessities of life."
The majority of eligible Americans (almost 57%) are already fully vaccinated. While only a small portion of the trucking industry has more than 100 employees, Spear took aim at the employee headcount threshold and the idea that "if these mandates are designed to actually better protect all Americans, how are employee lives at a smaller employer less important?"
Spear also noted that during the throes of the pandemic, trucking companies and drivers, "have done our work as safely as was possible ... and [ATA has] explained that to the administration," adding that truck drivers spend most of their work hours alone in the cab of a truck – "literally one of the safest places possible during a pandemic – so why do they need to be regulated in this way?"
He also questioned the practicality of implementing the rule on an industry that spends very little time at a central location. "Testing hundreds of thousands of truck drivers moving across the country every day is a virtual impossibility," Spear said, adding that ATA has made its concerns known to the Biden administration, as well as potential effects on the nation's supply chain, which is already stressed to a level not seen in generations. "Assuming the administration moves forward without heeding our concerns, we will be examining all options and choose a path that protects our industry and the 80% of the country that depends on us."
Similarly, Truckload Carriers Association Chairman Jim Ward said in an email to members Wednesday that his group "remains committed to expressing the viewpoints of our industry on this issue, focusing on the dramatic change it could have on our driving force and exorbitant impact it would have on capacity in an already tight market. As such, we continue to stress the impractical demands that such a rule would have on our segment of the industry, especially for the drivers operating in an irregular route environment.
"As the rule continues its progress towards publication in the Federal Register, we remain committed to stating our apprehensions and concerns over this mandate and the effects it will have on our industry," Ward wrote.
There is no timeline for OMB to finish its review, but it's likely to be within the next few weeks.
Attorneys general for almost half the U.S. states have already pledged to fight a vaccine mandate should it pass, and Texas Governor Greg Abbott on Monday issued an executive order prohibiting businesses and other entities from requiring them.