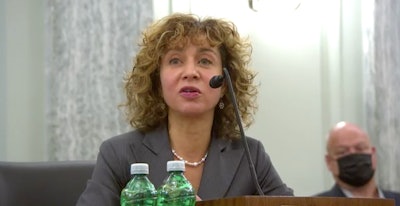 Federal Motor Carrier Safety Administration Deputy Administrator Meera Joshi was confirmed Wednesday morning by the U.S. Senate Committee on Commerce, Science and Transportation to be named Administrator of the agency, moving her one step closer to the agency's top role.
She was approved by the Committee by a 22-6 vote in favor of her confirmation. Joshi will still need to be confirmed by the full Senate before officially being named FMCSA Administrator.
She underwent a confirmation hearing with the Committee a month ago and answered questions about numerous topics, including the COVID hours of service waiver, port congestion and more.
Joshi has served as FMCSA's acting administrator since January. If confirmed by the Senate, she would be the first official Administrator of FMCSA since Ray Martinez, who stepped down from the post in October 2019. The job has since been held by Jim Mullen, Wiley Deck and Joshi, each as acting administrator.
President Joe Biden also announced Tuesday that he is nominating Steve Cliff to be Administrator of the National Highway Traffic Safety Administration (NHTSA). Cliff has served as deputy administrator of the agency since February.
He joined the staff of the California Air Resources Board in 2008 and held various positions until 2014 when he was appointed to the California Department of Transportation as the inaugural Assistant Director for Sustainability. He returned to CARB in 2016 as senior advisor to CARB's board chair. Immediately prior to joining NHTSA, Cliff was deputy executive officer at CARB, where he oversaw development and implementation of regulations for passenger vehicle emissions, medium- and heavy-duty engine emissions and more.