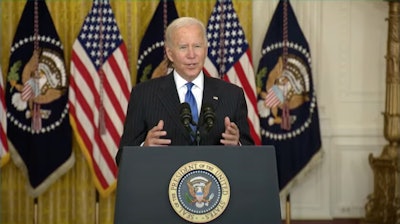 President Joe Biden announced on Wednesday measures being implemented to ease supply chain bottlenecks ahead of the holiday shopping season as America's ports see an unprecedented backlog of ships and officials caution that retail spending could suffer.
Biden announced that the Port of Los Angeles would move to 24/7 operations by adding a night shift. Additionally, Biden announced that major movers of goods Walmart, FedEx, and UPS would also add shifts to clear up the backlog at the ports. Samsung, Home Depot and Target will also increase work during off-peak hours, according to the announcement.
"You're hearing a lot about supply chains and how hard it is to get a range of things from toasters to sneakers to bicycles or bedroom furniture," Biden said in his announcement. "Today we have an important announcement that will get things you buy to you faster."
Biden was joined by executives from the ports of Los Angeles and Long Beach, the two ports through which Biden said 40 percent of America's shipping containers pass. Biden said that stepping up to 24/7 hours of operation would unlock 60 more hours every week to move along the supply chain and allow truckers to avoid traffic by moving at night.
"During off-peak hours, cargo leaves the port at a 25 percent faster pace than the day shift," said Biden. "Today's announcement has the potential to be a game changer. I say 'potential' because these goods won't move themselves. For the positive impact, we need major retailers and freight movers who move the goods to step up as well."
Biden lauded Walmart for "committing to going all in on moving these products 24/7, specifically a with a 50 percent increase in the use of off-peak hours."
Biden also said UPS and FedEx would "significantly increase" the amount of goods moved at night to help "businesses of all sizes" to get goods on the shelves "faster and more reliably."
The announcement specifically spoke to truck drivers and trucking companies more broadly, too. Biden urged increased productivity, and an increase in the ability to unionize, boost wages, and meet climate goals in a massive effort to reinvent the U.S. supply chain.
"If federal support is needed" for transportation companies to meet this challenge, Biden said he'd "direct all appropriate action" to help them, but also threatened to "call out" companies that don't step up to "get them to act."
The new initiatives to tackle the strained supply chain followed the White House Press Secretary saying the administration "cannot guarantee" prompt delivery of Christmas gift orders this holiday season and an unnamed official telling Reuters: "There will be things that people can't get."
Biden blamed today's shipping headaches on the advent of "just-in-time inventory," which he admitted to supporting during the Obama administration.
"We need to take a long review and invest in greater resilience to resist the kind of supply chain shocks we've seen year after year, whether it's weather, climate change or cyber attacks," he said.
Ultimately, Biden called for US companies to cut reliance on foreign countries and supply chains with single points of failure and instead to bring back vital production capacities to America.
"Never again should our country and economy have to rely too heavily on one country or one person, particularly when countries don't share our values on worker's rights," he concluded.
Mixed messages for trucking
The trucking industry has seen record spot freight rates and soaring demand indicators in load boards' load-to-truck ratios, particularly high in major port areas. Biden's Supply Chain Task Force has already floated the possibility of using the Defense Production Act to get automakers to hand over information regarding their chip inventories, something which OEMs typically keep to themselves.
The shortage of semiconductors, itself a product in part of port backlogs, has hampered growth in the freight industry as new trucks can't be completed and used trucks soar in price.
Combined with weak driver availability (often referred to as a "driver shortage") and continued weakness in job growth around the economy, freight experts have long warned of a looming disaster over the holidays, which Biden's vaccine mandate might exacerbate.
Large companies and fleets like Walmart, UPS, and FedEx would be subject to Biden's vaccine/regular-testing mandate, and the large-fleet world has long held the mandate will cost jobs and harm the supply chain.
American Trucking Associations President Chris Spear said on Tuesday he "is working to ensure the ultimate rule, if and when it issues, takes into account the vital work that ATA members do every day in delivering life-saving COVID vaccines, medical supplies and the necessities of life."
Polling from Overdrive indicated that a significant portion of drivers would consider leaving their current positions if forced to vaccinate. ATA has argued that the 100-employee threshold for the mandate is arbitrary, while Overdrive editor Todd Dills shared recent-history growth data that suggested the mandate might further incentivize some drivers to leave big companies for smaller operations.
[Related: Intermodal haulers fight off a 'system collapse' at ports as Biden pushes productivity]