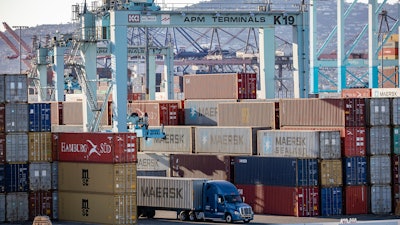 Port of Los Angeles
Port of Los Angeles Executive Director Gene Seroka would like to see more truckers taking on an unprecedented freight surge at the nation's busiest port.
The problem however is that the port is calling for increasingly tough zero-emission truck policies which, according to a major port player, are already hampering drayage capacity even though these clean air polices haven't taken effect.
"The new Clean Air Action Plan, even though it's not even being enforced yet, is absolutely keeping a lid on drayage capacity," NFI's senior vice president of port services Aaron Brown said this week during the company's 2022 Supply Chain Outlook Webinar.
Brown's comments come as the Ports of Los Angeles and Long Beach announce an upcoming $10 charge per container fee for trucks that fail to meet zero emission compliance. The fee, which takes effect April 1, is expected to raise $90 million between the two ports in its first year. Revenue raised for the Clean Truck Fund will support the adoption of zero-emissions trucks and infrastructure to help the ports eliminate truck emissions by 2035.
[Related: Port confidence still wanes despite driver bonuses, new container fees]
While NFI (CCJ Top 250, No. 21) supports zero-emission truck adoption with a fleet that's on track to providing the company with the nation's first all-electric Class 8 fleet location, there are concerning regulations in place and more on the way that are further squeezing an already constrained drayage market.
"At a high level, any trucks that want to service the ports for the first time today have to be 2014 or newer," Brown said. "As of April of next year, any trucks that aren't zero emissions will be assessed a fee for every container pickup. And then starting in 2023, anything older than 2010 isn't going to be able to access operations in the LA-Long Beach port."
Brown said it all adds up to tougher access to equipment.
"There's multiple layers of equipment restrictions that are coming down the pike over the next couple of years so that's really keeping any potential new drayage capacity on the sidelines and more than likely pushing it to other sectors of the trucking industry," he said. "We're not getting access to that new potential drayage capacity even if there's a willingness to work in the ports."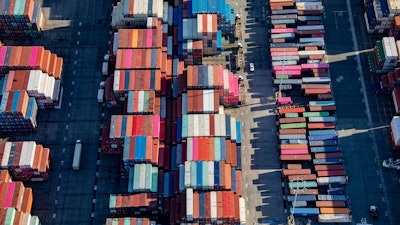 Even though cries continue for more trucks and drivers to take on historic freight levels at California ports, don't expect policy makers to relax restrictive legislation anytime soon. "To be frank, blanket delays to California's diesel regulations are not likely," said California Trucking Association CEO Shawn Yadon. "However, we are raising awareness about manufacturing supply chain issues and parts shortages that will make hitting upcoming major deadlines impractical. As long as these issues persist, some flexibility is going to be necessary if we're going to avoid worsening our current situation."
The California Trucking Association acknowledges a tough road ahead in meeting emission deadlines and is calling on the California Air Resources Board to reassess emission polices.
"Given that truck fleets are not likely to even get newly manufactured diesel trucks in time for pending deadlines, CARB should be reassessing any near-term targets for zero-emission vehicle deployments, especially at the ports," Yadon told CCJ.
"CARB's current proposed regulations would restrict any new truck from servicing the ports after November 1, 2023 unless it is zero-emissions," Yadon continued. "Given that roughly 40% of trucks currently servicing the ports will fall out of compliance [by 11/1/2023] with the anticipated delays in new equipment and the used market drying up, trying to switch out nearly 6,000 trucks to zero-emissions by 2023 is not going to be possible. That would leave the drayage capacity at the ports well short of where it needs to be if these conditions persist for the next several years."
More trucks and drivers the answer?
In a recent interview with Fox Business, Seroka said vessel production at the Port of Los Angeles had surged 50% since last summer when consumers fueled by government stimulus checks and COVID lockdowns kicked off an ecommerce boom.
"Each ship that comes to the Port of Los Angeles on average is exchanging 11,300 container units loaded off and on those ships which is the best in the world today," Seroka said. "Truckers though are a little bit light. Only about half of those truckers registered to do business at the twin ports are coming to work at least once a week. We need more folks in that sector. They've left to go to package service and other segments of industry."
[Related: Caltrux AB 5 lawsuit still pending with Supreme Court]
Longtime trucker Bill Aboudi, operations manager at Oakland Port Services in Oakland, Calif., said it can be difficult to entice more drivers to take on challenging port conditions where it's not uncommon to wait in long lines for hours without breaks and access to restrooms.
"Truck drivers do not like to sit in lines," Aboudi said. "They get into the business because they like to drive. They like to accomplish something and we just don't do it. So even if you dump 10,000 more trucks, there'll just be a bigger line. It just absolutely makes no sense. The choke point is the terminal."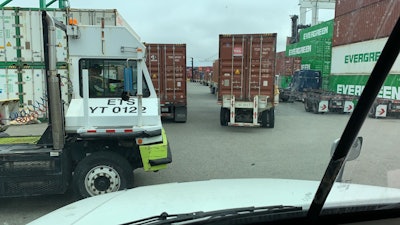 Aboudi said he's gotten calls outside the state from truckers interested in port work.
"I had some calls from Jersey. They said, 'We can send some trucks out there.' And I'm like, 'Okay, are you CARB compliant?'" Aboudi said. "And it's not like we're desperate for trucks. We've got trucks. It's just that the lines are long. It's not efficient."
In addition to challenging working conditions, truckers considering jobs at California ports may also be put off by the state's AB 5 independent contractor law which seeks to ban leased owner-operators from working in the state. The CTA challenged AB 5 in U.S. Supreme Court where the case is still pending. NFI's subsidiary, Cal Cartage, which contracts with owner-operators, presented a similar case to the court which was rejected last month.
"The vast majority of drayage drivers prefer to be owner-operators, probably something north of 95 percent, but there's a lot of uncertainty of that model being viable going forward," Brown said. "That's keeping a lot of truck drivers that may want to work in the port on the sidelines or it's redirecting them to other aspects of the trucking industry.
"So you've got both emissions regulations and misclassification legislation—even though neither one is actually being enforced today they're absolutely putting significant restrictions on new capacity that might otherwise enter the drayage market," Brown added.