Trucking news and briefs for Thursday, March 3, 2022:
NHTSA: Large truck-involved crash fatalities fell in 2020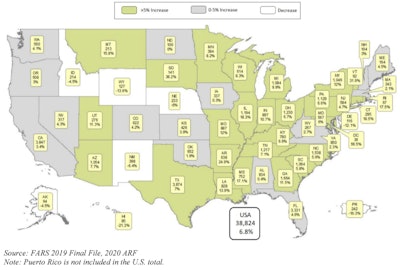 The number of people killed in crashes involving large trucks fell by 1.3% in 2020 from 2019, despite an overall 6.8% increase in traffic fatalities in 2020, according to the National Highway Traffic Safety Administration's 2020 traffic crash data. NHTSA defines a "large truck" as commercial and non-commercial with a gross vehicle weight rating greater than 10,000 pounds.
In 2020, there were 4,965 people killed in crashes involving large trucks, down from 5,032 the year prior. The number of large truck occupants killed in crashes fell from 893 to 831, while the number of other vehicle occupants and non-occupants (pedestrians, motorcyclists, pedalcyclists and more) fell from 4,139 to 4,134 from 2019 to 2020.
The number of people injured in large truck-involved crashes also declined in 2020, falling 7.8% from 159,359 injuries in 2019 to 146,930 injuries in 2020.
Overall, there were 38,824 lives lost in traffic crashes across America in 2020, the highest number since 2007. NHTSA noted that in 45% of fatal crashes, the drivers of passenger vehicles were engaged in at least one of the following risky behaviors: speeding, alcohol impairment or not wearing a seatbelt.
The increase in traffic fatalities was despite an 11% decrease in total vehicle miles traveled, a 22% decrease in police-reported crashes and a 17% decrease in injuries in crashes in 2020.
"The rising fatalities on our roadways are a national crisis; we cannot and must not accept these deaths as inevitable," said U.S. Transportation Secretary Pete Buttigieg. "People should leave the house and know they're going to get to their destination safely, and with the resources from the Bipartisan Infrastructure Law, plus the policies in the National Roadway Safety Strategy we launched last month, we will do everything we can to save lives on America's roads."
Chevron acquiring renewable fuel company
Chevron announced Monday it has entered into an agreement to acquire Renewable Energy Group in an all-cash transaction valued at $3.15 billion.
The acquisition combines REG's growing renewable fuels production and feedstock capabilities with Chevron's large manufacturing, distribution and commercial marketing position.
"REG was a founder of the renewable fuels industry and has been a leading innovator ever since," said Chevron Chairman and CEO Mike Wirth. "Together, we can grow more quickly and efficiently than either could on its own."
The transaction is expected to accelerate progress toward Chevron's goal to grow renewable fuels production capacity to 100,000 barrels per day by 2030 and brings additional feedstock supplies and pre-treatment facilities. After closing of the acquisition, Chevron's renewable fuels business, Renewable Fuels - REG, will be headquartered in Ames, Iowa. In addition, CJ Warner is expected to join Chevron's Board of Directors.
"This transaction delivers premium cash value to shareholders and will give us additional resources as we aim to accelerate growth and strengthen our collective ability to deliver the sustainable fuels our customers and the world need," said CJ Warner, REG president & CEO. "Our employees' hard work and dedication have built a fantastic renewable fuels company and made this transaction possible. We look forward to joining Chevron's team."
The transaction is expected to be accretive to Chevron earnings in the first year after closing and accretive to free cash flow after start-up of REG's Geismar expansion.