Trucking news and briefs for Wednesday, Aug. 17, 2022:
NHTSA boss leaving post for CARB position
California Air Resources Board Chair Liane Randolph announced last week that CARB is appointing Dr. Steven Cliff as CARB's new Executive Officer, replacing CARB's previous Executive Officer, Richard Corey, who retired at the end of June. Cliff currently serves as administrator of the National Highway Traffic Safety Administration (NHTSA).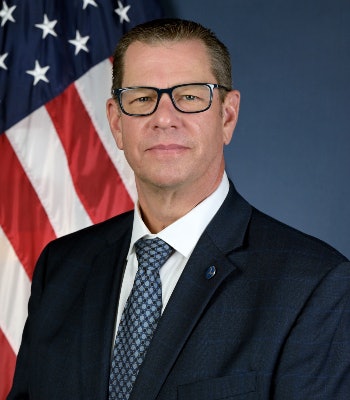 Cliff was nominated by President Joe Biden to head up NHTSA in October 2021 and was confirmed by the Senate on May 26. He had served as NHTSA's Deputy Administrator since Biden appointed him in February 2021.
Cliff, whose professional training was in atmospheric chemistry, has extensive experience at the highest levels of state and federal government agencies. He served for four years as CARB's Deputy Executive Officer overseeing mobile sources prior to joining NHTSA.
"Steve brings a deep understanding of the science of air pollution, along with a strong commitment and track record of promoting the solutions that deliver clean air benefits for all Californians, especially those living in communities impacted by persistent pollution," said CARB Chair Liane Randolph. "He is the right choice to implement the Board's vision during this crucial decade as we move ahead with the ambitious policies and programs to tackle the state's climate emergency and continue to prioritize equity both within CARB's workforce and in the communities we serve."
Cliff's first day at CARB will be Sept. 12.
FMCSA releasing updated Medical Examiner's Handbook draft, seven years after withdrawal
The Federal Motor Carrier Safety Administration on Tuesday published a notice of proposed regulatory guidance that includes an updated Medical Examiner's Handbook (MEH) with proposed changes, seven years after the agency withdrew the existing handbook due to obsolete information.
Since 2015, medical examiners have been making truck drivers' physical qualification determinations on a case-by-case basis based on the basic driver physical qualification standards in the federal regulations (49 CFR 491.41 through 491.49).
FMCSA says the goal of the updated MEH "is to provide information about regulatory requirements and guidance for MEs to consider when making physical qualification determinations in conjunction with established best medical practices."
To assist in the development of the new handbook, FMCSA tasked its Medical Review Board with reviewing and providing recommendations for streamlining the handbook, including removing non-regulatory directive language and updating and removing obsolete information.
The draft of the proposed MEH is included in the docket of the notice and can be seen here.
FMCSA is accepting public comments on the notice for 45 days through Sept. 30, which can be made here. Specifically, FMCSA asks that respondents comment on the draft of the proposed MEH. "To the extent possible, comments should identify the page number and section number of the MEH to which the comments apply," FMCSA said.
Schneider driver named Women in Trucking Driver Ambassador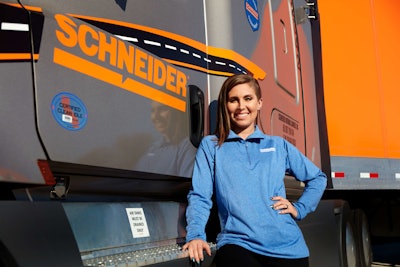 KayLeigh McCall, a driver and training engineer at Schneider (CCJ Top 250, No. 8) has been selected as the Women in Trucking Association's (WIT) newest Driver Ambassador.
WIT is a non-profit organization with a mission to encourage employment, address obstacles and celebrate the successes of women in the trucking industry.
"Being selected as Schneider's Women in Trucking ambassador provides an opportunity for me to spread the message that women can and will continue to be successful in the industry," said McCall. "I'm honored to serve in this role to emphasize that it is possible for all generations of women – new to this profession, and those who have been in the industry for a while, mothers, wives, caretakers – to acquire the hard-earned skills necessary and lead a fulfilling career in trucking."
In her ambassador role, McCall will lead and organize efforts to empower and connect women across the trucking industry, as well as assist in developing and sharing various resources available, including career services, mentorship, trainings and scholarships.
"We are thrilled to have KayLeigh McCall as our new Driver Ambassador," said WIT President and Chief Executive Officer Ellen Voie. "Not only will she represent WIT and Schneider, she will be a visible spokeswoman for all female professional drivers today and in the future."
Previously, McCall worked as a pastry chef, earning her Class A CDL in 2017 and driving a mixer truck for a construction company before joining Schneider in 2020. McCall discovered a passion for truck driving and feels empowered in her role as a woman driver and trainer.
"For those looking to join the industry, my best piece of advice is to just do it, you won't know until you try," says McCall. "Schneider has provided an inclusive culture and platform of growth for my career, and I look forward to sharing my knowledge and empowering other women to join me."
In addition to her roles and responsibilities at Schneider and as WIT's Driver Ambassador, McCall is a wife and mother of four.