Trucking news and briefs for Friday, Sept. 2, 2022:
FMCSA lowers 2023 UCR fees for carriers
The Federal Motor Carrier Safety Administration announced in a Federal Register notice published Sept. 1 that it is lowering fees collected by states from motor carriers, brokers, freight forwarders and leasing companies as part of the Unified Carrier Registration (UCR) Plan for the 2023 registration year and beyond. The new fees are effective immediately.
The new fees are an approximately 31% decrease for all fee brackets, which equates to a reduction between $18 and $17,688, depending on the number of vehicles owned or operated by the company.
The 2023 UCR fees are:

The fee adjustments were approved because the total revenues collected for previous registration years exceeded the maximum annual revenue of $107.78 million. Fees collected over the maximum annual revenue are held and applied to future registration years, allowing for the fee reduction.
Participating states will begin collecting 2023 UCR fees on Oct. 1.
Small fleet seeks temporary HOS waiver
Flat Top Transport, a trucking company that delivers products such as food grade flour, corn meal, and salts used for the production of cereals, baked goods, canned goods and meat processing, has petitioned FMCSA for a four-month waiver from the hours of service regulations in 49 Code of Federal Regulations Part 395.
According to FMCSA's SAFER website, Holland, Michigan-based Flat Top Transport operates nine trucks and has 10 drivers.
The company is requesting the exemption to provide "immediate and emergency delivery of dry and bulk food grade products to locations that supply stores and distribution centers nationally."
"These goods being delivered under hours of service are threatening food chain supply and producing shutdowns," Flat Top said in its request. "The products being delivered are under strict time constraints and the number of available trucks is limited. Due to railroads being limited and a truck driver shortage, the inflations rates of parts and services, the time constraint of hours of service are causing many food producing factories to shut down until the products arrive."
Flat Top says it is requesting the exemption "to help these food producers catch up to an already decreased stock due to COVID."
"We are not seeking this exemption to ignore hours of service, but to simply be given some flexibility, as the goods we haul and deliver and our customers we are delivering to, need this," the company added.
FMCSA is requesting public comments on the exemption application, which can be made here through Oct. 3.
CARB opens small-fleet zero-emission voucher program
The California Air Resources Board (CARB) opened Wednesday its Innovative Small E-Fleet (ISEF) $25 million set-aside within the state's Hybrid and Zero-Emission Truck and Bus Voucher Incentive Project (HVIP).
Launched by the California Air Resources Board, ISEF is intended to encourage small fleets to transition to zero-emission trucks. Privately owned and nonprofit trucking fleets of 20 or fewer vehicles and with an annual revenue of less than $15 million are eligible and will have access to funding that can cover costs related to the purchase and operation of zero-emission trucks. ISEF is administered by CALSTART, a national clean transportation nonprofit consortium.
Small fleets and owner-operators have often traditionally faced multiple barriers to zero-emission truck adoption, such as high up-front costs, limited financing options, and complex planning for charging infrastructure. CALSTART says it is critical to address these challenges for small fleets because the majority of fleets in California operate 20 or fewer trucks.
ISEF incentive funding will allow small fleet owner/operators to utilize flexible financing, lease, rental, and truck-as-a-service options, as well as offset infrastructure/charger costs, insurance, and fuel costs.
Fleets must work with an approved provider to apply for vouchers. Those providers will work with eligible equipment dealers to request vouchers on the individual fleet's behalf. For example, battery electric and hydrogen fuel cell class 8 drayage trucks are eligible for close to $300,000 per vehicle, drastically reducing upfront costs for California's port truckers to move to zero-emissions.
"ISEF's goal is to make it easier for smaller fleets to get past the barriers that they frequently face when transitioning from diesel-fueled engines to electric vehicle options," said Niki Okuk, deputy director of CALSTART Trucks and Off Road. "There are quite a few options in terms of equipment, financing, and planning assistance that fleets can take advantage of in pursuing adoption of electric vehicles; the key first step is showing them they have a resource to help them take advantage of those options."
Horseless Carriage Carriers acquired by McCollister's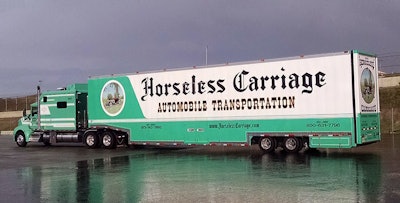 Horseless Carriage Carriers, a national enclosed-trailer, shipping and storage company based in Paterson, New Jersey, has been acquired by McCollister's Global Services, a provider of specialized commercial and residential transportation and logistics services. Horseless Carriage Carriers primarily transports vehicles, motorcycles, boats, airplanes, buses and military vehicles with its fleet of roughly 30 trucks.
As an asset-based logistics provider, McCollister's offers a full suite of warehousing, transportation and solutions services, including auto hauling, high-value goods transport, aerospace and heavy haul transportation, along with self-pack and haul resources and warehousing, distribution and fulfillment services.
"This acquisition is one more important step in our efforts to expand our enclosed auto transport division," said McCollister President Daniel H. McCollister. "We are excited to add Horseless Carriage to our portfolio of companies. Their name recognition and excellent reputation are something we intend to build upon. The additional drivers and equipment will allow us to enhance our current service offerings to our clients."
Stevens Trucking looks toward autonomous trucking with Locomation partnership
El Reno, Oklahoma-based Stevens Trucking is entering an eight-year partnership with autonomous truck tech firm Locomation to incorporate autonomous trucks into its operations.
Locomation has previously signed contracts with Wilson Logistics, PGT Trucking and Christenson Transportation. Stevens currently operates throughout the continental United States with its primary activity in Oklahoma, Texas, Missouri, Indiana, Illinois and Ohio.
Using Locomation's proprietary planning and optimization system, Stevens will restructure its operation using a relay model to run its trucks 20-plus hours a day. Predicated on the success of the technology development effort, the company will then begin deploying up to 500 trucks equipped with Locomation's Autonomous Relay Convoy (ARC) systems on six separate Autonomous Relay Network (ARN) lane segments over five years. Locomation estimates the total freight transportation value of autonomous trucking in the six lane segments at more than $9 billion annually.
"We are delighted to partner with Locomation to offer autonomous trucking services to our customers," said Kenney Stevens, CEO of Stevens Trucking. "We chose Locomation because we're convinced they are bringing to market the safest and most viable turnkey model to enable us to deploy autonomous technology in the near term. For Stevens, this is an incredible opportunity to establish a strong early mover presence in the lanes we've chosen to launch in and enable us to double our market share."
Locomation's ARC system is a human-led convoy of two trucks that are electronically tethered. The "Human-Guided Autonomy" system enables one driver to operate the lead truck while a second driver rests in the follower truck, allowing carriers to operate two trucks for 20-22 hours per day, all while remaining in compliance with the hours of service regulations, Locomation said.