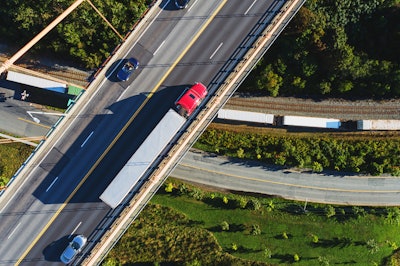 The American Trucking Associations has called on Congress to intervene and resolve ongoing labor negotiations in the freight rail industry should the parties fail to reach a mutual agreement when the current cooling off period ends Sept. 16, citing that the amount of trucking capacity needed to offset the effects of a possible strike simply does not exist.
Delivering the last mile of virtually every product transported by rail, the trucking industry is freight rail's largest customer, and in a letter sent to lawmakers Friday ATA warned of dire consequences for the U.S. supply chain if a strike were to go into effect, calling it "a debilitating and unnecessary labor disruption that could cost the country billions each day."
Operating over a nearly 140,000-mile network in 49 states, the Association of American Railroads projects lost economic output due to a national rail shutdown could be more than $2 billion per day.
"Idling all 7,000 long distance daily freight trains in the U.S. would require more than 460,000 additional long-haul trucks every day, which is not possible based on equipment availability and an existing shortage of 80,000 drivers," ATA President and CEO Chris Spear in the letter. "As such, any rail service disruption will create havoc in the supply chain and fuel inflationary pressures across the board."
As unfeasible as it might be, an uptick of 460,000 more semis would increase the total number of units on the highway by more than 16%, according to the U.S. Department of Transportation Federal Highway Administration, which estimates that approximately 2.8 million truck tractors are in operation in the U.S., carrying various types of freight. And even if it were possible for a tidal wave of rigs to ride to the rescue, AAR's report noted a number of ill-aftereffects, including a corresponding spike in traffic, the consumption of an estimated 36 million additional gallons of fuel per day, and an additional 800 million pounds of CO2 emissions.
ATA's letter urges Congress to help implement a contract patterned on the recommendations outlined by the Presidential Emergency Board, which includes significant pay raises and bonuses for rail workers. As of Sunday, 8 of the rail industry's 12 unions have reached voluntary agreements with the railroads.
ATA cautioned against merely extending the negotiation timeline, which could push a potential strike into the holiday season when the supply chain is already under added duress.
"Merely delaying a possible strike through congressional action will simply exacerbate the concerns of consumers and industry," Spear wrote. "A possible strike or lockout in October or November is arguably worse than one next week — although any disruption will cost the nation billions of dollars of lost productivity."