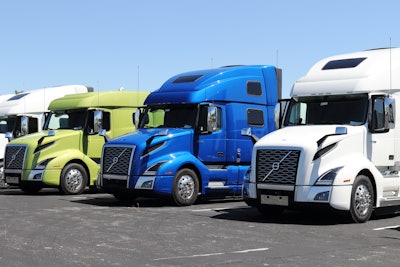 A group of transportation and trucking stakeholders on Wednesday called on Congress to repeal the Federal Excise Tax (FET) on heavy-duty commercial vehicles – a century-old tax that adds 12% to the cost of a new truck.
In a letter jointly penned by the American Trucking Associations, American Truck Dealers, and Zero Emission Transportation Association (ZETA), and sent to Congressional leadership, the groups claim that the tax – established in 1917 to defray the costs of World War I – is impeding the deployment of cleaner, more environmentally friendly trucks by disincentivizing the purchase of new, low-emission power units.
"The federal government wants heavy-duty trucks to be cleaner or emission free, but slaps a 12% tax on the newest, greenest trucks. If the goal is to reduce emissions, repealing the counterproductive FET is a good place to start," said Scott McCandless, ATD Chairman and President of McCandless Truck Center of Aurora, Colorado.
ATA President and CEO Chris Spear agreed, adding that if Congress is serious about safety, the environment and jobs, "then repealing the FET should be front-burner."
U.S. Senators Todd Young (R-Ind.) and Ben Cardin (D-Md.), last year, along with Representatives Doug LaMalfa (R-Calif.) and Chris Pappas (D-N.H.) introduced the Modern, Clean, and Safe Trucks Act (H.R. 8116/S. 2435), bipartisan and bicameral legislation to repeal the tax, but it never progressed further.
A similar Senate bill was introduced a year earlier by Sens. Young and Cardin, but it never advanced past the Committee on Finance. Various bills to repeal the FET on trucks have been introduced each year since at least 2017.
Medium and heavy-duty trucks account for 24% of all transportation carbon emissions in the U.S., but represent only 4% of vehicles on the road and FET can add more than $50,000 to the price of the latest low- or zero-emission vehicle. ZETA Executive Director Albert Gore the FET harms fleet operators by inflating the cost of heavy-duty trucks and limiting access to the many economic and public health benefits that come with transportation electrification.
"It is time to accelerate our movement towards modernized transportation fleets, and we must enable our nation's fleet operators and truckers to join in this effort," he said.