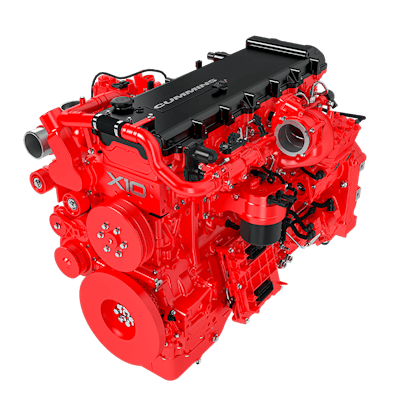 Cummins
Cummins announced Monday that its fuel-agnostic 10-liter engine will launch in North America in 2026.
Positioned to replace both the L9 and X12, the bi-voltage X10 will roll out first as a diesel-fueled variant intended for both medium- and heavy-duty applications.
The new X10 diesel will emit 75% less NOx than required by the EPA's 2027 regulations. Cummins reports that fleets can opt for bio and renewable diesel to further reduce emissions.
In addition to a greener footprint, the engine will "provide a step change in fuel economy improvement," according to Cummins on-highway communications director Katie Zarich. Extended maintenance intervals are expected to reduce downtime in the shop.
[Related: Cummins says fuel-agnostic engines will cut maintenance, increase sales]
The X10 will use both 12- and 48-volt systems. The aftertreatment heater will operate on a "48-volt system separate from the rest of the vehicle," Zarich said. A high-output, belt-driven 48-volt alternator will power aftertreatment.
As part of Cummins' fuel-agnostic lineup, the X10 will eventually be paired up with gaseous fuels, including compressed natural gas, propane and hydrogen.
The engine can be paired with a variety of transmissions depending on the application, including the Eaton Cummins Endurant.
The X10 is equipped with Acumen, which provides digital connectivity and direct, immediate access to a range of applications and capabilities. These capabilities include over-the-air calibration, predictive service recommendations and additional features that help fleets keep their trucks and equipment on the road.
This X10 slots into Cummins' product portfolio complemented by the B6.7 and X15 and will serve vocational, transit, pickup and delivery and regional haul customers. It will also eventually be available for off-road applications.
"We are committed to advancing diesel technology while our markets and our customers need it to run their businesses," said José Samperio, Cummins' North America executive director of on-highway. "The new X10 has been designed drawing on our decades of experience as a leader in the medium and heavy-duty space. We have applied those learnings to ensure the product will perform for our customers and the important jobs they need to do every time."
Bridge to zero
Cummins almost exactly one year ago to-date said its fuel-agnostic carbon-cutting powertrains were meant to be a bridge to its zero-emission all-electric and fuel cell offerings, which the company acknowledges may not be an ideal fit currently for all fleets given higher upfront costs, range issues and fuel infrastructure challenges.
These new fuel-agnostic engine platforms feature a series of engine versions that are derived from a common base engine, which means they have some parts commonality. Below the head gasket of each engine will largely have similar components and above the head gasket will have different components for different fuel type. Each engine version will operate using a different, single fuel.
Cummins is offering a full portfolio of products in 2026 to cover the medium-duty and heavy-duty customer needs, including the new 15-liter natural gas engine, the X15N. Additionally, the B6.7 will be offered in diesel, natural gas, gasoline and propane.