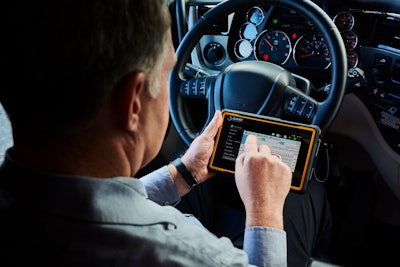 ISAAC
Canada has again postponed full implementation of its electronic logging device (ELD) mandate to 2023.
According to a notice from the Canadian Council of Motor Transport Administrators (CCMTA), after monitoring progress, jurisdictions have determined an extension of the transition period is required to allow sufficient time for the industry to purchase and install certified ELD devices and conduct training to be compliant.
But ISAAC Instruments Chairman, CEO and co-founder Jacques DeLarochelliere said ISAAC, Omnitracs and Trimble – all of which have certified ELD devices – cover 75% of the market, and most of the remainder of the market is covered by other companies that have also received certification.
"There's enough coverage … Enforcement is the challenge," he said. "(The authorities) need to train everybody who's going to be involved in the enforcement, so the authorities are not ready for June 12 it seems."
The mandate went into effect June 12, 2021, but was not enforced because of challenges related to the COVID-19 pandemic and because no ELD was certified by a third party prior to the implementation date.
Enforcement will now take effect Jan. 1, 2023, instead of June 12, 2022, when it was originally anticipated.
The mandate requires most commercial drivers to install compliant ELDs to help with the enforcement of hours-of-service rules. Fleets in Canada that do not cross the border have been using electronic recording devices or paper logs, but those that do cross the border likely already have ELDs to comply with regulations in the U.S., which has over 600 certified ELDs. Canada currently has 22 certified devices.
DeLarochelliere said Canada has plenty of certified devices. ISAAC received its mandatory third-party certification in Canada in October 2021.
He said the U.S., in comparison, doesn't need 600-plus options as 550 of them probably cover maybe 2% of the market.
"The companies have these installed already. Most of Canadian companies will go across the border and need to have them in the U.S., and most of the those that are being used in Canada are now certified, so it's not a matter of deploying the units. It's not a matter of installing them. They are in the trucks already. It's a software upgrade for the most part," he said. "The issue is about getting the regulation in place in every province and all the staff that's involved to proceed to the enforcement to be trained and ready."
Enforcement of the regulations is a jurisdictional responsibility.
CCJ reached out to a Canadian Ministry of Transportation team leader in Ontario, who has not yet responded to a request for comment on the enforcement issue.