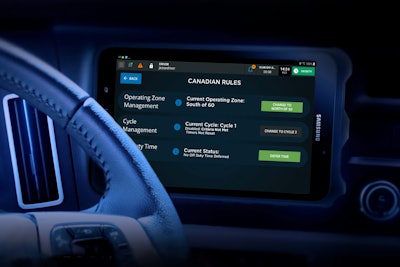 Canada has added another U.S. electronic logging device to its registry.
Platform Science's technology has been certified for use in Canada, which has mandated that all fleets operating in the nation be equipped with a certified ELD by June 12.
Canada's Transport Ministry finalized a mandate to require the use of ELDs in 2019 with a set date for fleets to replace paper logs by June 12, 2021. The Transport Ministry delayed that date to June 2022 when no device had been added to the registry by the 2021 deadline.
There are now 11 certified vendors on the registry.
"Platform Science's comprehensive ELD solution will help make the roads in Canada safer by equipping fleets with technology that makes it easy and fast to track and manage driver hours," said Hieu Bui, VP Product, Platform Science. "With certification now in Canada, Platform Science's ELD enables drivers on either side of the border to maintain compliance and improve their driving experience."
Platform Science's ELD enables fleets to support their driver's hours of service (HOS) compliance whether the driver is a dedicated Canadian, U.S., or cross-border driver. The technology warns drivers under both U.S. and Canadian HOS rules when they are meeting their duty driving thresholds.