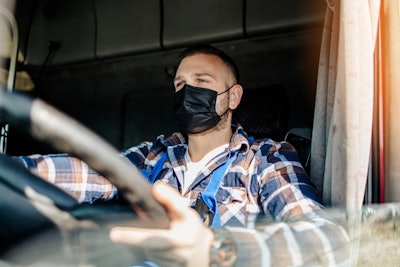 COVID-19 contact tracing could prove to be the downfall of President Joe Biden's hotly contested vaccine mandate.
Employers with 100 employees or more may soon be required to have their employees vaccinated against the highly contagious coronavirus or face costly fines. A provision for weekly testing in lieu of vaccination is expected to be added to the Occupational Safety and Health Act (OSHA) Emergency Temporary Standard (ETS), which awaits OSHA approval.
The American Trucking Associations, one of several industry groups meeting with White House officials to caution against implementing the vaccine mandate for fear of further straining an already anemic labor supply, reported that the mandate will likely push out 37% of drivers at a time when they say 80,000 more are needed to help alleviate unprecedented kinks in America's supply chain.
[Related: Economist says trucking short 80,000 drivers]
Legal challenges are mounting against the president's tough stance on COVID, including in Florida where Governor Rick DeSantis said recently that the state will challenge Biden's mandate in court.
Legal battles from states and businesses are expected to grow and may prove devastating to the president's mandate given the disease's most troubling characteristic: its highly contagious and invisible mode of transmission, which cannot be so easily traced to the workplace where OSHA holds jurisdiction.
"OSHA must prove that a hazard exists in order to issue a citation where the employer is found to violate the standard," said Angelo Filippi, the leading business attorney at the Kelley Kronenberg law firm, which specializes in trucking and transportation law.
"Proof that a hazard exists will be difficult, especially where employers have complied with CDC guidelines to socially distance workers, require masks in common areas and establish strict sanitization procedures," Filippi continued.
When challenged in court, the toughest part for the Biden administration will be proving that a COVID case was transmitted at work, thus making it a workplace hazard.
"Where an incidence of COVID does occur among the workforce, proving that it occurred in the workplace as opposed to any other circumstance where exposure was possible is extremely difficult," Filippi said.
"Should a citation be issued, the employer has a right to contest it and be heard before an administrative law judge," Filippi continued. "An appeal to a federal circuit court could follow any adverse ruling."
[Related: ATA asks White House for trucking exemption from vaccine mandate]
Fisher Philips, which also specializes in trucking and transportation law, told CCJ that OSHA ETS directives don't always hold up in court.
"We expect industry groups and some states to mount court challenge to the OSHA Emergency Temporary Standard when it is issued," said Fisher Philips attorney Kevin Troutman. "Specific rules and limitations apply to the issuance of an ETS and many such standards have been successfully challenged in the past."
Troutman and Filippi both advised that court challenges and contrary state laws, such as the recent ban on the vaccine mandate in Texas, do not override federal law.
"Until those challenges are resolved or a court issues an injunction, however, covered employers who do not comply with the ETS will risk incurring significant fines," Troutman said. "Keep in mind that the rule is expected to include an option for weekly testing instead of vaccination, which may be helpful to some employers."
Costs for vaccine testing can vary with the Kaiser Family Foundation reporting a median cost of $148 per test. OSHA has yet to determine how those costs will be covered, which may ultimately be billed to employers.
A recent survey conducted by Fisher Phillips showed that 43% of employers subject to the ETS "were considering implementing a testing program instead of a vaccine mandate."
East Florida Hauling in Miami, Florida, which handles drayage and general freight wants neither.
"Driver recruitment is hard enough already without having anything additional added to it," said East Florida Hauling controller Lissette Lesmes.
"I got vaccinated," Lesmes continued. "I thought it's important and we want to be active as far as trying to stay healthy and not catch COVID. But don't mandate it because everyone's different and everybody has different points of views and needs especially when it comes to health."
U.S. Senator Rick Scott (R-Florida), who has continued to push back against Biden's vaccine mandate, advocates for COVID vaccinations based on personal preference. He pointed to a recent report from the Federal Reserve, which cites vaccine mandate and childcare concerns as top reasons for low labor participation.
"The Federal Reserve admitted what I have been warning about for weeks: Joe Biden's unconstitutional vaccine mandates are causing higher turnover, driving Americans out of their jobs and further fueling the devastating supply chain and inflation crises plaguing American families," Scott said in a Senate office press release.
"I had COVID and got the vaccine," Scott continued. "While I encourage others to do the same, that was my personal choice. Getting the vaccine should be the personal choice of every American and government has no right to force this decision on them."