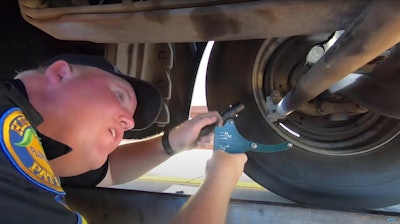 Tom Quimby
You may have heard of or even played Frogger, an old video game from the '80s that requires players to take a frog past several obstacles including busy and deadly traffic.
Commercial Vehicle Safety Administration Roadside Inspection Specialist Jeremy Disbrow said he lived that game in his former role as an Arizona state trooper when he'd have to chase down unsecured cargo that had fallen across a busy highway.
Did you miss this webinar?
If you missed Thursday's webinar sponsored by Mann+Hummel, don't worry. We recorded it, and you can still get the on-demand version! Just click below, register and we'll send it right to you.
"When I grew up playing Frogger, it was one of my favorite games," Disbrow said Thursday during CCJ's webinar PM Practices that Beat Inspection Blitzes. "But when I was a state trooper playing Frogger in real life running across the highway trying to get debris, that was probably one of the most scary things I ever did."
Disbrow's comments came at the beginning of the hour-long webinar when host CCJ Chief Editor Jason Cannon asked Disbrow to first talk about cargo securement from a CVSA perspective. CVSA's upcoming International Roadcheck is May 16-18 with an emphasis on cargo securement and anti-lock braking systems (ABS).
Disbrow was joined by Mike Jeffress, vice president of maintenance at Maverick Transportation (CCJ Top 250, No. 75); Randy Obermeyer, vice president of safety and maintenance at Online Transport (No. 217); and Jon Debusk, director of maintenance at Bowerman Trucking.
[Related: Preparing your fleet and drivers for CVSA's Roadcheck]
Sponsored by Mann + Hummel, webinar panelists offered advice and maintenance insights on how best to avoid inspection violations, which as Cannon noted can add quickly to costly out of service violations.
"During last year's Roadcheck, in the U.S. alone, of the 33,196 level one inspections that were conducted, 7,912 commercial motor vehicles, which is about 23.8%, and 2,051 drivers, which is about 6.2%, were placed out of service. So I think there's certainly an opportunity to improve there," Cannon said.
[Related: Watch: More advice on Roadcheck including a pit inspection]
After opening the discussion with cargo securement, Disbrow quickly turned to his Frogger story.
"It's definitely an important issue that we need to look at both for collision-causing events and just safety all around of cargo falling off on the road," he said.
Disbrow said from his experience cargo securement issues typically arise from three different sources. First, cargo is not properly secured prior to the trip; second, cargo tie downs are not rechecked during the trip; and third, cargo in van trailers can be frequently overlooked.
"For anybody in this room that deals with van trailers, there's kind of a mindset a lot of the time of 'it came sealed, it's not my problem,''" Disbrow said. "They assume it was done properly, and they just hit the road. But ultimately, we all know that the liability, if there's a collision or there's a problem, all still comes back on the motor carrier and the driver because they're responsible for it at the time. So that's an important thing to consider."
After securing a load during pre-trip, Disbrow said, "it's important for drivers to remember that they need to stop 50 miles into their journey, double check the cargo securement, make sure nothing loosened up, and then check it again periodically throughout their trip. And what the regulation requires is actually that they stop every three hours or every 150 miles during their trip to just double check those things."
Debusk said training drivers on proper cargo securement practices is critical. He also said Bowerman has been retrofitting trailers with cameras that are paired up with telematics to help keep an eye on possible load shifting.
"It'll snap a picture [every 15 minutes]," Debusk said. "Obviously, if we sense that any load shifted, then that sends an alert to the back office."
Though technology plays an important part, people are still in the driver's seat when it comes to securing the load.
"You can't go wrong with continual training and communication to the drivers to make sure that they understand that it's ultimately on our end that we make sure it's secure," Debusk said.
Obermeyer agreed that effectively communicating cargo securement expectations is key and added that Online Transport doesn't typically have freight shifting issues save for occasional challenges with bottled freight like water and soda.
"I don't know that there is a silver bullet solution to that but communication's probably the key," Obermeyer said.
At Maverick Transportation, Jeffress said "just about everything we transport requires some sort of securement methodology or practice. It all starts at the beginning when the driver comes to work for us and goes through a plethora of training procedures and processes within our onboarding process.
Then after that, there are continuous educational applications that are sent out to the truck that they can view on their telematic device."
ABS and incentives
Braking violations remain the top cause for out-of-service violations, and Disbrow said ABS issues "are pretty high up there" on the list of maintenance issues.
"The ABS system is something that we take for granted as a safety feature because it's been in our cars and trucks for quite a while now, and we don't even realize it's doing its thing in the background, but it's constantly doing its job to monitor wheel speed sensors, and it drastically shortens our stopping distance," Disbrow said.
Spotting ABS issues is usually pretty straightforward. Disbrow said after the driver cycles the key in the ignition, they should simply watch the ABS lights on the instrument cluster for both the truck and trailer. If the lights do not go off or if they never come on in the first place, then there's a problem that needs to be addressed.
Obermeyer said they'll work to spot potential issues ahead of time with ABS and other brake components during PMs. Online Transport plugs in software to help track down issues in addition to getting eyes and hands on the equipment.
"Our best practice for just eliminating or reducing ABS issues is that we do a lot of checks on the brake system when we do a PM," Obermeyer said. "We're checking one-way check valves; we're checking the tractor protection valve; we're checking the brake stroke, the lining thickness, looking for wheel seal leaks; and we check for wheel bearing play. That's an important one. You get a wheel bearing that gets loose and it affects the tone ring, you can have an ABS light come on from that. So I'd rather get to it before it becomes a problem out there on the road."
Jeffress said that telematics in Maverick's trucks will notify maintenance management once an ABS fault code is detected. From there, their road assist team will locate the closest repair facility along the driver's route to help reduce downtime. Some ABS problems spring from compatibility issues with component materials.
"One area that we find challenging that we have continued to work for the industry on for many years is corrosion and dissimilar metals with the hub and a particular tone ring," Jeffress said. "Regardless of what your maintenance practice is, it doesn't ever seem like you can nail down when that dissimilar metal corrosion's going to take place and then ultimately cause that ABS challenge or fault."
Ultimately, between technology and a dedicated and educated workforce, truck issues can be addressed before they result in tough costly out of service violations.
"The information's there; it's available. It's how do you use it. How do you act upon it? How do you communicate to everybody else to make the repairs timely," Jeffress said.
Since drivers are oftentimes in a position to spot an issue before it results in a violation, all panel guests agreed that incentives can help drivers take on a more thorough role during their pre- and post-inspections. Disbrow is a firm believer.
"If you're considering doing that incentive program as motor carrier and you're wondering how effective it is, I can tell you that I would say roughly 90% of the trucks I had with [an incentive program] had clean inspections, no violations," he said. "I would talk to the driver, and afterwards they would tell me consistently that the reason they do that is because there's an incentive program. It was always because they wanted to get the points, or get the gift card or get whatever it was. It does make a huge difference."