For the past two years, Liquid Trucking's plans for growth have been stunted by unforeseen events that lend credence to a centuries-old warning in Shakespeare's Julius Caesar: "Beware the Ides of March."
In March of 2019, heavy rains in Nebraska and other Midwestern states caused flooding of the Missouri River and its tributaries. Faced with imminent danger, the owners of Liquid Trucking had 12 hours to evacuate the property near the Platte river in Plattsmouth, Neb.
Some areas of the property were under 10 feet of water for several days. Despite this setback, Liquid Trucking entered 2020 with momentum only to be hit by a different type of storm in mid-March from the COVID-19 pandemic.
Economic conditions improved in the second half of 2020 for Liquid Trucking to pursue growth. This time the owners doubled down on their chances for success by making large investments in technology and people.
The first quarter of 2021 is shaping up to be the best period in the company's 30-year history. At present, the fleet has nearly all its 190 trucks filled with drivers and fleet planners are deluged by load offers. "We are missing out on freight like it's coming out of the ocean," said Jason Eisenman, director of human resources.
Investing in driver comfort
One of the main reasons Liquid Trucking is investing in new technology is for driver satisfaction and retention.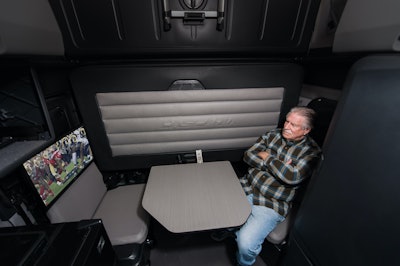 Eisenman foresees a pandemic of truck driver shortages in 2021. One of the contributing factors is the CDL Drug & Alcohol clearinghouse. Fleets are required to use the clearinghouse in the hiring process. This protects the public but has removed 40,000 drivers — about one percent of the driving force — from January to September who failed drug tests, most of which were from marijuana use.
"That is only in year one. What happens in year two?" he asks.
Liquid Trucking already has a low turnover rate of 38% but management wanted to give drivers a greater level of comfort on the road. Drivers are scheduled home weekly for a 34-hour restart, but some opt to stay out for extended periods to maximize their earnings.
"We know life on the road is hard, so we wanted to give drivers something to make their downtime more enjoyable," Eisenman said.
Liquid Trucking is rolling out a subscription to the premium in-cab satellite TV service from EpicVue. The decision was made after installing EpicVue in eight trucks for a pilot test. All drivers using it are impressed, he said. "We have not had one negative remark."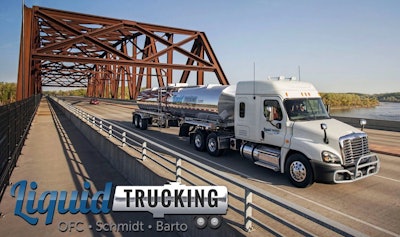 Liquid Trucking will cover the full cost of EpicVue for drivers to watch live TV when parked. An in-motion DVR also enables drivers to record shows for later viewing. The package comes with more than 100 DIRECTV channels that include NFL Sunday Ticket, Showtime and HBO.
The TVs also have HDMI and other ports for drivers to connect accessory devices such as game consoles.
EpicVue will first be deployed in 30 new Freightliner Cascadia tractors before Liquid Trucking takes delivery this month. The rollout will continue in 2021 across the remainder of the fleet when trucks come in for scheduled maintenance, Eisenman said.
Liquid Trucking has also improved retention by utilizing driver surveys and an online driver loyalty and rewards platform from Stay Metrics. The rewards platform gives drivers points they can redeem for cash and prizes based on measurable data in safety, customer service, training and other categories.
Tenstreet, a driver recruiting software and workflow provider, recently acquired Stay Metrics to offer fleets a full recruiting and retention platform.
"I'm excited to see what Tenstreet can do," Eisenman said. "There is going to have to be a change maker in the industry to keep and attract more people."
As it stands, most fleets' recruiting efforts are like a game of Plinko, he explains. Drivers are dropping applications across board "to do their best to land at the right [employer]," he said, and believes one possible solution will be Tenstreet developing a job matchmaking service for fleets and drivers.
Scaling up fleet mobility
Another driver-focused technology investment Liquid Trucking is making is in the Omnitracs telematics and ELD platform. The company will replace a competing technology it has been using since 2019.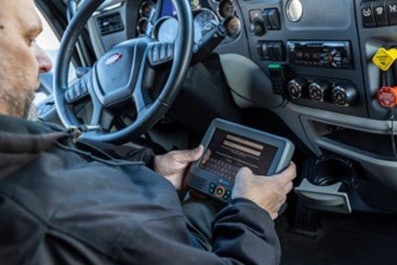 The Omnitracs platform will give drivers a more friendly user experience, Eisenman said, and Liquid Trucking will be deploying IVG mobile in-cab units from Omnitracs with a plan to migrate to the next-generation Omnitracs One software platform.
In tandem with rolling out the Omnitracs platform, Liquid Trucking will install a video-based telematics and driver safety system from SmartDrive. Management decided to use only the forward-facing camera, not a driver-facing camera, to detect risk and exonerate drivers. The forward-facing camera mounts inside the cab behind the windshield to give an over-the-hood view.
The catalyst to invest in SmartDrive was Omnitracs' announcing it would acquire SmartDrive last September, Eisenman said. Liquid Trucking will be installing both platforms on its new Freightliner trucks and then rolling them out to the rest of the fleet at scheduled maintenance intervals.
Following Omnitracs' acquisition of SmartDrive, Eisenman had discussions with Omnitracs' Chicago-based Innovation Center. Based on those discussions, Eisenman said he expects the two platforms will be fully integrated within 12 to 18 months.
The integration will enable Liquid Trucking to consolidate its mobile technology, data and costs. Additionally, the work being done at Omnitracs' Innovation Center to aggregate data from both systems will enhance the driver experience.
Data scientists at Omnitracs are aggregating data on load dwell times, for example, to predict how long drivers will spend at loading or unloading sites and develop new trip planning workflow tools.
Omnitracs also plans to add real-time micro weather alerts to its platform to notify drivers of impending conditions on their routes. The alerts utilize data from road cameras, weather drones and microwave signals from cell towers based on speed and heading.
"They are headed in a good direction," Eisenman said.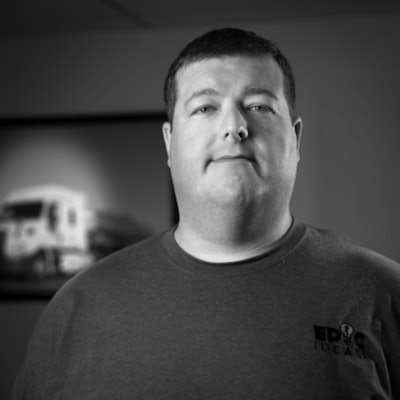 Liquid Trucking is investing in a separate driver mobile app, DeliveRecon, that drivers use to share location intelligence and access digital tools to do their jobs. An update planned for the first-quarter will improve the quality of image capture for proof-of-delivery receipts and for the pictures drivers take at customer locations to update delivery instructions, he said.
Another planned release for 2021 will be a re-designed user interface based on driver feedback to make it faster and easier for drivers to access all of the functions of DeliveRecon, Eisenman said.
Liquid Trucking launched DeliveRecon internally before spinning off a company, Epic Ideas, in Jan. 2016 to develop a commercial enterprise version of DeliveRecon. Epic Ideas partnered with Volano Solutions, an Omaha-based software development firm, to offer the transportation industry a mobile platform that combines location-based mobile customer relationship management (CRM), automated workflow and connectivity features through a software-as-a-service.
Raising driver pay
As a hazardous materials carrier, Liquid Trucking was among the first in the truckload sector to adopt electronic logs with the added scrutiny of this sector by the Federal Motor Carrier Safety Administration.
As an early adopter the company began using ELD data to create an hourly pay system in 2012 with an aim to improve driver safety.
"Our drivers can slow down for weather and adverse conditions without having to worry about their pay being negatively impacted," Eisenman said.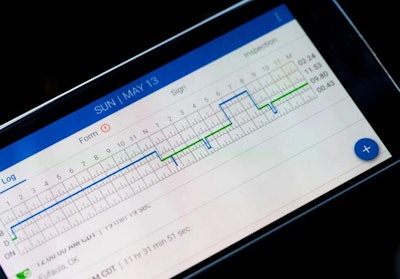 Today the company is announcing a driver pay raise that will increase overall driver income by 4 to 7 percent. Drivers will also earn more PTO per hour of work. With the raise, drivers will start at $25 when driving. For loading, unloading and tank washouts drivers will earn $20 the first hour and $15 per hour thereafter.
"Some trucking companies say they pay hourly, but don't pay for stops when drivers get to their destination to load or unload," said Nick Meyer, Liquid Trucking recruiting and HR manager. "We believe that paying drivers for those activities is the right thing to do."
The pay structure gives drivers an incentive to maximize drive time and minimize time spent in non-driving duty status.
Liquid Trucking's in-cab mobile communications system has macros in the workflow that drivers use to mark arrival and departure events. The time tracking begins the moment drivers hit an arrive macro on the in-cab mobility system when they come to shipping, receiving or tank wash locations, and ends when drivers select a depart macro.
When drivers arrive, the first thing they do is set their air brake and send the macro to ensure that non-drive time is recorded for pay. Likewise, drivers send a depart macro the moment they are loaded or unloaded and ready to move to maximize pay for drive time at the higher rate.
"Drivers like being able to control their pay times," Eisenman said.
The company also pays drivers an hourly bonus of up to $3 for all drive time. Drivers qualify for the bonus by hitting fleet targets for productivity and performance during the preceding quarter. After three months on the job, drivers therefore can earn a top rate of $28 per hour for all drive time.
The top 20% of drivers in the performance measures receive the max bonus. Drivers in the second group, the top 20 to 40%, receive a lesser amount , as do those in the remaining groups except for the fifth group, the bottom 20%, who do not qualify for a bonus. The program ensures that 80% of all drivers receive an hourly bonus of some amount.
With the new raise, the company projects that drivers will earn a minimum of $80,000 in the first year.
"When we talk to candidates on the phone, they are used to being told they can make $80,000 per year but the difference is that we are giving drivers our low-end numbers. We are not sugar coating it. That has been our approach and it has worked very well," Meyer said.
Liquid Trucking has also invested in growth by creating a new sales management position. Bryan Swearingen, who previously worked in fleet sales for SAPP Brothers for more than 20 years, has joined Liquid Trucking as senior account manager.
"We brought on Bryan to really grow our existing customers and bring on new customers. The sky is the limit now that we have positioned ourselves to pick and choose how we want to grow and how fast we want to grow," Meyer said.
As Liquid Trucking has shown, the turbulence of 2020 can be channeled in the right direction by investing in technology and people to enter 2021 with wind in the "sales."