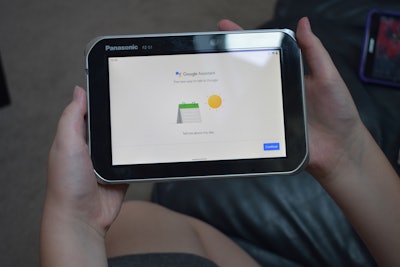 September will be 25 years since the first Panasonic Toughbook entered the market and a new lineup of enterprise rugged mobile devices emerged. Most of the change to the lineup has happened during the past year, it seems.
Panasonic Systems Solutions Company of North America has developed a new spectrum of Android tablets that meet specific customer needs or "use cases" in transportation and other industries. The most recent product launch was in May with the S1 Toughbook. The 7-inch tablet comes with the Android 10 operating system for enterprise devices.
User impressions
Since the launch in May I have been testing the product with the help of my two boys, ages 11 and 16, who spent many hours this summer with the device. As much as I wish they were using the S1 to do productive work, their testing consisted of using the device for gaming and entertainment.
My 11 year-old said the S1 ran significantly better than the consumer-grade Samsung tablet he uses. Comparatively, he said the S1 is more portable; its high-definition screen has better graphics; the apps never glitched; the batteries always lasted all day; and it and has significantly more storage space for games.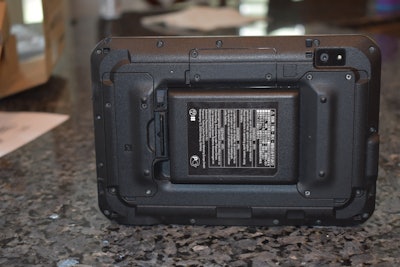 He also said the Bluetooth connects faster to peripheral devices like wireless headphones. Another feature he liked was the Android 10 operating system. The enterprise version had "good swipe features" and was more user friendly than his consumer version.
The S1 always seemed to be the go-to device he used outside because the screen was easier to view. The only problem he detected was the audio had static when connected to a Bluetooth speaker. He was disappointed when it was time to send it back today. "I actually really want one of these," he said.
Transportation use cases
The S1 is one of six products in Panasonic's Toughbook lineup. It took about a year and half of customer-focused research to develop specs for the new 7-inch rugged tablet, said Joseph Valenti, Panasonic Toughbook product manager.
One of the most important specs in transportation is for devices to last a full shift without need for charging. Also important is to have IT support services for rolling out devices and software for company-specific use cases, Valenti said.
Panasonic addressed these and other must-have items, he explained, while moving the needle on what Toughbooks have always been known for: durability and functionality that is a step above consumer-grade devices. As such, fleets that buy Toughbooks are more concerned with the total cost of ownership than sticker prices.
The Toughbook lineup already had a 7-inch tablet, the L1, but Panasonic saw a need from customers who wanted a device to run higher-end applications, Valenti said. The S1 has several upgrades over the L1 and is slotted in the lineup of Android products in terms of size and features as follows:
Toughbook A3 — 10.1-inch Tablet
Toughbook S1 — 7-inch Tablet
Toughbook L1 — 7-inch Tablet
Toughbook T1 — 5-inch Handheld
Toughbook N1 — 4.7-inch Handheld
The S1 has wireless connectivity that includes near-field communications (NFC), Wi-Fi, Bluetooth and 4GLTE cellular. It is designed to be more portable and convenient to use for workers than consumer-grade tablets.
A sleek front design is trimmed with hard, silver-colored edges. A camera and barcode reader are on top, USB ports are on the side, and on the bottom is a port to connect with a vehicle mount or docking station.
The backside has a removable battery pack in the center and small curved grips or "bump outs" on both sides to wrap your fingers around. The battery pack can be swapped to get up to 14 hours of life between charging events.
The tablet and Android 10 operating system are compatible with any mobile device management (MDM) software that fleets want to use. With MDM software fleets can have their own Google Play store for company-approved applications.
The device has 4GB of RAM to run virtually any type of software and up to 64 GB of storage. The charge port is a USB Type C that can be used to run peripherals and display HDMI video.
For durability, the S1 is certified to military standard 810 (MIL-STD-810), which means it can withstand a 5-foot drop on concrete 18 times. It can also operate in extreme hot or cold temperatures and vibration. Its 7-inch HD screen is visible outdoors with an average brightness of 500 nits.
Like other Toughbook products it has an exclusive rain mode feature that knows the difference between two fingers (with or without gloves) pinching the screen and raindrops hitting the screen.
Panasonic has a support service called Productivity+ that offers customers a turnkey solution with hardware, software and professional services. Productivity+ includes support from a partner network of Android applications for upgrades, patch support, mobile device management as well as independent software vendors that have been specifically selected for their industry expertise to meet customer needs.
For transportation the S1 has the memory and processing speed to handle any ELD application, telematics software, routing application and more. It can also be used in the service bay for engine diagnostics and other shop applications, or on the dock for loading trailers and mounted to forklifts.
The street price for the S1 is around $2,299, Valenti said. Like other Panasonic Toughbook devices, it is designed for 10 years of usable life. Many fleets in transportation and logistics – like food service and direct store delivery – will typically use the devices for between three and five years, Valenti said, before selling or trading them in.