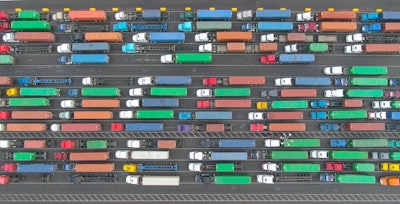 America's supply chain has been struggling since before 2020, but the COVID-19 pandemic and other black swan events, from shutdowns in China to a cargo ship blocking the Suez Canal, have exacerbated the problem. And the distress isn't expected to subside any time soon as the largest type of carrier shippers use – trucking companies – struggle with driver shortages that limit asset utilization and capacity.
Shippers need a solution, and their carriers play a major role.
The experts say the answer is real-time visibility (RTV) because it helps shippers limit cost, improve efficiencies in back-end operations and source capacity at higher service levels while gaining data-driven insights into their supply chain to improve on-time performance, customer service, sustainability and predictability. While RTV may not be able to predict dwell times, it can give shippers more certainty in planning and help them respond more quickly to delays.
And carriers must make headways in developing the capability to operate in a connected RTV environment if they want to maintain a competitive edge in the freight market.
Jenny Bebout, global leader of last-mile solutions at Project44, said RTV is considered a critical service differentiator for shippers and carriers.
"The supply chain disruptions over the last two years make it apparent that having a partial or disparate view of transportation movements is not enough. The supply chains of the future will be characterized by full transparency and increased resilience," Bebout said. "Carriers of all sizes must integrate with a variety of different systems and services across the operating spectrum. At the same time, streams of data from a range of devices and sensors need to be captured and processed in support of the ever-present demand for visibility."
That demand is increasing daily.
Project44 recently released the results of a survey of 234 retail and manufacturing shippers that identified critical factors they evaluate when selecting transportation providers. The survey found that more than half of these shippers (57.4%) consider RTV a pre-requisite for a carrier to be eligible to tender for their business. RTV was third (15.3%) – ranking above customer service, safety record, geographical coverage, sustainability, insurance coverage and specialized equipment – on the list of criteria shippers said they use when selecting a carrier. Price (25.4%) and past on-time performance (20.7%) ranked first and second, respectively.
The number of shippers demanding RTV as a base requirement is expected to grow
Visibility provider Blume Global has seen an increase in interest from shippers in the past few years, said Group Vice President of Marketing Jerome Roberts.
"I think that interest is mirrored by the significant amount of investment funding focused on the industry. The fact is that the coronavirus pandemic really exposed systemic supply chain issues, speeding up the adoption of supply chain solutions by between five and 10 years," he said. "I've been in this industry for decades, and I've learned that when dealing with large shippers and other multinational corporations, supply chain technology decisions aren't made quickly. For the most part, these major companies have ways of doing things that have been in place for years; these processes had been working well enough until the pandemic caused supply chain havoc."
According to a Blue Yonder survey, almost all businesses (88%) faced disruption over the last year, and the biggest impact on supply chains were customers facing delays (58%). According to the Project44 survey, 29.5% of shippers said lack of RTV significantly caused disruption to their operations over the past six months, while 47.7% said it somewhat caused disruption.
Of the supply chain executives surveyed in the Blue Yonder survey, over half said investment in their organization's supply chain has increased over the last year, and nearly half of respondents (49%) have invested $6 million or more, with the majority of investments occurring in technology (57%). Looking forward, survey respondents said they plan to invest in the implementation and enhancement of warehouse management systems (42%) in the next 12 months, followed by transportation management systems (36%) and order management (32%).
The good news, Roberts said, is it doesn't have to cost carriers an arm and a leg to invest in digitizing their processes, and it could save them money in the long run as it helps to avoid unforeseen costs like detention and demurrage charges.
Advances in technology have reduced barriers to access and operating costs of the systems necessary for the deployment of a visibility system. Roberts said applications like Blume's CarrierGo Premium allows carriers – no matter how small – to participate in a digitized and optimized supply chain.
He said carrier participation is key as visibility data is only as good as a provider's connections to carriers.
"Seamless carrier integrations into a vast networked ecosystem are important to make sure that shippers and carriers both get what they need in the current supply chain environment," he said.
That environment is constantly changing, and it's not always possible to predict when the next disruption will occur. But Bebout said the next whiplash effect is expected to occur at the West Coast ports as Shanghai reopens, and this next surge of incoming goods from Shanghai may also align with the U.S. West Coast Port Labor contract expiring on July 1 – an event that has historically created port disruption.
With disruptions expected to continue, RTV is more imperative than ever, she said.
But Roberts said visibility isn't the end goal.
"Once insights are gained from visibility, closing the gap between insight to taking meaningful action is how true supply chain agility is achieved," he said. "Platforms that link information from suppliers, LSPs and providers, both large and small, with the ability to act in real-time is the final destination."
Bebout's tips for how shippers and carriers should approach implementing real-time visibility
There are three main questions shippers and carriers should be asking themselves when implementing RTV: What are my use cases? How will the platform scale? What's the provider's track record?
When choosing a provider, consider which modes they support compared to which modes you use and if the product can be customized for specific needs. Additionally, since RTVPs run on data, find out how that data is collected and consider your customers' willingness to participate in the new system – how easy is onboarding and data sharing for them? While most platforms will continually update and improve upon their offerings, make sure the one you choose fits your current needs and is open and receptive to your feedback on the platform.
After you've settled on your use cases, determine how the platform will scale with your business and how your RTVP can adjust to accommodate future changes. Don't forget to determine what an ongoing provider relationship looks like, and whether you have a dedicated representative or reliable way to get in touch when problems or changes arise. Also, seek out customer testimonials and the company's history of innovation to determine if the provider has a strong track record.
Roberts' tips for how shippers and carriers should approach implementing real-time visibility
In a market flush with supply chain visibility options, shippers need to carefully interrogate their options to find a provider that fits their business needs while also keeping an eye toward the future; if the current requirement is simple shipment transparency, it might nevertheless be a good idea to find a provider that also offers more robust solutions, which would allow shippers to grow their digitized supply chain down the road.