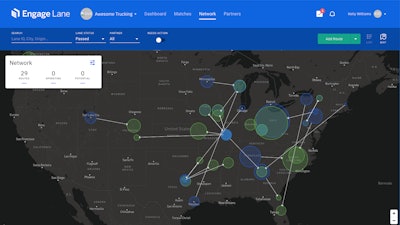 Trimble
The expo hall at Trimble's 2022 Insight Tech Conference in Orlando was covered with transportation technology providers, many of which have integration partnerships with the company. But perhaps more notable was some of Trimble's competitors on the floor.
The main theme across the many sessions at Trimble this year was connecting via the cloud across competitive lines.
"Everybody understands (the cloud) is where the world is going. I think it took a while for everybody to believe that, but I believe transportation is there now, and they're starting to realize they're never going to be able to integrate this data and workflows until they get there," said James Langley, senior vice president of Trimble Transportation. "What everybody wants is that truly integrated experience to be able to say it's not about a TMS, telematics, maps; it's about what the dispatcher needs to be more efficient. I don't really care what applications it touches. I care about the workflow for that user to have a more efficient set of capabilities to have more actionable intelligence at my fingertips."
The company's focus during the event was on empowering and enabling carriers, shippers and brokers to work better together by creating an ecosystem for all transportation stakeholders to be more connected and support more productivity and sustainability across the supply chain that has been incapacitated since shortly after the pandemic began.
The goal of Trimble's Connect and Scale 2025 strategy is leveraging the cloud via its recent partnership with Microsoft to connect data beyond the carrier side to the entirety of the supply chain, which Langley said still benefits carriers.
"We're building from our carrier-centric base, and you have to expand into the greater supply chain to solve their problems," he said. "Carriers only have visibility into so much freight demand. The more you get connected, the more you gain visibility. The average carrier today is planning for today and tomorrow maybe …
"Imagine trying to optimize that every day. But what if you had the market intelligence, because you can see into the shipper demand and be connected to get two days out, how much more efficient would you get in your holistic planning solution if you could see what freight is going to look like 48 hours from now instead of [only] tomorrow?"
Trimble is partnering with shippers and carriers to provide visibility between freight and capacity to fix broken supply chains. The company has partnered with shippers to provide carriers with market insight, including historical and current understanding of market conditions and robust analysis of key market metrics, including rates, times and speeds – all sourced from aggregated, anonymized market data. It also provides insights to carriers – and shippers if a carrier chooses to share their data – of their own networks and presents actionable insights into key network metrics, including velocity, revenue, empty miles percentage and balance – all sourced from a carrier's TMS.
Linking these pieces and enabling data to flow among three customer communities – shipper/3PL, carrier/broker and driver – Langley said, enables collaboration across procurement (the right freight for the right carrier), planning (the right load for the right truck, right now) and execution (pick it up and deliver on time, safely and efficiently), creating a transportation industry continuum in which Trimble's connected solutions and integrated partners support source-to-settle workflows for shippers and bid-to-bill workflows for carriers and brokers.
This occurs in Trimble's Engage Lane transportation procurement platform highlighted at the event. The company, which partnered with Procter & Gamble to gather data for the platform, is in the process of launching it among carriers and shippers to include big names like Whole Foods and Waste Management. It already includes 70 lanes awarded by P&G.
Engage Lane provides a digital workflow of the bid process between shippers and carriers and simplifies EDI connection. Kelly Williams, Engage Lane product manager, said whereas it takes P&G three to five months to onboard a carrier, Engage Lane connects shippers' and carriers' transportation management systems, allowing order tenders as quickly as within two days.
Trimble also highlighted Connected Cab via Instinct, its new mobile operating system, that helps improve the driver experience with things like ELD data, in-cab event recording and driver workflows, and introduced its new Connected Maintenance platform.
Combining all these elements into one platform with cloud computing allows for network optimization and maximizing resource utilization, which creates more sustainability, said Trimble CEO Rob Painter.
"With customers, sustainability is increasingly becoming a top priority," Painter said. "Trimble historically thrives at the intersection of productivity and sustainability."
Operating better and faster, he said, naturally creates more sustainability.
He said if a fleet of 1,000 vehicles can increase resource utilization by 1%, it would save that carrier 1 million annual miles driven and add $2 million to that carrier's bottom line while reducing carbon emissions by 3 million pounds.
Langley said a typical carrier runs about 15% empty miles and 8% out-of-route miles, and the average trailer is only 70% loaded, leaving huge opportunities to eliminate waste.
"It's not about 100% utilization; every little 1% we get better has huge economies of scale for all of us," he said.