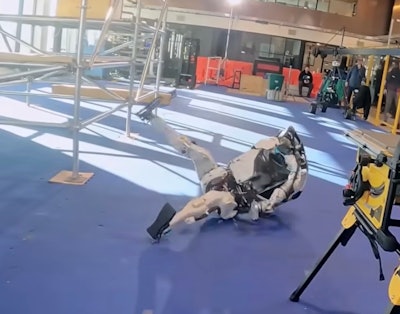 Boston Dynamics
A recent video from Boston Dynamics showing their robot Atlas acting as a construction assistant (posted below) is absolutely jaw-dropping and serves as yet another reminder of how impressive artificial intelligence (AI) can be.
Just don't miss out on Atlas' blooper video (also posted below). So far, it's easily outperformed the final cut with 11 million views versus 5.2 million views for the video where Atlas makes no mistakes.
That's interesting and conveys for me a couple of things: First, robot blooper reels may be the next big thing (sorry BattleBots), and second, people like to be reminded of just how not perfect robots are. Turns out AI has a human side even though a bumbling robot may not quite appreciate the humorous slant of its shortcomings.
As far as blooper reels from autonomous cars and trucks? Yeah, not so funny. Ultimately, few topics in trucking can stir up as much interest and trepidation as artificial intelligence.
On the plus side, AI can keep life on the road safer through collision avoidance systems that typically analyze and react more quickly than human drivers to avoid potentially deadly and costly accidents.
[Related: Autonomous startup gets it first OEM partner]
AI can also prioritize massive streams of data from telematics devices allowing fleet managers to more quickly address equipment issues before they result in expensive breakdowns and to recognize top drivers for improving fuel economy and fleet safety.
Other important AI applications include route optimization. AI can account for weather and traffic (both real-time and historic) to suggest more preferred routes to save time and money. AI is also being increasingly used to help more efficiently connect loads with carriers.
AI has also been at work in warehouses where automated forklifts and other freight moving equipment can more efficiently move loads for transit. CCJ Innovator NFI Industries reported a 50% productivity boost at some of their operations thanks to their autonomous mobile robots (AMRs).
Autonomous trucks are also showing real promise not only in terms of saving fuel and improving safety but also in reducing travel time since they do not require mandatory driver breaks. While attending a Torc Robotics autonomous truck event in November, Torc CEO Peter Schmidt beamed as he told reporters that one of their autonomous trucks in a pilot with Schneider had arrived at its destination "four hours early."
So there's been a lot of good news from the AI front as it makes its way into the complex and challenging world of trucking. There's also a lot more room for improvement.
No coffee for you
While talking recently with a seasoned truck driver who's been driving for months now with front-facing cameras and in-cab sensors that track his eye movement, AI has turned out to be both a blessing and a curse (a challenging theme that may be here to stay).
This longtime driver has had to give up the habit of drinking his morning coffee and any beverage for that matter while driving. The reason? Anytime he looks away and grabs that drink and takes a slurp—no matter how quick and efficient he's become through the years—his driver score card will automatically take a hit.
A few slurps here and there added up to his first write-up ever from his fleet manager. Now he no longer drinks or snacks on the road for fear of getting written up. Thankfully, he's not driving long-haul so fighting off the urge to snack and drink is not as bad as it could be. Plus, he said he feels like he's become a safer driver under a stern AI tracking system; however, he remains annoyed that he can no longer have his morning coffee on the road—and who wouldn't?
[Related: Autonomous truck spotted in the wild]
I can definitely identify with AI's annoying eye-tracking feature. While recently trying out Ford's self-driving BlueCruise system in their electric F-150 Lightning, I was getting pummeled with alerts for looking veered slightly . The system even tapped the brakes a few times to let me know I had looked away one too many times.
Don't get me wrong. BlueCruise was great in traffic jams where it would easily handle mind-numbing stop-and-go traffic. All I had to do was stare straight ahead while BlueCruise handled braking, accelerating and steering. In that sense, I was a backup driver going along for the ride.
I'm sure you've seen how some self-driving systems have come under fire. Tesla tops the list. Following years of federal investigations, the National Highway Traffic Safety Administration (NHTSA) announced a recall of 362,000 Tesla electric cars given ongoing concerns with the company's Full Self-Driving (FSD) Beta software.
Several federal investigations found Tesla's self-driving feature to be at fault for deadly accidents. Tesla has consistently instructed drivers to always be at the ready to assume control of the car when traveling in self-driving mode. However, not everyone follows directions—shocking, I know—and and instead let AI handle all the driving which resulted in deadly collisions and a NHTSA recall.
Tesla's recall amounts to an over-the-air update to improve FSD software which got me thinking about hacking. Any system that accepts external data—and I know of no systems that don't—is obviously at risk.
[Related: Watch Torc Robotics autonomous truck deliver fuel economy gain]
But maybe tech advancements through the years have lowered the risk for hacking? I posed that question to Ognen Stojanovski, chief operating officer and co-founder of Pronto which develops autonomous driving systems for both on- and off-road commercial vehicles.
"Hacking should always be a concern," he said. "Cybersecurity is a big, big part of what we do."
Stojanovski said the threat of someone hacking an autonomous truck to potentially use it as a destructive and deadly weapon was "much less likely than somebody hacking in and maybe stealing a whole bunch of valuable data."
Also, the threat of hackers creating an infrastructure tie-up by bringing autonomous trucks to a halt on a busy road is more likely, Stojanovski said, than "making it do crazy evil things."
No matter the progress to combat hacking, Stojanovski reminded, this old cat and mouse game is not going away anytime soon.
"Cyber security is kind of an arms race," he said. "You have to be on your toes. You have to keep getting better and better and be on top of the latest threats."
And not all threats will come from hacking. Slow down and stop in front of a self-driving truck and it will do likewise to avoid a collision. Now you have an unmanned truck that poses less risk for would-be thieves, Luddites or other malcontents that wish to do it harm to make a statement.
There are also others out there whose ideas for fun can quickly rise to crazy headlines not limited to Florida. Austin, Texas definitely comes to mind where swarms of folks recently took over busy city streets to race around and drift in the intersection.
That chaotic scene recalls T.C. Boyle's short story, "Asleep at the Wheel," an interesting and cautionary tale concerning life among autonomous fleet cars. Boyle, who knows human nature well, reveals a scene in which curious and dare-hungry kids attempt to overtake autonomous cars which proves tragically stupid.
Of course, most cutting-edge technology piques our interest and can come with a degree of risk and controversy. But when it's put on wheels and drives itself with passengers and/or cargo, it's arrived at the strange and fascinating crossroads of science fiction and reality where outcomes can be both rewarding and unfortunate.