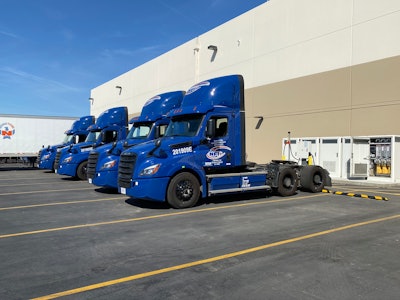 NFI Industries
CCJ Innovators profiles carriers and fleets that have found innovative ways to overcome trucking's challenges. If you know a carrier that has displayed innovation, contact CCJ Chief Editor Jason Cannon at jasoncannon@randallreilly.com or 800-633-5953.
Necessity is the mother of invention as the old adage goes, and in that vein historic industry challenges are firing up NFI Industries, a leading 3PL, to eagerly develop new paths to success.
From unprecedented freight surges at America's ports to the growing push for zero emissions amid equipment and driver shortages, NFI (CCJ Top 250, No. 21) continues to embrace new ways to rise up and remain competitive.
As ports across the U.S. continue to take on historic freight surges fueled by increased online shopping, NFI has sought to mitigate the uptick in demand for equipment, especially chassis.
Chassis supply levels were already strained prior to COVID, NFI senior vice president Aaron Brown said, prompting a need to think outside the box to keep up with growing demand at the ports.
NFI reached out to its various locations around the U.S. and partnered with other drayage carriers to help secure additional chassis.
"Rather than relying on the pool of chassis in Southern California, we've probably increased our chassis fleet 30 or 40% or so and made those chassis available to customers to supplement port chassis," Brown said.
"And then also with our real estate capabilities, we've gone out and sourced significantly a large group of offsite yard location drop lots in addition to our warehouse capabilities so that we can bring containers off port and store them until the warehouses are ready to receive them and help customers avoid demurrage expense," Brown continued.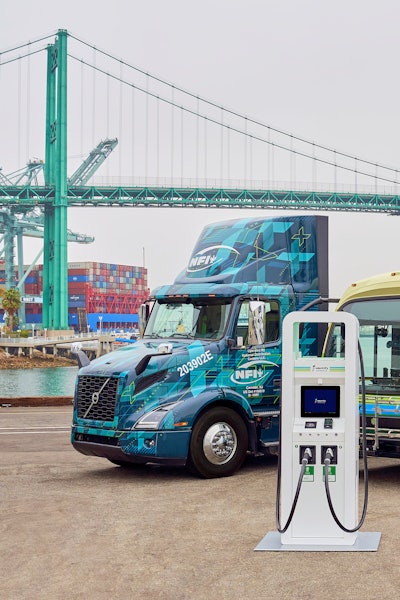 Seeing the need to stay ahead of the curve, NFI made the decision to shop early and big.
"We were proactive on this," NFI transportation president Bob Knowles said during the company's recent 2022 Supply Chain Outlook Webinar. "We had these discussions much earlier in the year than we typically do for the following year. And I think because we were real proactive on that, and we also put in the largest order for new equipment, both tractors and trailers that we ever have, that's given us a little bit of cushion to meet some of the shortage that they've informed us about."
A driver shortage is all the more challenging if you're not focusing on roughly half the population: women. To that end, NFI embraced a new approach to recruiting women with its She Drives NFI campaign.
"We've made a real concerted effort within NFI to focus on female drivers as well as our involvement with driver training schools," Knowles said. "We've had the She Drives NFI campaign and I'm proud to say that over the past few years, we've actually doubled the percentage of female drivers within our driving workforce across the organization."
Efforts to foster gender diversity at the 89-year-old private company recently earned NFI a spot on Women In Trucking Association's 2021 Top Companies for Women to Work For in Transportation.
To help show more appreciation for their drivers, NFI kicked off the NFI Hall of Fame a few years ago for their 20-year, 2 million mile, accident free drivers. They've also recognized that drivers may want to transition from the cab to the office.
"I think one thing we really try to emphasize here is the opportunity for a career path for our drivers," Knowles said. "I'm so proud to say we have many drivers within our management teams across the organization that started with us as drivers. And we actually have one of our VP of operations that started with us over 20 years ago as a driver. So I think it's important to see that our drivers can advance and find different opportunities within NFI."
Early adopter of electrification
Perhaps most notably, the New Jersey-based carrier quickly surged ahead and took the lead in fleet electrification. Of the 30 or so electric trucks at the ports of Long Beach and Los Angeles, roughly half belong to NFI making them the biggest all-electric Class 8 player at the nation's busiest ports, and more zero emission trucks are on the way.
As part of the Joint Electric Truck Scaling Initiative, sponsored by the South Coast Air Quality Management District, California Air Resources Board and the California Energy Commission, NFI will add 30 Volvo VNR Electric tractors and 30 Freightliner eCascadias at its warehouse location in Ontario, Calif. by the end of 2023.
"It'll be the first and largest, fully electric fleet in the country and it's going to be supported by a zero emissions maintenance shop that's going to be operated by solar power," Brown said.
Related: USAT Capacity Solutions named 2021 CCJ Innovator of the Year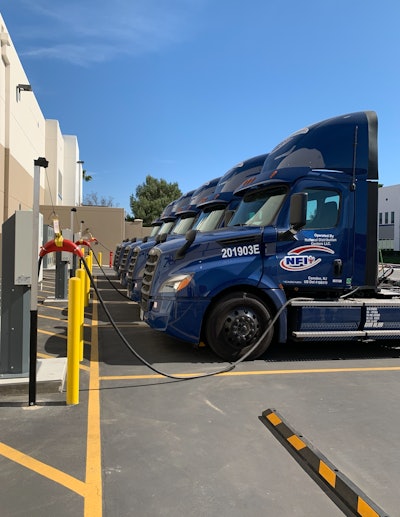 These second-generation electric trucks will offer greater range thanks in part to what Brown calls opportunity charging during driver breaks.
"We're really excited about that," Brown said. "Right now we can really only get one turn to and from the port on a charge. Once we start getting the generation two trucks, especially with the opportunity charge, then we get two turns per truck per day, and then the efficiency starts getting to be much more on par with the diesel truck."
In the meantime, to help increase EV efficiency, NFI strategically located chargers at different warehouse sites. It's proven helpful, NFI eCascadia driver Elvis Alvarado explained, especially given the long lines at the ports where drivers can sit for hours.
"When we need an extra charge, we got to go to Chino," Alvarado said. "We actually have two charging stations, so it's pretty convenient. I'll charge up for maybe 30 or 45 minutes. It's real easy. I'll take my break there. It's really convenient."
NFI is also searching for new ways to utilize its broad footprint in Southern California for its EV rollout.
"Because we have such a significant real estate presence, we're able to basically create our own infrastructure system," Brown said. "We'll have charging stations in the Inland Empire. We'll have charging stations near the port and we'll have charging stations in route between the two as well. That will give our drivers a lot of flexibility within our own real estate network before the charging spaces are even available for public use."
In addition to taking the lead on all-electric trucks, NFI is also taking a closer look at hydrogen.
"We're in talks for some pilot opportunities with a couple of different OEMs and that will be for more non port-related regional type work, but we're in the very early stages of that," Brown continued. "I know electric is really going to be probably the alternative fuel source that takes off in the drayage space."
Automating for success
During a tight labor market strained by rising wages, NFI has watched its autonomous mobile robots (AMR) help to pick up the slack and ease the burden on existing employees at the warehouse level.
AMRs are programmed to visit pick locations where employees load them up with ecommerce orders. The robots then report to a packing area sparing employees from making the trip themselves. The results are improved productivity and greater employee satisfaction.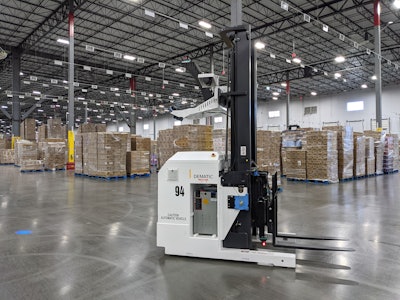 "The utilization of AMR technology has allowed us to increase picking productivity upwards of 50%+ at some of our operations," said Dustin Gray, NFI's senior director of supply chain engineering.
"This technology allows us to improve our onboarding experience by cutting training time down a matter of hours vs weeks in a traditional operation which increases our employee retention rates," Gray continued.
Related: 2020 CCJ Innovator of the Year Polaris is ready for robotics
Various factors have converged, Patterson said, making the adoption of new technology pay off better than ever before.
"A lot of the technology has been out there, but historically you really couldn't build a realistic return on investment around it," said Kevin Patterson, NFI's president of distribution. "That's changing now for two reasons: First, because the return on investment is starting to look more realistic since you're paying wages 25% more than you were even a year or two ago.
"And secondly, if you want to optimize customer service to your final user-customer, the best way to do that is to innovate and put in place a type of automation that's going to lessen your reliance on labor," Patterson continued.
As freight demands remain high and invite new opportunities, NFI expects to see AMRs playing a bigger role in the days ahead.
"We will continue to evaluate the benefits that AMRs can bring to our existing operations and also to new business pursuits," Gray said. "With the increased demand for ecommerce fulfillment we expect opportunities to utilize AMR technology to increase in the future."
The CCJ Innovators program is brought to you by Comdata, Freightliner Trucks, Omnitracs and EOX Vantage.