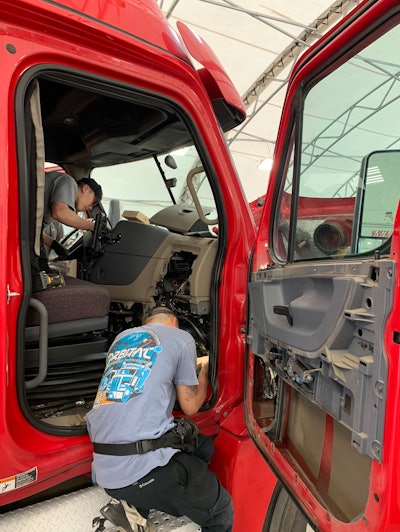 Commercial Carrier Journal
Having a video-based monitoring system can help improve fleet safety, but as Groendyke Transport (CCJ Top 250, No. 112) learned when that system is backed by the latest artificial intelligence (AI) it can become even more effective.
The Oklahoma-based tanker carrier, which has earned the National Tank Truck Carriers North American Safety Champion Award a record eight times, has been busy lately swapping out an older monitoring system with the latest AI-equipped video technology from Samsara.
Groendyke Fleet Support Manager Dennis Harris has arguably been spending more time in a plane than a truck, traveling from one fleet location to the next to lead the technology shift. As of Tuesday, Harris said they've installed Samsara's AI system on roughly 65% of their 1,000 trucks. Cameras keep watch on the driver, the road ahead and the road behind.
So far, Samsara's AI has provided a leg up over their older system.
"It has shown a lot of things that we were missing with the other system," Harris said, with one of the biggest concerns being cell phone use.
[Related: CCJ Innovator Groendyke uses flashing brake light to improve safety]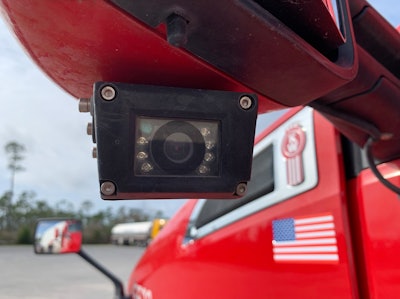 The prior system would send an alert and provide video based on an incident, which was then reviewed by a fleet manager.
"The only way they could ever see [a cell phone] was if something else triggered it, like a hard-braking incident, collision, speeding and things like that," Harris said.
Samsara's AI-based system is picking up on actual cell phone use, which alerts both drivers and their fleet managers.
"They've had to talk to a lot of drivers about it because the system is seeing that. It's more common than what it was [with the prior system]," Harris said.
When it comes to incidents like cell phone use, hard braking and speeding, drivers receive an audible alert in the cab and an incident report on their Samsara app so they can keep up with their driving performance alongside fleet managers.
[Related: Insurance costs dropping with AI camera systems]
Drivers start out with 100 points each day. Incidents are recorded but won't necessarily result in penalizing the driver unless the behavior continues.
In the case of speeding, drivers that exceed 5 mph over the speed limit twice within a 24-hour period will receive warnings.
"You do it three times, you're going to sit down with somebody and get coached," Harris said, "but it gives you a couple of shots because it allows the driver to be human."
Like the drivers it's monitoring, the AI system isn't exactly perfect either. Drivers are allowed to have cell phones in their trucks but cell phone mounts can fool the system into thinking that a driver is using a phone when in reality they're not.
"The system's having to learn where the phone is," Harris said. "We're still in the learning process."
In the meantime, Harris said drivers have been reacting favorably to the new system.
Ingo Wiegand, vice president of product management and safety at Samsara, said AI cameras that alert to risky driving behavior like cell phone use and vehicle following distance, are getting positive results on the road.
After implementing AI dashcams, our customers have reported fewer accidents, increased driver retention, and even reduced insurance and litigation costs," Wiegand said. "For example, Chalk Mountain Services, a leader in the oilfield industry, has reported an 86% decrease in preventable accident costs since adopting Samsara. They've also seen a 15% improvement in driver retention."
Potential to cut cost while improving safety
Joseph Schechter, vice president of Rear View Safety at SafeFleet, which
markets MobileMule AI,
explained that fleets can cut costs with an AI system since it directly provides fleet managers with more credible incidents that are worthy of review.
"With older contracts, you pay for every event and there's an actual person reviewing the data," Schechter said. "If you have a lot of events, you're paying through the roof because of everything that's being reviewed, and they review whether it's a real incident or not. So if it's harsh braking or swerving, the alert goes over even though really nothing happened."
With an AI-based system, events are more carefully analyzed for severity prior to alerting fleet managers. Systems can be tooled to be as sensitive as you like.
"In this case, you're in control of your own data and you're in control of your own reports, and then you have the AI that really does all the legwork for you," Schechter said. "You end up coming out ahead because you could have fewer incidents and so you're paying less money."
Both Samsara and MobileMule AI offer driver privacy features like blurred or even completely blacked out video, which leans on biometrics to show driver behavior while not revealing their faces.
Schechter explained that a leading fleet opted to use MobileMule's privacy feature to help appease union concerns.
Groendyke may employ Samsara's privacy feature down the road.
"Samsara has a ton of options to offer. Once we start gathering more data, we'll determine what we want and what we don't want," Harris said.