Telematics. It can be used to gather a plethora of data from a vehicle that can then be used to improve operations. It offers insights on fuel consumption, location of assets, idle time, route plans, driver behavior and much more.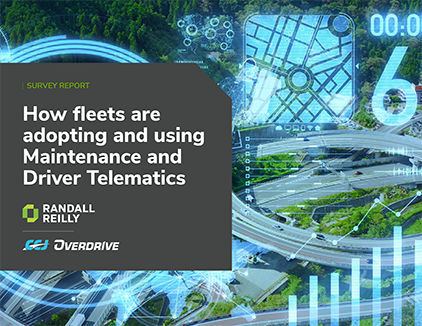 How are fleets and owner-operators using telematics? Find out with this comprehensive research from the editors at CCJ.
Download to access insights on what telematics solutions fleets/owner-operators are using, how telematics influences business decisions and more.
It can also be useful in helping fleets lower their insurance costs.
But telematics is often a luxury of the bigger fleets. Many owner-operators or small fleets (25 or fewer trucks) don't have the means to afford telematics solutions or lack options on the market that serve them. Unfortunately, the same goes for insurance.
And while it isn't yet the norm for an insurance company to require telematics, it is becoming more common because a fleet's safety, which telematics can shed great light on, is a top factor for an insurer.
Insurance and telematics really go hand in hand. That's why two trucking industry insurtechs have partnered. Cover Whale Insurance Solutions Inc., is offering its advanced telematics and proprietary quoting and binding technology to CoverWallet's independent owner-operator and small fleet trucking customers – a market that is traditionally underserved.
[RELATED: AI-enabled dashcams can help fleets reduce insurance costs]
The CoverWallet platform will extend Cover Whale's visibility to thousands of commercial truck drivers across the country. This gives small business owners and trucking fleet operators access to tailored insurance policies designed specifically for the trucking industry.
Cover Whale CEO Dan Abrahamsen said it isn't typical to find telematics equipment on trucks owned by small fleets. Part of Cover Whale's policy includes the onboarding of that technology, including a dash camera, via one of the insurtech's vendor partners. With that telematics technology also comes driver coaching to improve safety scores and lower insurance rates as a result.
"Safe operation does provide a rate reduction. We can prove it, and we want to make sure all of the drivers out there know that if they're a safe driver, they can save the most money with CoverWallet and Cover Whale by working together and participating in our coaching programs that are part of the policies that we sell," Abrahamsen said. "Getting closer to distribution by working with CoverWallet allows us to deliver products to these smaller operations that might not have access to all of these different insurance companies on their own."
Many smaller carriers find it hard to access insurance, and when they do, it's often overpriced and doesn't meet their needs.
"A lot of insurance carriers in the industry, they have a hurdle rate; they'll only quote it if it's 25 trucks or above … It's truly because insurance companies and legacy traditional setups, they don't have the bandwidth to service a smaller account. So they have this arbitrary cut off. For the amount of effort they have to do to quote it, they have a cut off of (for example) 25 trucks," Abrahamsen said. "But I think this is an opportunity to use technology to be able to deliver more service and options for insurance, including telemetry, but also including just getting a quote quick, easy and upfront. Just because you're a smaller operator or an owner operator, doesn't mean you shouldn't have access to the broader insurance market to get the best price and see the best options that are available."
And the best price isn't only dependent on an operator's own safety record but safety records of other operators across the industry. This puts smaller carriers and owner operators at a disadvantage against larger carriers yet again because they're pooled together. Abrahamsen saif that means safe operators wind up paying for risky operators. Cover Whale's data proves that safe drivers are paying too much for insurance, he said, but the data also proves that good drivers insured via Cover Whale, which has the authority to write business on behalf of 10-plus insurance companies for commercial auto and trucking, save money.
[RELATED: Insurance experts offer insights on how to lower carriers' rates]
Jeff Borgman, director of transportation programs for CoverWallet, an Aon company, said telemetry data can differentiate the good drivers from the bad, and that's where telematics becomes a little bit of an equalizer.
"We can really talk to how this will be beneficial to them and really help them operate like some of those larger fleets are doing today and some of that technology that they're utilizing today to help them be more efficient, understand their safe driving habits, understand places where they may have opportunities for fuel savings or safer routes that they may be able to utilize," Borgman said. "It really is something that can help us drive pricing and talk to the insured, which in this segment, again, is a very price sensitive group, and rightly so. They're dealing with fairly tight budgets; they deal with a lot of variable costs – one of those being insurance. So having some of the stability in this and having the ability to manage their business better we see as a real opportunity and something that we can really provide to that space."