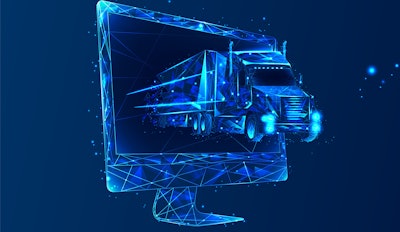 Data analytics and advisory firm Escalent has dubbed 2023 "the year of the rebound" for fleet technology investments.
Escalent's recent Fleet Technology Index (FTI) indicates a shift from survival mode back to growth mode after slowing strategic investments into new fleet technologies to weather the past few years of pandemic-induced challenges, supply chain constraints and economic uncertainty. More than half of companies reported they are gathering information or conducting a cost analysis of core and emerging technologies. The FTI score increased 27% from 2020 to 2023, implying a marked increase in the perceived value of and market readiness for eight key fleet technologies.
Lucas Lowden, insights consultant and program lead of Fleet Advisory Hub at Escalent, said there were ebbs and flows of tech adoption during the pandemic, but there has been "pretty consistent traction in growth of the index score" over the past three years. The index score represents general market readiness and expectation of adoption rather than a direct corollary of adoption.
"That's where we find the lion's share of these decision-makers today is sort of in that shopping bucket, trying to learn about (the technology) and understand how it impacts and affects their business and operation," Lowden said. "Altogether, fleet decision-makers recognize technology is advancing quickly and realize those who do not adopt a future-oriented mindset will be left behind."
The index observed four core technologies and four emerging technologies. The FTI score for core technologies, including data analytics, telematics, battery electric vehicles (BEVs) and autonomous vehicles (AVs) has climbed by 33% since 2020. The score for emerging technologies, including artificial intelligence, drones, mobility services and blockchain have increased by 16% in the same time frame.
While the score for core technologies includes AVs, the FTI found that excitement of an autonomous future may be waning, while interest in AI technology has taken over.
[RELATED: How AI can help drivers by predicting and preventing collisions]
Forty-six percent of decision-makers said they still need to see full AV technology proven in real-world settings to earn their trust. AI technology has surpassed that of AVs with an index score increase of 24% since 2020 and a business intention to invest rising by 39% in the past 12 months.
More and more tech vendors serving the trucking industry have been incorporating AI into their systems. Riptide for example recently launched an AI assistant within its three-way messaging system that connects customers with drivers, dispatchers, warehouses and other parties included in the delivery process.
"There is a bit of (AI) that becomes embedded in other technology solutions, but as a standalone technology and solution, we do think that with this significant media attention to ChatGPT and other generative AI large language models, that's probably driving a bit of what we see increase with that technology's index score," Lowden said. "Anecdotally speaking, yes, there is definitely more attention being paid to (AI), and we find these fleet decision-makers putting toes in the water more than they have in recent years."
While trucking companies may be dialing back their expectations for AVs, Lowden said the FTI indicates that battery electric vehicles are here to stay, along with telematics and resulting data analytics. The proportion of companies that are walking away from data analytics, telematics and BEVs has declined from 2022 to 2023, reinforcing the industry's commitment to these technologies.
"There are always going to be some people that get into it, and it just doesn't work for their operation, but telematics in trucking and transportation, that's regulated with hours of service and the ELD mandate, so … I don't see a step back from that, and data analytics becomes a natural progression of telematics there," Lowden said.
He said HOS and ELDs forced the hands of trucking companies to onboard telematics, but most trucking companies, especially owner-operators, hold off as long as possible on adopting new technologies, especially things like driver-facing cameras and AI, for a number of reasons. Those range from the fact that smaller operations don't have the financial or human capital to invest in adopting and deploying these technologies to generational misconceptions of technology, he said.
"There are pockets that they are definitively against these ideas and these concepts. In some cases, some might think it's like a conspiracy of the government or something," Lowden said. "There's no way around that. You're never going to convince 100% of the people on 100% of the things. It's a matter of understanding that invariably there's some that are not going to consider it, and it doesn't matter how hard you try to convince them and sell them on benefits and the ROI. It's just not going to hit home."
But he said there is a progression of the workforce where Boomers are making their way out of the workforce, being replaced by Millennials and GenX, which are more apt to accept and adopt technology.
"Even if the businesses are not actively adapting and integrating the technologies today, there does exist an overarching recognition of this is where the businesses will need to go and where they're going to need to be in the future in this era of digital transformation," Lowden said. "There's an understanding that I might not do it today, but I know I'm going to need to in the future; this is just going to be the way of the world."
Investments in TMS never slowed
Those that do have the financial and human capital to invest in new technologies are likely to put their money into transportation management, according to a Descartes survey of hundreds of global transportation professionals on their top transportation management strategies and technologies, as well as financial results and success.
The seventh-annual Global Transportation Management Benchmark Survey found that top financial performing companies are twice as likely to have the largest percentage increase in their transportation management IT investments compared to poorer financial performing companies. Of all respondents, 65% indicated they are increasing TM IT investment, 31% are maintaining existing investment levels, and only 4% are decreasing investment.
While it's common sense that top performers (41%) are more likely to have no obstacles securing TM IT investments than their poor performing competitors (26%), Michael Hane, director of product marketing TMS at Descartes, said the pandemic didn't affect tech investments in this area.
"During the COVID-19 pandemic, we actually saw an increase in tech investments, and we expect that trend to continue. The pandemic acted as a catalyst for companies to swiftly digitize their customer and supply chain interactions, and Descartes helped many companies enable that digital transition from automating check-calls, to enhancing the tender/accept, planning, track and trace, and freight settlement processes," Hane said. "Further supporting this assertion is another study Descartes performed in January 2023 of 1,000 supply chain executives on the topic of innovation where 59% of respondents said they accelerated the pace of innovation over the past two years, and 65% plan to increase investment in innovation over the next two years."
He said the pandemic exposed shortfalls in transportation and supply chain, with a particular emphasis on improving shipment visibility. Visibility emerged as the top IT investment choice for the past five years, according to the survey. In 2023, 52% of respondents selected visibility, surpassing other options by 17%.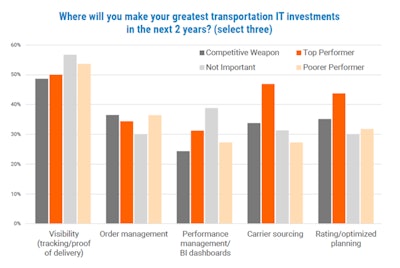 "Customers are demanding increased visibility, streamlined interactions and higher service levels," Hane said. "Poorer performers in trucking may face challenges in growing their business if they are unable to meet escalating customer expectations in these areas."
[RELATED: Mitigate cyber threat risk with increased visibility]
Based on survey findings, the primary obstacles hindering tech investments for poorer performers include lack of organizational readiness and unclear payback, he said.
"It is common for many companies to adopt a 'stay the course' mentality, delaying tech investments until a compelling event prompts action," Hane said. "Consequently, poorer performers risk falling behind their more technologically advanced competitors who offer a superior customer experience and operate more efficiently. If poorer performers continue to lag, then there could be impacts to the trucking landscape."