The highly efficient highway cruiser doesn't sacrifice looks, prestige, comfort or power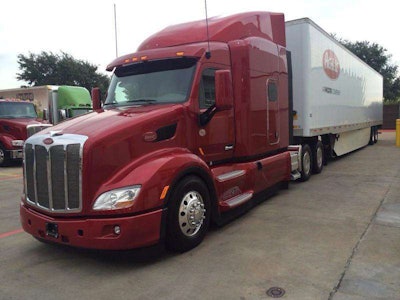 In a sense, Peterbilt engineers never get to build a true "clean sheet" design when they start work on a new truck.
Those engineers might disagree with that statement, but as I gazed at the fully restored 1939 Peterbilt tractor on display at the company's plant in Denton, Texas, I couldn't help but see styling cues that have carried over from generation to generation of Peterbilts.
No matter what marching orders the company's engineers receive, there are a few mandatory design aspects: a bold old-school exterior wrapping a refined, even luxurious, cab and sleeper. Engineers can add to that legacy, but they never can take away. Peterbilt's newest and most fuel-focused long-haul tractor yet, the Model 579 EPIQ, is no exception.
The Model 579 was a groundbreaking design for Peterbilt, seamlessly melding traditional Class 8 styling with highly efficient aerodynamics. The new EPIQ package takes this formula further, with more aggressive aerodynamics and a highly optimized and integrated drivetrain. The result is consistently high miles per gallon while allowing owners to bask in Peterbilt's refined image.
Before I headed out in my crimson test truck, Peterbilt product manager Anthony Gansle noted how many of the Model 579 EPIQ's fuel economy enhancements were a direct result of the company's extensive involvement with the SuperTruck program, a government program that funded OEM and component research in technologies to boost commercial truck fuel economy.
He pointed to extremely tight tolerances between new fairings around the steer wheels and tractor side fairings that stretch almost to the ground, directing air onto trailer side skirts. Other aerodynamic touches include a new roof fairing bridge that dramatically reduces the gap between the tractor and trailer, standard tandem wheel covers, a new bumper air dam design that reduces lift and drag, and tighter tolerances in the bumper-to-hood seal design.
A highly tuned Paccar MX-13 diesel communicates at a high level with Fuller's Advantage automated manual transmission, which features Precision Lube, aluminum components and is cooler-less. The engine and transmission share proprietary telemetry to maximize performance and, primarily, fuel economy.
Once our walkaround was done, I pointed the Model 579 EPIQ north on I-35, skirting Dallas and heading toward eastern Oklahoma, a route that has some decent hills to pull.
I drove the original Model 579 when it debuted three years ago, and I noted its low interior sound levels. If anything, the EPIQ's aerodynamic enhancements only add to the tractor's in-cab quietness, a nice complement to an extremely smooth-riding suspension and Paccar's premium air-suspension seats.
This overall tightness extends to the wonderfully precise steering system. Despite the tight aero tolerances around the steer axle, generous wheel cuts made the truck easy to maneuver around the congested Peterbilt plant site. On the open road, the truck tracks straight with minimal steering input.
Cab layout, storage space and driver ergonomics are top-notch. Cab and sleeper space is generous. Not much has changed from the standard Model 579's dash or instrument layout, though there is one standout EPIQ enhancement.
It's a fuel-focused interactive driver-coaching system that works with the pre-existing driver information system. This system provides not only real-time fuel economy feedback and performance information, but also coaching tips to help boost mpg performance.
Some drivers may find the system a tad pretentious, but it's not overtly in-your-face, and the useful information it provides will be a real plus for drivers with fuel-based performance bonuses.
For certain older drivers, "fuel economy" is synonymous with "crappy performance." But today's onboard electronic control systems have changed all that. Drivers fearing sluggish low-end performance from the Model 579 EPIQ need not worry.
The ECM effortlessly provided plenty of high torque needed to get my 70,000-pound load moving, and the truck easily hit 55 mpg on an interstate onramp. Once at cruising speed, the system automatically gets to the highest gear/lowest RPM setting possible to conserve fuel.
But throttle response – and corresponding horsepower boosts – are instantaneous if you decide to jump over a lane and pass a slower vehicle. Once you're back in cruise mode, the integrated drivetrain reverts to fuel economy mode, with zero driver input required.
Upon hitting some hilly terrain beyond the Red River, the engine easily maintained my desired cruise speed with little or no deceleration. I logged 9.5 mpg on my drive without really concentrating on fuel economy.
In short, Peterbilt's Model 579 EPIQ is a highly efficient highway cruiser that doesn't sacrifice looks, prestige, comfort or power.