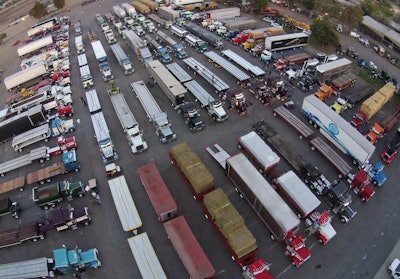 Peterbilt held last month an anniversary party in Stockton, Calif., to celebrate its 75th year.
Held at the San Joaquin Fairgrounds, Peterbilt says the party attracted 351 Peterbilts, which the truck makers bills as "the largest collection of Peterbilt trucks ever assembled."
Peterbilt also says thousands of attendees — including customers, enthusiasts and current and former employees — showed to see the trucks and celebrate the milestone.
"It was impressive beyond words. The turnout exceeded even my high expectations. With the exception of two or three, every model of Peterbilt ever manufactured was represented here – from the first chassis in 1939 to the latest Model 579," said Rick McClerkin, who created and organized the event for his love of Peterbilt trucks.
McClerkin also said the event helped raise more than $42,000 for charities, including $22,000 for Shriners Hospitals for Children and $8,000 for the Susan g. Komen Foundation.
Also on display was Peterbilt's anniversary tour trailer, which visited more than 100 Pete dealerships in North America this year. The custom-built trailer is a double-expandable 53-footer with Peterbilt memorabilia, interactive displays and a history wall display. A special Peterbilt 579 towed the trailer, which also featured cutaways of Peterbilts Models 579 and 567. The truck is powered by the Paccar MX-13 engine.